Dear Students,
As you all know, RRB NTPC Exam will be held in September/October 2019. We are providing daily learning quizzes, we aim to provide the best study materials to our students. Attempt this quiz and check your preparation.
Q1. A, B, C, D, E, F are sitting on the round table with equal distances. F is sitting opposite to E and between A and D. C is sitting right side of E and opposite to A. Who are the neighbours of A?
A, B, C, D, E, F एक गोल मेज़ पर समान दूरी पर बैठे हैं. F, E के विपरीत और A और D के मध्य बैठा है. C, E के दाहिनी ओर बैठा है और A के विपरीत बैठा है. A के पडोसी कौन हैं?
(a) F and D/ F और D
(b) E and F/ E और F
(c) E and C/ E और C
(d) B and F/ B और F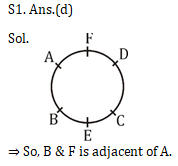 Q2. From the given alternative words, select the word which cannot be formed using the letters of the given word:
दिए गए विकल्पों में से शब्द उस शब्द का चयन करते हैं जिसे दिए गए शब्द के अक्षरों का उपयोग करके नहीं बनाया जा सकता है।
CONCENTRATION
(a) CONCERN
(b) CONTAINER
(c) CONCERT
(d) CENTRAL
S2. Ans.(d)
Sol. 'L' word not present in CONCENTRATION.
Q3. If 'WZB' stands for 'DAY', how will you code 'MONDAY'?
यदि 'WZB' का अर्थ 'DAY' है, तो 'MONDAY' किस प्रकार लिखा जाएगा?
(a) NLMWZB
(b) PLOWZB
(c) NMLWZB
(d) PQRWZB
S3. Ans.(a)
Sol. Opposite letter group of pair so, NLMWZB.
Q4. If '+' means '/', '/' means '–' , '–' means '×', '×' means '+', then 24 + 8/2 – 6 × 6?
यदि '+' का अर्थ '/', '/' का अर्थ '–' , '–' का अर्थ '×', '×' का अर्थ '+' है, तो 24 + 8/2 – 6 × 6= ?
(a) –10
(b) –3
(c) 12
(d) 21


Q5. In this question, some equations are solved on the basis of a certain system. On the same basis find out the correct answer from amongst the four alternatives for the unsolved equation.
इस प्रश्न में, कुछ समीकरण एक निश्चित प्रणाली से हल किए गए हैं। उसी आधार पर दिए गए चार विकल्पों में से बिना हल किये गए प्रश्न के लिए सही उत्तर चुनकर लिखिए।
7×6×8=678
8×9×7=987
6×5×7=567
5×4×6=?
(a) 456
(b) 564
(c) 645
(d) 654
S5. Ans.(a)
Sol. 456 sequence is correct due to shifting of digits.
Q6. Select the missing number from the given alternatives:
दिए गए विकल्पों में से अज्ञात संख्या का चयन करें



(a) 9
(b) 8
(c) 7
(d) 6
S6. Ans.(b)
Sol. 7 × 8 + 4 = 60,
8 × 8 + 6 = 70
Q7. A man starts from a point, walks 5 km towards East, turns right and walks 3 km, turns right again and walks. What is the direction he is facing now?
एक आदमी एक बिंदु से चलना शुरू करता है, 5 किमी पूर्व की ओर चलता है, दाएं मुड़ता है और 3 किमी चलता है, फिर से दाएं मुड़ता है और चलता है। अब उसका मुख किस दिशा में है?
(a) North/उत्तर
(b) South/दक्षिण
(c) West/पश्चिम
(d) South-west/दक्षिण पश्चिम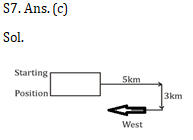 Q8. Consider the given statement/s to be true and decide which of the given conclusions/assumptions can definitely be drawn from the given statement.
आपको मानना है कि दिया गया वक्तव्य सत्य है, चाहे वह सामान्यतः ज्ञात तथ्यों से भिन्न प्रतीत होता हो। आपको निर्णय करना है कि दिए गए वक्तव्य से निश्चित रूप से कौन-सा/से सही निष्कर्ष/पूर्वधारणा निकाली जा सकती है?
Statement /कथन
1: All animals are four-footed./ सभी जानवर चार पैर वाले होते हैं
2. Dog has two legs./ कुत्ते के दो पैर होते हैं
Conclusion /निष्कर्ष
I. Dog is not an animal./कुत्ता एक जानवर नहीं है.
II. Dog is an animal./कुत्ता एक जानवर है
(a) If only I follows/ यदि केवल I अनुसरण करता है
(b) If only II follows/ यदि केवल II अनुसरण करता है
(c) If neither I nor II follows/ यदि न तो I और न ही II अनुसरण करता है
(d) If both I and II follow/यदि I और II दोनों अनुसरण करता है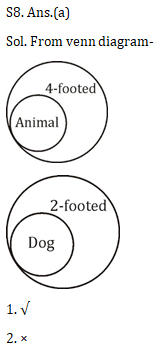 Q9. In the give cubes, which colour is opposite to purple?
दिए गए घन में, बैंगनी के विपरीत कौन सा रंग है?



(a) Violet/ बैंगनी
(b) Red/लाल
(c) Yellow/पीला
(d) Blue/नीला
S9. Ans.(c)
Sol. [Purple yellow is correct answer form dice 1 & dice 2]
Q10. Which of the following diagrams correctly represents elephants, wolves, animals?
निम्नलिखित में से कौन सा आरेख हाथी, भेड़िया, जानवरों के बीच का सही प्रतिनिधित्व करता है?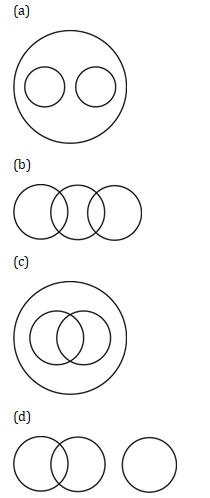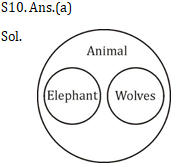 Get Free Study Material For RRB NTPC EXAM 2019
Important Links for RRB NTPC Recruitment 2019