As you all know, RRB NTPC Exam will be held in November/December 2019. We are providing daily learning quizzes, we aim to provide the best study materials to our students. Attempt this quiz and check your preparation.
Q1. A piece of paper is folded and cut as shown below in the question figures. From the given answer figures, indicate how it will appear when opened.
एक कागज को मोड़कर काटा गया जैसा की प्रश्न आकृति में दर्शाया गया है| दी हुई उत्तर आकृतियों में से उस आकृति को चुनें जो इंगित करे की कागज़ खोलने पर कैसा दिखेगा|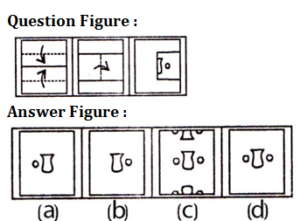 (a) a
(b) b
(c) c
(d) d
S1. Ans.(c)
Directions (2-5): In each of the following questions select the related letters/word/number from the given alternatives.
निम्नलिखित प्रत्येक प्रश्न में, दिए गए विकल्पों में से सम्बंधित अक्षर /शब्द /संख्या का चयन करें|
Q2. CFIL : ORUX : : DGJM : ?
(a) PSVY
(b) NQST
(c) HJLN
(d) RTVX
S2. Ans.(a)
Sol.
The pattern is +12, +12, +12 ,+12
Q3. BEHK : YVSP : : DGJM : ?
(a) JGDA
(b) ROLI
(c) WTQN
(d) ZWTQ
S3. Ans.(c)
Sol.
Pair of opposite letters.
Q4. 392 : 28 : : 722 : ?
(a) 18
(b) 28
(c) 38
(d) 48
S4. Ans.(c)
Sol.

Q5. 123 : 36 : : 221 : ?
(a) 52
(b) 69
(c) 72
(d) 25
S5. Ans.(d)
Sol.



Q6. In the following questions, number of letters is skipped in between by a particular rule. Which of the following series observes the rule?
निम्नलिखित प्रश्नों में, एक निश्चित नियम के द्वारा वर्णों के बीच की संख्या को हटा दिया गया है| निम्नलिखित में से कौन सा समूह इस नियम का पालन करता है?
(a) BAFHTU
(b) ACEGJL
(c) ACFJOU
(d) ADFHJL
S6. Ans.(c)
Sol.
The pattern is +2, +3, +4, +5, +6
Q7. From the given alternatives select the word which cannot be formed using the letters of the given word.
LAUGHTER
निम्नलिखित विकल्पों में से उस शब्द का चयन करें जो दिए गए शब्द के अक्षरों का प्रयोग करके निर्मित नहीं किया जा सकता|
LAUGHTER
(a) GATE
(b) RATE
(c) HATE
(d) GRUNT
S7. Ans.(d)
Sol.
'N' is not present in the given word.
Q8. PROHIBITION is coded as 68032124205. How will you code INHIBITION ?
PROHIBITION को 68032124205 कोडिकृत किया जाता है|आप INHIBITION को किस प्रकार कोडिकृत करेंगे?
(a) 2531214205
(b) 2532125205
(c) 2542124205
(d) 2532124205
S8. Ans.(d)
Q9. Two statements are given followed by two conclusions I and II. You have to consider the statements to be true even if they seem to be at variance from commonly known facts. You are to decide which of the given conclusions, if any, follow from the given statements. Indicate your answer.
Statements :
Every bottle with a red label contains fruit juice, Fruit juice is safe to drink
Conclusions :
I. It is safe to drink the contents of bottles with red label.
II. It is not safe to drink from bottles with green label.
निम्नलिखित प्रश्न में दो कथन दिए गए हैं, जिनका अनुसरण दो निष्कर्षों I और II द्वारा किया गया है| आपको इन तथ्यों को सत्य मानना है, भले ही ये सर्वज्ञात तथ्यों से भिन्न प्रतीत हों| आपको निर्णय करना है कि कौन सा निष्कर्ष दिए गए कथनों का तर्कपूर्ण अनुसरण करता है| उत्तर दें
कथन :
लाल लेबल वाली प्रत्येक बोतल में फ़्रूट जूस है, फ़्रूट जूस पीना सुरक्षित होता है|
निष्कर्ष :
I. लाल लेबल वाली बोतलों में रखे पदार्थ को पीना सुरक्षित है।
II. ग्रीन लेबल वाली बोतलों में रखे पदार्थ को पीना सुरक्षित नहीं है
(a) Only I follows/ केवल I अनुसरण करता है
(b) Only II follows/ केवल II अनुसरण करता है
(c) Neither I nor II follows/ न I और न II अनुसरण करता है
(d) Both I and II follow/ I और II दोनों अनुसरण करता है
S9. Ans.(a)
Sol.
Only conclusion I follows
Q10. Some equations are solved on the basis of a certain system. On the same basis, find out the correct answer for the unsolved equation.
कुछ प्रश्नों को एक निश्चित आधार पर हल किया गया है| इसी आधार पर अनुत्तरित प्रश्न का उचित हल ज्ञात करें|
3 × 1 × 5 = 2715
4 × 3 × 1 = 6491
2 × 6 × 7 = ?
(a) 8367
(b) 13649
(c) 1867
(d) 8649
S10. Ans.(a)
Sol.


Get Free Study Material For RRB NTPC EXAM 2019
Important Links for RRB NTPC Recruitment 2019