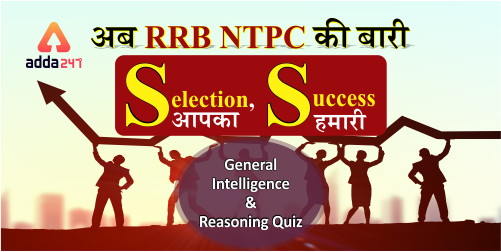 Dear Students,
As you all know, RRB NTPC Exam will be held in July/September 2019. We are providing daily learning quizzes, we aim to provide the best study materials to our students. Attempt this quiz and check your preparation.
Q1. . P, Q, R, S & T are sitting in a straight line facing North. P sits next to S but not to T. Q is sitting next to R who sits on the entrance left corner. Who sits to the left of S if T does not sit next to Q?
P, Q, R, S & T उत्तर की ओर मुख कर के एक सीधी रेखा में बैठे हैं. P, S के बगल में बैठा है लेकिन T के पास नहीं है. Q, R के बगल में बैठा है जो प्रवेश द्वार के बाएं कोने पर बैठा है. यदि T, Q के बगल में नहीं बैठता तो S के बाएं कौन बैठता है?
(a) P
(b) Q
(c) R
(d) T
S1.Ans.(a)
Sol.

Q2. Rahul walks 30 metres towards south. Then turns to his right and starts walking straight till he completes another 30 metres. Then again turning to his left he walks for 20 meters. He then turns to his left and walks for 30 meters. How far is he from his initial position?
राहुल दक्षिण की ओर 30 मीटर चलता है। फिर अपने दाईं ओर मुड़ता है और तब तक सीधा चलना शुरू करता है जब तक वह 30 मीटर की दूरी पूरी नहीं कर लेता। फिर अपने बाएं ओर मुड़कर वह 20 मीटर तक चलता है। वह फिर अपनी बाईं ओर मुड़ता है और 30 मीटर तक चलता है। वह अपनी प्रारंभिक स्थिति से कितनी दूर है?
(a) 50 meters/ मीटर
(b) 30 meters/ मीटर
(c) 10 meters/ मीटर
(d) 60 meters/ मीटर
S2.Ans.(a)
Sol.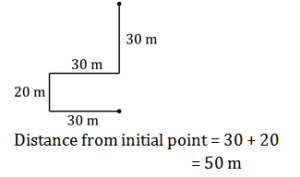 Q3. While the group photo of a family was taken, the father was found to be sitting to the left of the son and right to the grandfather. Mother was sitting to the right of her daughter but left to grandfather. Who is occupying the central place ?
जब एक परिवार का समूह फोटो लिया गया था, पिता, बेटे के बाईं ओर और ग्रैंडफादर के दाएं ओर बैठे थे। माँ अपनी बेटी के दाईं ओर बैठी थी लेकिन ग्रैंडफादर के बाएं ओर थी। केंद्र में कौन बैठा है?
(a) Son/बेटा
(b) Grandfather / ग्रैंडफादर
(c) Father/पिता
(d) Mother/माता
S3. Ans.(b)
Sol.

Q4 If in a certain language TEACHER is coded as QBXZEBO, then how is STUDENT coded in the same language?
किसी निश्चित कूट भाषा में, TEACHER को QBXZEBO के रूप में लिखा जाता है, तो उसी कूट भाषा में STUDENT किस प्रकार लिखा जाएगा?
(a) PQRBAQK
(b) PQRABKQ
(c) PQRKBAQ
(d) PRKQBAQ
S4. Ans.(b)
Sol.

Q5. Select the set of symbols which can be fitted correctly in the equation.
उन प्रतीकों के सेट का चयन करें जो समीकरण में सही ढंग से फिट किये जा सकते हैं.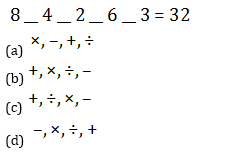 S5. Ans. (a)
Q6.Which answer figure will complete the pattern in the question figure?
कौन सी उत्तर आकृति प्रश्न आकृति में दिए गये प्रारूप को पूरा करेगी?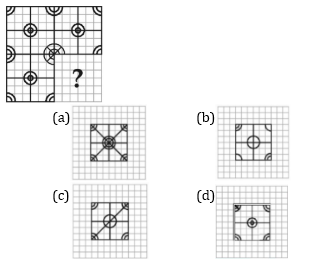 S6. (d);
Q7. From the given answer figures, select the one in which the question figure is hidden/embedded
दी गयी उत्तर आकृति से, उसका चयन कीजिए जिसमें प्रश्न आकृति छिपी/संकलित है?



S7.(B);
Q8. A piece of paper is folded and cut as shown below in the question figures. From the given answer figures, indicate how it will appear when opened
एक कागज़ के टुकड़े को मोड़ कर पंच किया गया जैसा कि नीचे दर्शाया गया है. नीचे दिए गये चित्रों से ज्ञात कीजिये कि खोले जाने पर यह किस प्रकार का दिखेगा.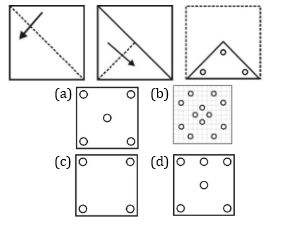 S8.(b);
Q9. In the following question, two statements are given each followed by two conclusions I and II. You have to consider the statements to be true even ifthey seem to be at variance from commonly known facts. You have to decide which of the given conclusions, if any, follows from the given statements.
नीचे दिए गये प्रश्न में, दो कथन दिए गए हैं जिनके नीचे दो निष्कर्ष I और II दिए गए हैं. आपको दिए गए कथनों को सत्य मानना है भले ही वे सर्वज्ञात तथ्यों से भिन्न प्रतीत होते हों. फिर आपको निर्धारित करना है कि यदि दिए गये निष्कर्षों में से कौन सा दिए गए कथनों का अनुसरण करता है.
Statement:/ कथन:
(I) Some tigers are foxes./ कुछ बाघ लोमड़ी हैं.
(II) No zebra is a tiger./ कोई ज़ेबरा बाघ नहीं हैं.
Conclusions:/निष्कर्ष:
(I) Some foxes are zebras./कुछ लोमड़ी ज़ेबरा हैं.
(II) Some foxes are not zebras./कुछ लोमड़ी ज़ेबरा नहीं हैं.
(a) Conclusion I follows/निष्कर्ष I अनुसरण करता है
(b) Conclusion II follows/निष्कर्ष II अनुसरण करता है
(c) Either I or II follows/ या तो I या II अनुसरण करता है
(d) Both I and II follows/दोनों I और II अनुसरण करता है
S9. Ans.(b)
Sol.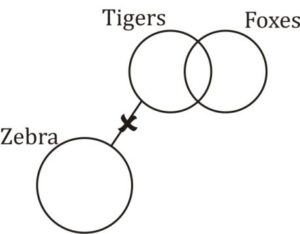 ∴ Conclusion II follows
Q10. A gets more marks than B but less than C. D gets less marks than E but more than A. If C gets less than D then who amongst A, B, C, D, E gets the highest marks?
A को B से अधिक लेकिन C से कम अंक प्राप्त होते हैं. D को E से कम लेकिन A से अधिक अंक प्राप्त होते हैं. यदि C को D से कम अंक प्राप्त होते हैं तो A, B, C, D, E में से किसे सबसे अधिक अंक प्राप्त होते हैं?
(a) C
(b) D
(c) E
(d) B
S10. Ans.(c)
Sol.
E > D > C > A > B
Get Free Study Material For RRB NTPC EXAM 2019
Important Links for RRB NTPC Recruitment 2019