Dear aspirants
As you all know, RRB NTPC Exam will be held in November/December 2019. We are providing daily learning quizzes, we aim to provide the best study materials to our students. Attempt this quiz and check your preparation.
Directions (1-2): In each of the following questions, select the related letters/word/numbers from the given alternatives.
निम्नलिखित प्रत्येक प्रश्न में, दिए गए विकल्पों में से सम्बंधित अक्षर/शब्द/सख्या का चयन करें
Q1. PNLJ : IGEC : : VTRP : ?
(a) OMKI
(b) RSTU
(c) QSRC
(d) RPOM
S1. Ans.(a)
Sol.


Q2. Writer : Pen : : ?
लेखक: कलम : : ?
(a) Needle : Tailor/ सुई : दर्जी
(b) Painter : Brush/ पेंटर : ब्रश
(c) Artist : Canvas/ कलाकार : कैन्वस
S2. Ans.(b)
Sol.
Writer uses pen and painter uses brush.
Q3. Which one of the given responses would be a meaningful descending order of the following?
निम्नलिखित विकल्पों में से कौन सा विकल्प अवरोही क्रम में अर्थवान होगा?
1. Major
2. Captain
3. Colonel
4. Brigadier
5. Lt. General
(a) 3, 4, 2, 5, 1
(b) 5, 1, 4, 2, 3
(c) 4, 5, 1, 3, 2
(d) 5, 4, 3, 1, 2
S3. Ans.(d)
Sol.
5, 4, 3, 1, 2
Directions (4-5): In each of the following questions a series is given, with one/two term(s) missing. Choose the correct alternative from the given ones that will complete the series.
निम्नलिखत प्रत्येक प्रश्न में एक श्रृंखला दी गई है, जिसमें एक/दो पद लुप्त है/हैं| दिए गए विकल्पों में से वह विकल्प चुनें जो श्रृंखला को पूरा करते हैं|
Q4. 9, 8, 10, 16, 11, ?, 12, 64
(a) 28
(b) 36
(c) 25
(d) 32
S4. Ans.(d)
Sol.
Two series of alternate terms, 1st : 9, 10, 11, 12
2nd : 8, 16, 32, 64
Q5. 34, 18, 10, ?
(a) 8
(b) 5
(c) 7
(d) 6
S5. Ans.(d)
Sol.


Q6. Rahul and Robin are brothers. Pramod is Robin's father. Sheela is Pramod's sister. Prema is Pramod's niece. Shubha is Sheela's granddaughter. How is Rahul related to Shubha?
राहुल और रोबिन भाई हैं| प्रमोद, रोबिन के पिता हैं| शीला, प्रमोद की बहन है| प्रेमा, प्रमोद की भांजी/भतीजी है| शुभा, शीला की ग्रैंडडॉटर है| राहुल, शुभा से किस प्रकार सम्बंधित है?
(a) Brother/ भाई
(b) Cousin/ कजिन
(c) Uncle / अंकल
(d) Nephew/ भतीजा/भांजा
S6. Ans.(c)
Sol.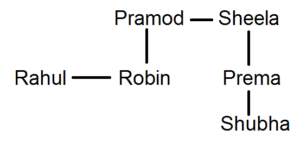 Q7. Find out the set of numbers amongst the four sets of numbers given in the alternatives which is most like the set given in the question.
Given set : (8, 56, 72)
निम्नलिखित चार संख्याओं के समूह में से उस संख्या के समूह का चयन करें जो प्रश्न में दिए गए समूह से सुसंबद्ध है|
दिया गया समूह : (8, 56, 72)
(a) (7, 56, 63)
(b) (3, 15, 24)
(c) (6, 42, 54)
(d) (5, 30, 35)
S7. Ans.(c)
Sol.


Q8. F has less money than H but more than G. E has more than F but less than H. Who is the poorest?
F के पास H से कम लेकिन G से अधिक पैसे हैं, E के पास F से अधिक लेकिन H से कम पैसे है| सबसे गरीब कौन है?
(a) F
(b) E
(c) H
(d) G
S8. Ans.(d)
Sol.


Q9. Some equations are solved on the basis of a certain system. On the same basis, find out the correct answer for the unsolved equation.
6–9–2 = 926, 3–2–1 = 213, 0–4–8 = ?
कुछ प्रश्न एक निश्चित आधार पर हल किए गए हैं| उसी आधार का अनुसरण करते हुए, अनुत्तरित प्रश्न को हल करें|
6–9–2 = 926, 3–2–1 = 213, 0–4–8 = ?
(a) 840
(b) 480
(c) 84
(d) 48
S9. Ans.(b)
Sol.
480, The digits are rearranged
Q10. Which one of the following diagrams best depicts the relationship among Honey-bee, Insects and Housefly?
निम्नलिखित आरेखों में से कौन सा आरेख शहद-मधुमक्खी, कीट और मक्खी के बीच संबंध की व्याख्या उचित रूप से करता है?

S10. Ans.(c)
Sol.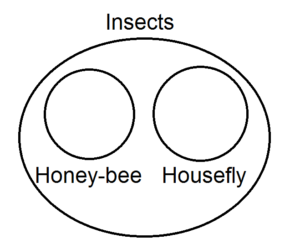 Get Free Study Material For RRB NTPC EXAM 2019
Important Links for RRB NTPC Recruitment 2019