Dear Students,
As you all know, RRB NTPC Exam will be held in the month of July/September 2019. We are providing daily learning quizzes, we aim to provide the best study materials to our students. Attempt this quiz and check your preparation.
Direction (1-3): Select the related word/letters/numbers from the given alternatives:
दिए गए विकल्पों में से सम्बंधित शब्द/वर्ण/संख्या का चयन करें
Q1. CURE : DISEASE : : HEAL : ?
इलाज: रोग :: स्वस्थ:?
(a) Illness/ रोग
(b) Injury/ चोट
(c) Recover/ स़्वस़्थ होना
(d) Sick/ बीमार
S1. Ans. (b);
Sol. Cure is related to Disease & heal is related to injury.
Q2. DBCE : QOPR : : JKLI : ?
(a) YWXU
(b) WYXV
(c) WXYV
(d) WYVX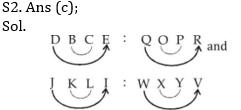 Q3. 6 : 42 :: 12 : ?
(a) 48
(b) 72
(c) 60
(d) 84
S3. Ans. (d);
Sol. 6 × 7 = 42
12 ×7 = 84
Direction (4-6):For the following questions. Find the odd word/letters/number pair from the given alternatives
निम्नलिखित प्रश्न में, दिए गए विकल्पों में से विषम शब्द/वर्ण/संख्या युग्म का चयन करें.
Q4. (a) Temple/मंदिर
(b) Worship/पूजा
(c) Mosque/मस्जिद
(d) Church/ चर्च
S4. Ans. (b);
Sol. Except (b) all are places where worship is offered.
Q5. (a) M N O M
(b) B D C B
(c) X Z Y X
(d) P R Q P


Q6. (a) 140 – 45
(b) 110 – 35
(c) 100 – 30
(d) 80 – 25
S6. Ans. (c);
Sol. Except 100 – 30 all others are in series of × 3 + 5.
Q7. Arrange the following words as per order in the dictionary?
दिए गए शब्दों को शब्दावली के अनुसार व्यवस्थित कीजिये.
1. Forest 2. Fascinating
3. Fantastic 4. Fabulous
(a) 2, 4, 3, 1
(b) 4, 2, 3, 1
(c) 4, 3, 2, 1
(d) 2, 3, 4, 1
S7. Ans. (c);
Sol. 4, 3, 2, 1
Q8. Which one set of letters when sequentially placed at the gaps in the given letter series shall complete it ?
दिए गए पत्र श्रृंखला में अंतराल पर अनुक्रमिक रूप से रखे जाने पर अक्षरों का कौन सा सेट इसे पूरा करेगा?
a_ca_c_dc_d_ad_
(a) ddacdc
(b) daadca
(c) dadaac
(d) ddaacc
S8. Ans. (d);
Sol. d d a a c c
Q9. Which number comes next in the series?
श्रृंखला में अगला नंबर कौन सा आएगा?
1, 5, 2, 6, 3, 7, ?
(a) 6
(b) 5
(c) 4
(d) 3
S9. Ans. (c);
Sol. 4
Q10. P and Q are sisters. R and S are brothers. P's daughter is R's sister. What is Q's relation to S?
P और Q बहनें हैं. R और S भाई हैं. P की बेटी R की बहन है. Q का S से क्या संबंध है?
(a) Mother / माता
(b) Grandmother/ ग्रैंड मदर
(c) Sister/ बहन
(d) Aunt/ आंटी
S10. Ans. (d);
Sol. Q is aunt of S
Important Links for RRB NTPC Recruitment 2019