Dear Students,
As you all know, RRB NTPC Exam will be held in October/November 2019. We are providing daily learning quizzes, we aim to provide the best study materials to our students. Attempt this quiz and check your preparation.
Q1. Which of the following can be described by the Venn diagram below?
निम्न में से किसे वेन आरेख द्वारा वर्णित किया जा सकता है?


(a) Dogs, Cats, Sheep / कुत्ते, बिल्लियाँ, भेड़ें
(b) Chairs, Tables, Furniture / कुर्सियां, मेजें, फर्नीचर
(c) Planets, Galaxies, Universe / गृह, तारामंडल, विश्व
(d) Physics, Chemistry, Mathematics / भौतिक शास्त्र, रसायन शास्त्र, गणित
S1. Ans.(b)
Q2. If 'dear' is coded as 1234, 'head' is coded as 2345, 'tear' is coded as 1346, 'help' is coded as 4758, then What can be the possible code for the word 'their'?
यदि dear' को 1234 कोड किया जाता है, 'head' को 2345 कोड किया जाता है, 'tear' को 1346 कोड किया जाता है, 'help' को 4758 कोड किया जाता है, तो 'their' शब्द के लिए संभावित कोड क्या हो सकता है?
(a) 95413
(b) 95312
(c) 54961
(d) 65391
S2. Ans.(c)
Sol.



Q3. How many integers between 1 and 100 (inclusive) are neither divisible by 2 nor 3?
1 और 100 (को मिलाकर) के मध्य कितने पूर्णांक है जो न 2 से और न ही 3 से विभाजित किए जा सकते हैं?
(a) 30
(b) 60
(c) 33
(d) 40
S3. Ans.(c)
Sol.



Q4. What will come in the place of question mark (?) in the following series?
NP OQ QS TV?
निम्नलिखित श्रंखला में प्रश्नचिह्न (?) के स्थान पर क्या आएगा?
NP OQ QS TV?
(a) XX
(b) XZ
(c) WZ
(d) WX
S4. Ans.(b)
Sol.
The pattern for 1st letter and 2nd letter of every term is +1, +2, +3, +4
Directions (5-6): In the following questions select the choice which completes the series.
निम्नलिखित प्रश्नों में उस विकल्प को चुनें जो श्रृंखला को पूरा करता है
Q5. J L N P R T ? :
(a) V
(b) U
(c) S
(d) W
S5. Ans.(a)
Sol.
The pattern is +2, +2, +2, +2, +2
Q6. A D I P ? :
(a) R
(b) T
(c) U
(d) Y
S6. Ans.(d)
Sol.
+3, +5, +7, +9
Q7. In this question, a statement is given followed by four alternative inferences. Select the one which is the most appropriate
निम्नलिखित प्रश्न में, एक कथन दिया गया है जिसके नीचे चार निष्कर्ष दिए गये हैं, आपको सबसे बेहतर निष्कर्ष का चयन करना है |
Statement : / कथन : 
Many creative persons become artists / कई क्रियात्मक व्यक्ति कलाकार बनते हैं|
Inferences : / निष्कर्ष :
(a) Some artists are creative persons / कुछ कलाकार क्रियात्मक व्यक्ति हैं(b) A high level of creativity is needed to become an artist / एक उच्च स्तर की क्रियात्मकता बन्ने के लिए कलाकार बनने की आवश्यकता है
(c) It is not possible to become an artist without creativity / बिना क्रियात्मकता के कलाकार बनना संभव नहीं है
(d) A creative person will certainly become an artist / एक क्रियात्मक व्यक्ति निश्चित ही कलाकार बनेगा
S7. Ans.(a)
Sol.
Only inference 'a' follows
Q8. Saumya is standing facing north. She walks 10 km straight, turns left and walks another 10 km and turns right and walks 5 km and finally turns left and walks 15 km, to reach a park. Which direction is she facing now ?
सौम्या उत्तर की ओर खड़ी है| एक पार्क तक पहुँचने के लिए वह 10 किमी सीधी चलती है, बाएँ मुड़कर फिर 10 किमी चलती है और फिर दाएं मुड़कर 5 किमी चलती है, अंतत: वो बाएँ मुड़ती है और 15 किमी चलती है| अब वह किस दिशा की ओर है
(a) East/ पूर्व
(b) West/ पश्चिम
(c) North/ उत्तर
(d) South/ दक्षिण
S8. Ans .(b)
Sol.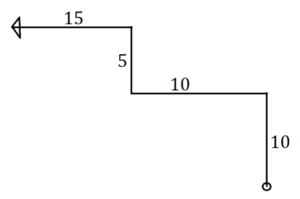 Q9. If a mirror is placed on the line MN, then which of the answer figures is the correct image of the given question figure?
यदि MN रेखा पर एक दर्पण रखा जाता है, तो निम्न उत्तर आकृतियों में से कौन सी आकृति प्रश्न आकृति के लिए उचित है?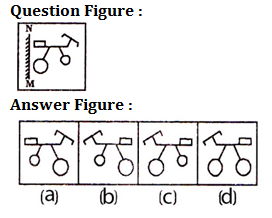 (a) a
(b) b
(c) c
(d) d
S9. Ans.(b)
Q10. A series is given, with one terms missing. Choose the correct alternative from the given ones that will complete the series.
एक श्रंखला दी गई है जिसमें एक टर्म अज्ञात हैं आपको दिए गए विकल्पों में से उस विकल्प का चयन करना है जो इस श्रंखला को पूरा करेगा?
Q6. 9, 27, 31, 155, 161, 1127,?
(a) 316
(b) 1135
(c) 1288
(d) 2254
S10. Ans.(b)
Sol. The pattern is x3, + 4, x5, +6, x 7 … So, missing term = 1127 + 8 = 1135.



Get Free Study Material For RRB NTPC EXAM 2019
Important Links for RRB NTPC Recruitment 2019