Dear Students,
As you all know, RRB NTPC Exam will be held in October/November 2019. We are providing daily learning quizzes, we aim to provide the best study materials to our students. Attempt this quiz and check your preparation.
Q1. In a family Mr. Prakash has his wife and his two married brothers of whom one has two children and another has none. How many members are there in the family ?
श्री प्रकाश के परिवार में उनकी पत्नी और उनके दो विवाहित भाई हैं, जिनमें से एक के दो बच्चे हैं और दूसरे का कोई बच्चा नहीं है। परिवार में कितने सदस्य हैं?
(a) 12
(b) 8
(c) 6
(d) 10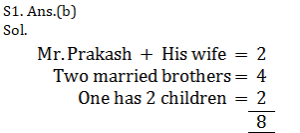 Q2. In the following question, select the missing word from the given series.
निम्नलिखित प्रश्न में, दी गयी श्रृंखला में से अज्ञात शब्द का चयन करें


(a) E
(b) D
(c) J
(d) H



Q3. If the first day of a year is Sunday, what will be the first day of the next year? (not a leap year)
यदि वर्ष का पहला दिन रविवार है, तो अगले वर्ष का पहला दिन क्या होगा? (एक लीप वर्ष नहीं)
(a) Saturday/शनिवार
(b) Friday/शुक्रवार
(c) Monday/सोमवार
(d) Thursday/गुरुवार
S3. Ans.(c)
Sol.
Odd day in ordinary year = 1
So, first day in next year = Monday
Q4. Mona walked 20 km towards east, turned left and walked 15 km, then she turned left then right and again right. In which direction is she going now?
मोना 20 किमी पूर्व की ओर चलती है, बाएं मुडती है और 15 किमी चलती है, फिर वह बाएं, फिर दाएं और फिर दोबारा दाएं मुडती है। अब वह किस दिशा में जा रही है?
(a) East/पूर्व
(b) West/पश्चिम
(c) North/उत्तर
(d) South/दक्षिण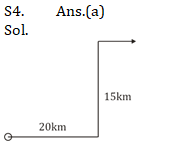 Q5. If 4 × 6 × 9 × 1 = 4196; 2 × 3 × 7 × 2 = 2273, then 1 × 4 × 8 × 9 = ?
यदि 4 × 6 × 9 × 1 = 4196; 2 × 3 × 7 × 2 = 2273, तो 1 × 4 × 8 × 9 = ?
(a) 1984
(b) 9841
(c) 1489
(d) 8149
S5. Ans.(a)
Sol.
2nd and 4th position numbers are interchanging their places
Q6. A piece of paper is folded and cut as shown below in the question figures. From the given answer figures, indicate how it will appear when opened.
एक कागज़ के टुकड़े को मोड़ कर पंच किया गया जैसा कि नीचे दर्शाया गया है. नीचे दिए गये चित्रों से ज्ञात कीजिये कि खोले जाने पर यह किस प्रकार का दिखेगा.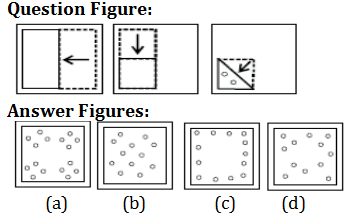 (a) a
(b) b
(c) c
(d) d
S6. Ans.(a)
Q7.



(a) 20
(b) 25
(c) 50
(d) 75



Q8. If a mirror is placed on the line MN, then which of the answer figures is the right image of the given figure?
यदि रेखा MN पर एक दर्पण रखा जाए, तो निम्नलिखित में से कौन सा उत्तर चित्र प्रश्न्चित्र कि सही छवि होगी?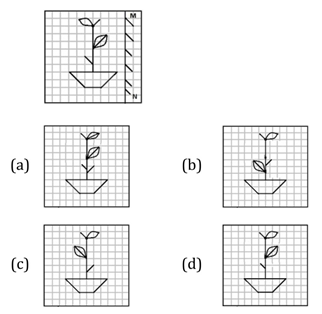 S8. Ans.(c)
Sol.
Q9. Identify the diagram that best represents the relationship among the given classes.
उस आरेख का चयन करे जो दिए गए वर्गों के बीच संबंधों का सबसे अच्छा प्रतिनिधित्व करता है
Biosphere, Hydrosphere, Atmosphere
जीवमंडल, जलमंडल, वायुमंडल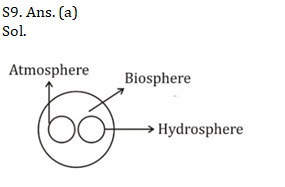 Q10. In the following figure, rectangle represents Hairstylists, circle represents Racers, triangle represents Divers and square represents Fathers. Which set of letters represents Fathers who are Divers?
दी गयी आकृति में, आयत हेयर स्टाइलिस्ट का, वृत्त रेसर्स का, त्रिकोण डाइवर्स का और वर्ग पिता का प्रतिनिधित्व करता है। अक्षरों का कौन सा सेट पिता का प्रतिनिधित्व करता है जो डाइवर्स हैं?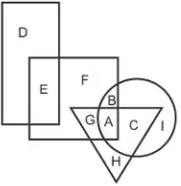 (a) BA
(b) AC
(c) HA
(d) GA
S10. Ans.(d)
Sol. G. A




Get Free Study Material For RRB NTPC EXAM 2019
Important Links for RRB NTPC Recruitment 2019