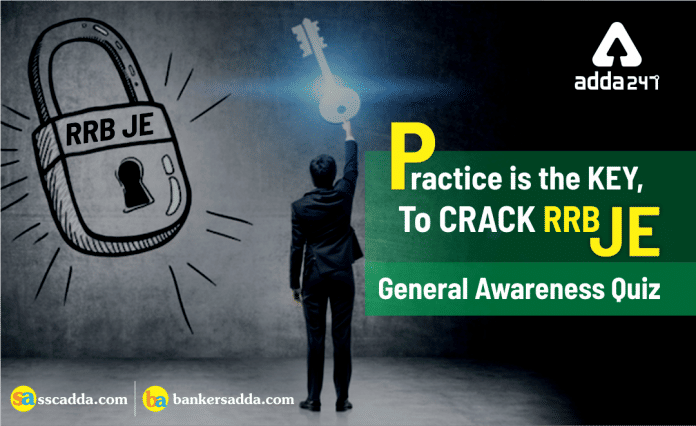 Dear Readers, GA section is taken on the light note but plays a vital role in achieving the score required to cross the cut off marks.We are providing important Static Awareness Questions for this, it will help you to score good in GA section if you regularly follow the contents provided on scaffold website and adda247 app regarding general knowledge important questions.We wish you the best wishes for all the upcoming exams.
Q1. Which of the following folk dances is associated with Karnataka?
निम्नलिखित में से कौन सा लोक नृत्य कर्नाटक से संबंधित है?
(a) Yakshagana / यक्षगान
(b) Veedhi /वीधी
(c) Jatra / जात्रा
(d) Jhora /झोरा
About Course:
Prepare for all SSC exams like SSC CGL,CHSL,CPO,Stenographer,MTS,Selection post and GD Constable etc from India's Best Teaching Educators!

About SSC ka Maha Pack:
SSC ka Maha Pack is a full-fledged course which incorporates all the essentials like Live online classes, Test series, Video courses, eBooks & countless unprecedented features that will help you excel in all the upcoming Teaching exams like SSC CGL,CHSL,CPO,Stenographer,MTS,Selection post and GD Constable etc

Includes:
You get access to:
200+ Hours of Live Classes

300+ Recorded Videos

500+ Total Tests

100+ Ebooks

Teacher's Class Notes/Slides.

Course Language
Classes: Hindi and English (Bilingual)
Study Material: English and Hindi
Tests: English and Hindi

Validity: 1 Month

Offer available for ADDA247 APP. Download the APP Now.
SSC Maha Pack


English and Hindi Medium
Detailed Solutions of all Questions
Detailed Solutions of all Questions
Validity
14 Months
8 Months
3 Months
1 Month
BUY NOW
S1. Ans.(a)
Sol. Yakshagana is a popular dance drama performed in coastal regions which is a blend of dance, music, songs, scholarly dialogue and colourful costumes. The word means "celestial music", and the dance drama is performed during the night (usually after the winter crop has been harvested).
Q2. The religious text of the Jews is named as
यहूदियों के धार्मिक ग्रंथ को क्या कहा जाता है?
(a) The Analectus / एनलक्टस
(b) Torah / टोरा
(c) Tripitaka / त्रिपिटक
(d) Zend-Avesta / जेंड-अवेस्ता
S2. Ans.(b)
Sol. Judaism is an ancient monotheistic religion, with the Torah as its foundational text, and supplemental oral tradition represented by later texts such as the Midrash and the Talmud.
Q3. The Annapurna Scheme was implemented in the year
अन्नपूर्णा योजना को किस वर्ष में लागू किया गया था?
(a) 1988
(b) 1996
(c) 1999
(d) 2000
S3. Ans.(d)
Sol. The Annapurna Scheme has been launched with effect from 1st April, 2000. It aims at providing food security to meet the requirement of those senior citizens who, though eligible, have remained uncovered under the National Old Age Pension Scheme(NOAPS).
Q4. Project Tiger was launched in
प्रोजेक्ट टाइगर किस वर्ष में लॉन्च किया गया था?
(a) 1954
(b) 1964
(c) 1973
(d) 1998
S4. Ans.(c)
Sol. One of the most intensive conservation efforts in India, Project India was launched in 1973. It envisaged the setting up of tiger reserves to help in maintaining the population of tigers. As per estimates, the number of tigers was about 40,000 at the beginning of the 20th century.
Q5. Right Livelihood award is instituted in
राइट लाइवलीहुड अवार्ड की स्थापना किस वर्ष में की गई है?
(a) 1980
(b) 1982
(c) 1984
(d) 1985
S5. Ans.(a)
Sol. The Right Livelihood Award is an international award to honour and support those offering practical and exemplary answers to the most urgent challenges being faced by the world today. The prize was established in 1980 by German-Swedish philanthropist Jakob von Uexkull, and is presented annually in early December.
Q6. Pinki Jangra is related to which of the following sports?
पिंकी जांगड़ा निम्नलिखित में से किस खेल से संबंधित है?
(a) Tennis/टेनिस
(b) Chess/ शतरंज
(c) Shooting/ शूटिंग
(d) Boxing/ मुक्केबाज़ी
S6. Ans.(d)
Sol. Pinki Rani is an Indian woman boxer from Haryana. She won a bronze medal in the 2014 Commonwealth Games and a gold medal at the President's Cup International Boxing in Palembang, South Sumatra, Indonesia, in 2015. She won gold medals at the 2011 National Games of India and the 2012 and 2014 national championships in the flyweight (51 kg) division.
Q7. Girna Dam is in which of the following state?
गिरना बांध निम्नलिखित में से किस राज्य में है?
(a) Madhya Pradesh/मध्य प्रदेश
(b) Tamil Nadu/तमिल नाडू
(c) Kerala/केरला
(d) Maharashtra/महाराष्ट्र
S7. Ans.(d)
Sol. Girna Dam, is an earthfill dam on Girna river near Malegaon, Nashik district in state of Maharashtra in India.
Q8. Minorities Rights Day is observed in India on
भारत में अल्पसंख्यक अधिकार दिवस कब मनाया जाता है?
(a) 23rd December /23 दिसम्बर
(b) 5th September /5 सितम्बर
(c) 1st December /1 दिसम्बर
(d) 18th December /18 दिसम्बर
Show Answer
S8. Ans.(d)
Sol. December 18 is observed as Minorities Rights Day every year since 1992 across the world to create awareness on rights of minorities. On this day, governments and other organizations conduct debates on the recent developments in policies and practices in Minority Rights both in India and at the global level.
Q9. Where is the oldest continuously functioning World Bank country office?
सबसे पुराना कामकजी विश्व बैंक कंट्री ऑफिस का कार्यालय कहाँ है?
(a) Tokyo /टोक्यो
(b) Bonn /बोन्न
(c) Paris /पेरिस
(d) New Delhi /नई दिल्ली

S9. Ans.(d)
Sol. The World Bank (WB) is an international financial institution that provides loans to developing countries for capital programs. It comprises two institutions: the International Bank for Reconstruction and Development (IBRD), and the International Development Association (IDA). The World Bank is a component of the World Bank Group, which is part of the United Nations system.
Q10. Which Indian city has been chosen by the World Bank for setting up its back office operations?
विश्व बैंक द्वारा अपने बैक ऑफिस संचालन की स्थापना के लिए किस भारतीय शहर को चुना गया है?
(a) New Delhi /नई दिल्ली
(b) Kolkata /कोलकाता
(c) Chennai /चेन्नई
(d) Bangalore /बैंगलोर
S10. Ans.(c)
Sol. The World Bank, Chennai is the extension of the World Bank headquartered in Washington, DC. The World Bank Chennai office offers corporate financial, accounting, administrative and IT services for the Bank's offices in around 150 countries. The Chennai office handles several value-added operations of the bank that were earlier handled only in its Washington, DC office.