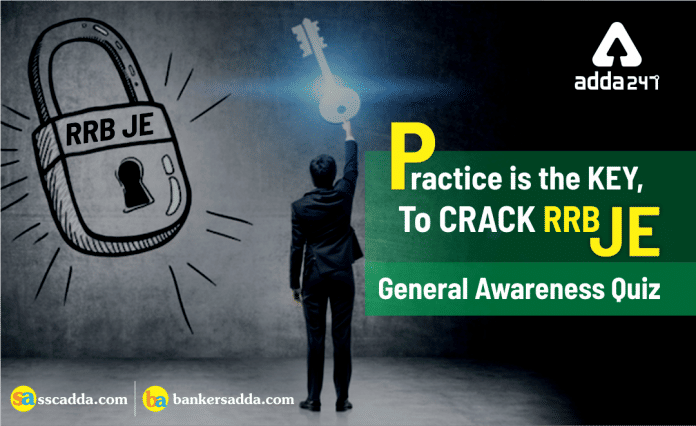 Dear Readers, GA section is taken on the light note but plays a vital role in achieving the score required to cross the cut off marks.We are providing important Static Awareness Questions for this, it will help you to score good in GA section if you regularly follow the contents provided on scaffold website and adda247 app regarding general knowledge important questions.We wish you the best wishes for all the upcoming exams.
Q1. Bhavai is the folk dance of which of the following state?
भवाई निम्नलिखित में से किस राज्य का लोक नृत्य है?
(a) Odisha/ ओडिशा
(b) Andhra Pradesh/ आंध्र प्रदेश
(c) Chhattisgarh/ छत्तीसगढ़
(d) Rajasthan/ राजस्थान
About Course:
Prepare for all SSC exams like SSC CGL,CHSL,CPO,Stenographer,MTS,Selection post and GD Constable etc from India's Best Teaching Educators!

About SSC ka Maha Pack:
SSC ka Maha Pack is a full-fledged course which incorporates all the essentials like Live online classes, Test series, Video courses, eBooks & countless unprecedented features that will help you excel in all the upcoming Teaching exams like SSC CGL,CHSL,CPO,Stenographer,MTS,Selection post and GD Constable etc

Includes:
You get access to:
200+ Hours of Live Classes

300+ Recorded Videos

500+ Total Tests

100+ Ebooks

Teacher's Class Notes/Slides.

Course Language
Classes: Hindi and English (Bilingual)
Study Material: English and Hindi
Tests: English and Hindi

Validity: 1 Month

Offer available for ADDA247 APP. Download the APP Now.
SSC Test Pack Online Test Series


1400+ Tests
Detailed Solutions and Analysis
Content by Expert Faculties
Validity
14 Months
1 Month
3 Months
BUY NOW
S1. Ans.(d)
Sol. Bhawai is a folk dance with swaying and twirling movements that is performed by women from certain tribes from the state of Rajasthan.Bhavai dance is often misinterpreted from 'Bhavai' which is a folk theatre form of Gujarat.
Q2. Who is the Chief Minister of Jharkhand?
झारखण्ड के मुख्य मंत्री कौन हैं?
(a) Raman Singh/रमन सिंह
(b) Vijaybhai R. Rupani/विजयभाई आर. रुपानी
(c) Okram Ibobi Singh/ओक्रम इबोबी सिंह
(d) Raghubar Das/रघुबर दास
S2. Ans.(d)
Sol. Raghubar Das is currently chief minister of Jharkhand state of India. He was sworn in as the 6th chief minister of Jharkhand state on 28 December 2014. He is an Indian politician and belongs to Bharatiya Janata Party.
Q3. Who is the governor of Rajasthan?
राजस्थान के गवर्नर कौन हैं?
(a) Keshari Nath Tripathi/केशरी नाथ त्रिपाठी
(b) Acharya Dev Vrat/आचार्य देव व्रत
(c) Mridula Sinha/मृदुला सिन्हा
(d) Kalyan Singh/कल्याण सिंह
S3. Ans.(d)
Sol. Kalyan Singh is the Governor of Rajasthan since 4 September 2014. He took additional charge of Himachal Pradesh replacing Urmila Singh, whose five-year term ended on 24 January 2015. Prior to that, he was an Indian politician from the state of Uttar Pradesh.
Q4. Capital of Armenia is?
आर्मेनिया की राजधानी क्या है?
(a) Bangui/ बांगुइ
(b) Yerevan/ येरेवान
(c) Nassau/ नासाउ
(d) Manama/ मनामा
S4. Ans.(b)
Sol. Armenia is located in the southern Caucasus and is the smallest of the former Soviet republics. It is bounded by Georgia on the north, Azerbaijan on the east, Iran on the south, and Turkey on the west. Yerevan, the capital of Armenia, is marked by grand Soviet-era architecture. Currency of Armenia Dram.
Q5. Earth Day is observed on which of the following date?
पृथ्वी दिवस निम्नलिखित में से किस तिथि को मनाया जाता है?
(a) July 10/जुलाई 10
(b) April 22/अप्रैल 22
(c) May 10/मई 10
(d) June 28/जून 28
S5. Ans.(b)
Sol. Earth Day is an annual event, celebrated on April 22, on which day events worldwide are held to demonstrate support for environmental protection. It was first celebrated in 1970, and is now coordinated globally by the Earth Day Network and celebrated in more than 193 countries each year.
Q6. Who is author of the book 'Apprenticeship of a Mahatma' on which the film called 'The Making of the Mahatma' is based?
पुस्तक 'Apprenticeship of a Mahatma' का लेखक कौन है जिस पर 'The Making of the Mahatma ' नामक फिल्म आधारित है
(a) Arundhati Roy/ अरुंधती रॉय
(b) Shyam Benegal/ श्याम बेनेगल
(c) Shobha de/ शोभा डे
(d) Fatima Meer/ फातिमा मीर
S6. Ans.(d)
Sol. The Making of the Mahatma (1996) is a joint Indian – South African produced film, directed by Shyam Benegal, about the early life of Mohandas Karamchand Gandhi during his 21 years in South Africa. The film is based upon the book, The Apprenticeship of a Mahatma, by Fatima Meer.
Q7. Which one of the following river flows through a rift valley?
निम्नलिखित में से कौन सी नदी एक रिफ्ट घाटी के माध्यम से बहती है?
(a) Godavari / गोदावरी
(b) Narmada / नर्मदा
(c) Krishna / कृष्णा
(d) Mahanadi/ महानदी
S7. Ans.(b)
Sol. Narmada is one of the rivers in India that flows in a rift valley, flowing west between the Satpura and Vindhya ranges. The other rivers which flow through rift valley include Damodar River in Chota Nagpur Plateau and Tapti. The Tapti River and Mahi River also flow through rift valleys, but between different ranges.
Q8. Who is the Deputy Chairman of the Rajya Sabha?
राज्य सभा का उपाध्यक्ष कौन हैं?
(a) P.J. Kurien / पी. जे. कुरियन
(b) Hamid Ansari / हामिद अंसारी
(c) Harivansh Narayan Singh/ हरिवंश नारायण सिंह
(d) Karia Munda / करिया मुंडा
Show Answer
S8. Ans.(c)
Sol. Harivansh Narayan Singh is an Indian journalist and politician, who is the current Deputy Chairman of the Rajya Sabha, the upper house of the Indian Parliament.
Q9. The World Ozone Day is celebrated on
विश्व ओजोन दिवस कब मनाया जाता है?
(a) September 18th /सितम्बर 18
(b) March 12th /मार्च 12
(c) September 16th /सितम्बर 16
(d) March 10th /मार्च 10

S9. Ans.(c)
Sol. In 1994, the UN General Assembly proclaimed 16 September the International Day for the Preservation of the Ozone Layer, commemorating the date of the signing, in 1987, of the Montreal Protocol on Substances that Deplete the Ozone Layer.
Q10. "Pushkar Fair" maily realted to which of the following thing?
"पुष्कर मेला" मुख्य रूप से निम्न में से किस से संबंधित है?
(a) Science/विज्ञानं
(b) Books/किताबें
(c) Art/कला
(d) Camels/ ऊंट
S10. Ans.(d)
Sol. The Pushkar Fair (Pushkar Camel Fair) or locally Pushkar ka Mela is an annual five-day camel and livestock fair held in the town of Pushkar in the state of Rajasthan, India. It is one of the world's largest camel fairs.