Dear aspirants,
RRB JE Stage II exam is scheduled to be conducted from 28th August to 1st September2019. The overall merit for the selection will be made on the basis of the marks scored in stage II, so candidates need to prepare thoroughly for the second stage. To help the aspirants, Adda247 has come up with a study plan in which we will provide you daily quizzes of all technical subjects. The below quiz will be helpful for the candidates who opted Civil as the exam group in RRB JE stage II.
Q 1. Permanent wilting point moisture content for a crop represents the
(a) hygroscopic water
(b) capillary water
(c) field capacity water
(d) water of adhesion
S 1. Ans.(a)
Sol.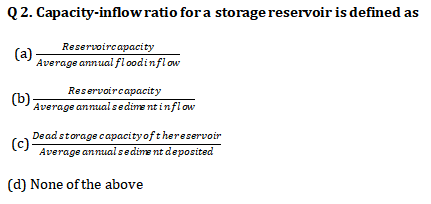 S 2. Ans.(a)
Sol.
Q 3. Which part of the tree consists of mainly cellular tissues?
(a) cambium layer
(b) bark
(c) heart wood
(d) pith
S 3. Ans.(d)
Q 4. Milestones are
(a) bar charts
(b) activities
(c) activity versus time
(d) beginning and end of various activities
S 4. Ans.(b)
Sol. The milestone chart is a modification over the original bar chart. In every activity, there are certain Key events which are to be carried out for the completion of the activity. Such Key events are called milestone and they are represented by a square or circle. These events are those which can be easily identified over the main bar representing the activity.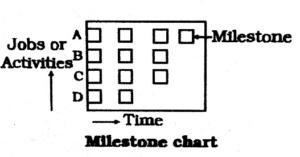 Q 5. Radius of Mohr's Circle represents
(a) maximum shear stress
(b) maximum tensile stress
(c) minimum tensile stress
(d) None of these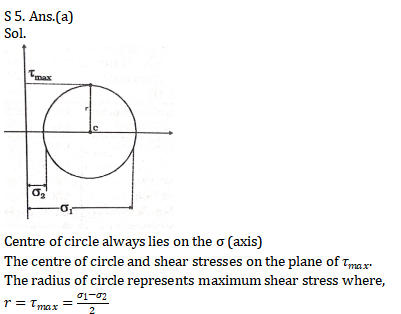 Q 6. Slack time refers to
(a) An activity
(b) An event
(c) Both event and activity
(d) None of these
S 6. Ans.(c)
Sol. Slack is the time by which an event can be delayed without affecting the scheduled completion time of the project or activity. It is equal to algebraic different of latest allowable occurrence time and earliest expected time of the concerned time.

Q 7. For one bag of cement (50 kg), the quantity for water required would be
(a) 50 kg
(b) 35 kg
(c) 25 kg
(d) 10 kg
S 7. Ans.(c)
Sol. For obtain the optimum strength of cement of 50 kg the quantity of water required is 25 kg.
Q 8. Hydraulically and economically, the best section of drains for large flow is
(a) rectangular
(b) square
(c) circular
(d) oval
S 8. Ans.(c)
Sol. Circular section is used because, fluctuation in discharge and velocity is very-very less (7% and %)
Q 9. The initial setting time for quick cement is
(a) 5 seconds
(b) 5 minutes
(c) 5 hours
(d) 5 days
S 9. Ans.(b)
Sol. Extra rapid hardening cement or quick cement is obtained by intergrinding calcium chloride with rapid hardening portand cement. The normal addition of is 2% by weight of the rapid hardening cement. The addition of also impart quick setting properties. Hence, this cement should be placed and fully compacted within 5 minutes of mixing.
Q10. Which of the following materials has the highest carbon percentage?
(a) Cast iron
(b) Mild steel
(c) High carbon steel
(d) Stainless steel
S10. Ans.(a)
Sol. Carbon content decides fracture strain in a material.
If carbon content (%) is higher than the material will be more brittle and lesser will lead to ductile material.
Cast iron is more brittle than mild steel and other types of steel.
You may also like to read: