Dear Students,
As you all know, RRB JE Exam will be held in the month of april/may 2019. We are providing daily learning quizzes, we aim to provide the best study materials to our students. Attempt this quiz and check your preparation.  
Directions (1-2): In each of the following questions, find the odd word/number from the given alternatives.
निम्नलिखित प्रत्येक प्रश्न में, दिए गए विकल्पों में से विषम शब्द/संख्या को चुनिये।
Q1.
(a) Carbon dioxide/ कार्बन डाइऑक्साइड
(b) Methane/ मीथेन
(c) Sulphur dioxide / सल्फर डाइऑक्साइड
(d) Nitrous Oxide / नाइट्रस ऑक्साइड

S1. Ans. (c);
Sol. Except Sulphur dioxide, all other gases are greenhouse gases.
Q2.
(a) 121
(b) 289
(c) 196
(d) 225
S2. Ans. (c);
Sol. 121 = 11 × 11
289 = 17 × 17
196 = 14 × 14
225 = 15 × 15
The number 196 is a prefect square of an even number.
Q3. In this question below are given three statements followed by two conclusions numbered I, II, III and IV. You have to take the given three statements to be true even if they seem to be at variance from commonly known facts. Read the conclusion and then decide which of the given conclusions logically follows from the three given statements, disregarding commonly known facts.
निम्नलिखित प्रश्न में तीन कथन दिए गए हैं, उनके बाद निष्कर्ष I, II, III और IV दिए गए हैं। आपको दिए गये तीनों कथनों को सत्य मानना है भले ही वे सर्वज्ञात तथ्यों से भिन्न प्रतीत हों और फिर सर्वज्ञात तथ्यों को नज़रंदाज़ करते हुए निर्णय लेना है कि दिए गये निष्कर्षों में से कौन सा, दिए गए तीनों कथनों का अनुसरण करता है।
Statements: A. Some trees are buildings/ कथन: A. कुछ पेड़ इमारतें हैं।
B. All buildings are parrots/ सभी इमारतें तोते हैं।
Conclusions: I. All parrots are buildings/ निष्कर्ष: I. सभी तोते इमारतें हैं।
II. Some parrots are buildings/ कुछ तोते इमारतें हैं।
(a) Only conclusion I follows/ केवल निष्कर्ष I अनुसरण करता है।
(b) Only conclusions II follows/ केवल निष्कर्ष II अनुसरण करता है।
(c) Both I and II follow/ दोनों I और II अनुसरण करते हैं।
(d) Neither of them follow/ उनमें से कोई अनुसरण नहीं करता है।

Q4. Which one will replace the question mark?
दिए गए विकल्पों में से कौन सा, प्रश्नचिह्न के स्थान पर आएगा?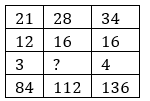 (a) 2
(b) 3
(c) 4
(d) 5
S4. Ans. (c);
Sol. (21×12)/3=84
(34×16)/4=136
So, (28×16)/ ?=112
⇒ ? = 4
Q5. Pointing to a photograph Lata says, "He is the son of the only child of my grandfather". How is the man in the photograph related to Lata?
एक तस्वीर की ओर संकेत करते हुए लता कहती है, "यह मेरे ग्रैंडफादर की इकलौती संतान का पुत्र है।" तस्वीर में वह पुरुष लता से किस प्रकार सम्बंधित है?
(a) Brother / भाई
(b) Uncle/ अंकल
(c) Cousin/ कजिन
(d) Data inadequate/ अपर्याप्त डाटा
S5. Ans. (a);
Sol. The man in the photograph is the son of the only child of Lata's grandfather i.e. the man is the son of Lata's father. Hence, the man is the brother of Lata.
Q6. Identify the diagram that best represents the relationship among Mother, Female, Doctors.
उस आरेख का चयन कीजिये, जो दिए गए वर्गों के मध्य सही सम्बन्ध को दर्शाता है।
माँ, महिला, चिकित्सक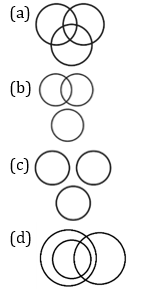 Q7. If the letters in PLATE are coded as 32876 and BLEND are coded as 52694, how can DENTED be coded?
यदि PLATE शब्द के अक्षरों को 32876 के रूप में और BLEND को 52694 के रूप में कूटबद्ध किया गया है, तो DENTED को किस प्रकार कूटबद्ध किया जा सकता है?
(a) 869768
(b) 295329
(c) 469764
(d) 538635
S7. Ans. (c);
Sol. DENTED = 469764
Q8. If a mirror is placed on the line MN, then which of the answer figures is the right image of the given figure?
यदि एक दर्पण को रेखा MN पर रखा जाये, तो दी गई उत्तर आकृतियों में से कौन सी आकृति प्रश्न आकृति का सही प्रतिबिम्ब होगी?

S8. Ans. (b)
Q9. A piece of paper is folded and cut as shown below in the question figures. From the given answer figures, indicate how it will appear when opened.
निम्न दी गई प्रश्न आकृतियों के अनुसार कागज़ के एक टुकड़े को मोड़ा और छिद्रित किया जाता है। बताएं कि यह कागज़ खोले जाने पर दी गई उत्तर आकृतियों में से कैसा दिखाई देगा?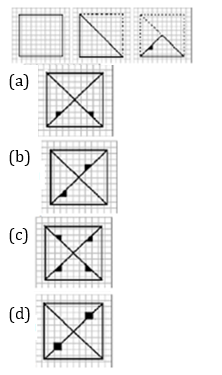 S9. Ans. (d)
Q10. From the given answer figures, select the one in which the question figure is hidden/embedded.
दी गयी उत्तर आकृतियों में से, उस आकृति को चुनिये जिसमें प्रश्न आकृति छिपी/अन्तर्निहित है।


S10. Ans. (d)
You may also like to read: