Dear Students,
As you all know, RRB JE Exam will be held in the month of April/May 2019. We are providing daily learning quizzes, we aim to provide the best study materials to our students. Attempt this quiz and check your preparation.
Q1. In the following question, which one set of letters when sequentially placed at the gaps in the given letter series shall complete it?
निम्नलिखित प्रश्न में, दिए गए पत्र श्रृंखला में अंतराल पर अनुक्रमिक रूप से रखे जाने पर अक्षरों का कौन सा सेट इसे पूरा करेगा?
P_P_RPQ_S_Q_ST
(a) QRQPR
(b) QQRPR
(c) PQPRR
(d) PRQRQ

Q2. A series is given with one term missing. Choose the correct alternative from the given ones that will complete the series.
एक श्रंखला दी गई है जिसमें एक टर्म अज्ञात हैं आपको दिए गए विकल्पों में से उस विकल्प का चयन करना है जो इस श्रंखला को पूरा करेगा?
ML, HG, CB, ?
(a) XW
(b) YX
(c) WX
(d) ZY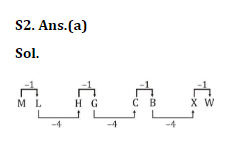 Q3. In the following question, select the missing number from the given series.
निम्नलिखित प्रश्न में, दी गयी श्रृंखला में से अज्ञात संख्या का चयन करें.

(a) 465
(b) 470
(c) 468
(d) 430
S3. Ans.(c)
Sol.
5² + 6² = 61
12² + 11² = 265
18² + 12² = 468
Q4. A series is given with one term missing. Choose the correct alternative from the given ones that will complete the series.
एक श्रंखला दी गई है जिसमें एक टर्म अज्ञात हैं आपको दिए गए विकल्पों में से उस विकल्प का चयन करना है जो इस श्रंखला को पूरा करेगा?
AB, EFG, KLMN,?
(a) TSUVW
(b) STVUW
(c) STUVW
(d) RSTUV
Q5. A series is given with one term missing. Choose the correct alternative from the given ones that will complete the series.
एक श्रंखला दी गई है जिसमें एक टर्म अज्ञात हैं आपको दिए गए विकल्पों में से उस विकल्प का चयन करना है जो इस श्रंखला को पूरा करेगा?
AZ, BY, CX,?
(a) KN
(b) EV
(c) EW
(d) ED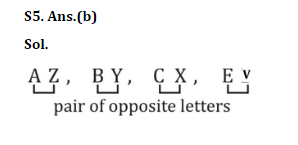 Q6. A series is given with one term missing. Choose the correct alternative from the given ones that will complete the series.
एक श्रंखला दी गई है जिसमें एक टर्म अज्ञात हैं आपको दिए गए विकल्पों में से उस विकल्प का चयन करना है जो इस श्रंखला को पूरा करेगा?
8,21,60, 177,?
(a) 425
(b) 528
(c) 525
(d) 575
S6. Ans.(b)
Sol.
8 × 3 = 24 – 3 = 21
21 × 3 = 63 – 3 = 60
60 × 3 = 180 – 3 = 177
177 × 3 = 531 – 3 = 528
Q7. Identify the diagram that best represents the relationship among the given classes.
उस आरेख को पहचानें जो दिए गए वर्गों के बीच संबंधों का सबसे अच्छा प्रतिनिधित्व करता है।
Festival, Durga Puja, Diwali, Eid
त्योहार, दुर्गा पूजा, दिवाली, ईद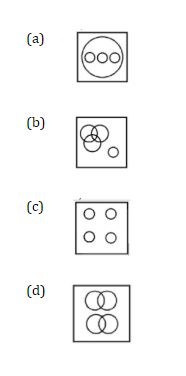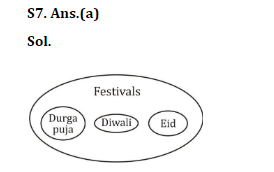 Q8. If "S" denotes "multiplied by", "V" denotes "subtracted from", "M" denotes "added to" and "L" denotes "divided by", then 12 V 3 M 441 L 21 S 8 =?
यदि "S" को "गुणा" से, "V" को " घटाया गया", "M" को " जोड़ा गया" और "L" से "विभाजित" किया जाए से दर्शाया जाता है, तो 12 V 3 M 441 L 21 S 8 =?
(a) 661
(b) 170
(c) 174
(d) 177
S8. Ans.(d)
Sol. 12 V 3 M 441 L 21 S 8
⇒ 12 – 3 + 441 ÷ 21 × 8
⇒ 12 – 3 + 21 × 8
⇒ 12 – 3 + 168
⇒ 180 – 3
⇒ 177
Q9. A series is given with one term missing. Choose the correct alternative from the given ones that will complete the series.
एक श्रंखला दी गई है जिसमें एक टर्म अज्ञात हैं आपको दिए गए विकल्पों में से उस विकल्प का चयन करना है जो इस श्रंखला को पूरा करेगा?
60, 80, 95, 105, ?
(a) 190
(b) 110
(c) 150
(d) 250
Q10. Introducing a girl, Ankit says, "She is the sister of the son of my mother's sister". How is the girl related to Ankit?
एक लड़की का परिचय देते हुए, अंकित कहता है, "वह मेरी माँ की बहन के बेटे की बहन है"। लड़की अंकित से कैसे संबंधित है?
(a) Niece/भांजी/भतीजी
(b) Daughter/बेटी
(c) Sister /बहन
(d) Cousin/कजिन