Dear aspirants,
As you all know, RRB JE Exam will be held in the month of april/may 2019. So we are here to help you with the Mathematics subject. We are providing daily quantitative aptitude quizzes, which will help you to score good marks in this section. We aim to provide the best study material to our readers with exam level questions to help them get used to the recent pattern. Attempt this quiz and check your preparation. 
https://www.facebook.com/sscadda1/videos/2179736772092469/
Q1. The diagonals of rectangle ABCD meet at O. If ∠BOC = 44°, then ∠OAD is equal to:
आयत ABCD के विकर्ण, बिंदु O पर मिलते हैं। यदि ∠BOC = 44° है, तो ∠OAD किसके बराबर है?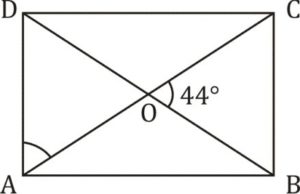 (a) 90°
(b) 60°
(c) 100°
(d) 68°

Q2. ABCD is a rhombus with ∠ABC = 50°, ∠ACD is :
ABCD एक सम चतुर्भुज है, साथ ही ∠ABC = 50° है, तो ∠ACD का मान क्या है?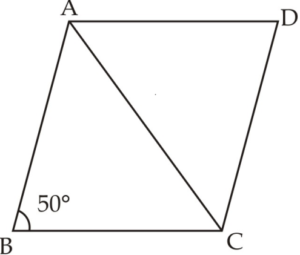 (a) 50°
(b) 90°
(c) 65°
(d) 70°
Q3. PQRS is a parallelogram. PX and QY are respectively, the perpendicular from P and Q to SR and SR produced. Then PX is equal to:
PQRS एक समानांतर चतुर्भुज है। PX और QY क्रमशः P और Q से लंब हैं, जो SR और SR पर डाले गए हैं। तो PX किसके बराबर है?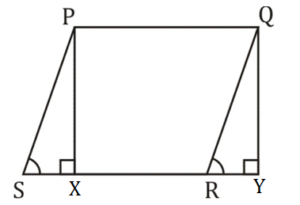 (a) QY
(b) 2QY
(c) 1/2 QY
(d) XR

Q4. ABCD is a parallelogram where CL ⊥ AD and DM ⊥ BA. If CD = 16 units, DM = 12 units and CL = 15 units, then AD = ?
ABCD एक समानांतर चतुर्भुज है, जहाँ CL ⊥ AD और DM ⊥ BA है। यदि CD = 16 इकाई, DM = 12 इकाई और CL = 15 इकाई है, तो AD = ?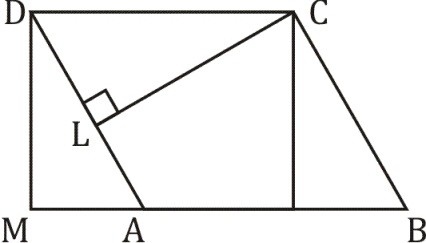 (a) 12.8 units
(b) 13.6 units
(c) 11.1 units
(d) 12.4 units

Q5. If area of a parallelogram with sides a and b is A and that of a rectangle with sides a and b is B, then:
यदि भुजाओं a और b वाले एक समानांतर चतुर्भुज का क्षेत्रफल A है और भुजाओं a और b वाले एक आयत का क्षेत्रफल B है, तो:
(a) A > B
(b) A < B
(c) A = B
(d) None of these

Q6. Any cyclic parallelogram having unequal adjacent sides is necessarily:
असमान आसन्न भुजाओं वाला कोई भी चक्रीय समानांतर चतुर्भुज अनिवार्य रूप से है:
(a) square
(b) rectangle
(c) rhombus
(d) Trapezium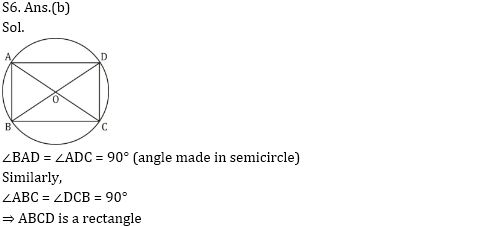 Q7. In a quadrilateral ABCD, AO and BO are the bisectors of ∠A and ∠B respectively, then ∠AOB is equal to:
एक चतुर्भुज ABCD में, AO और BO क्रमशः ∠A और ∠B के समद्विभाजक हैं, तो ∠AOB किसके बराबर है?
(a) ∠C + ∠D
(b) 2∠C + 2∠D
(c) 1/2 (∠C+∠D)
(d) 1/2 (∠C-∠D)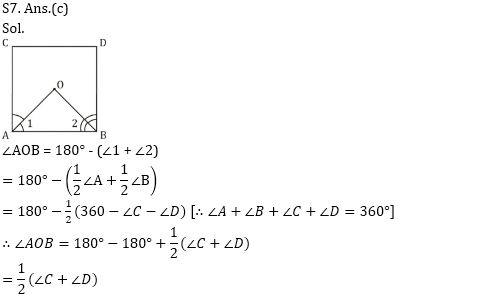 Q8. In the trapezium ABCD, ∠BAE = 30°, ∠CDF = 45°, BC = 6 cm and AB = 12 cm. Find the area of trapezium :
समलंब चतुर्भुज ABCD में, ∠BAE = 30°, ∠CDF = 45°, BC = 6 से.मी. है और AB = 12 सेमी है। उस समलंब चतुर्भुज का क्षेत्रफल ज्ञात कीजिए।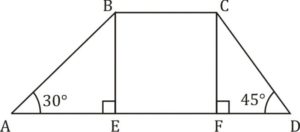 (a) 18(3+√3) cm^2
(b) 36√3 cm^2
(c) 12(3+2√3) cm^3
(d) None of these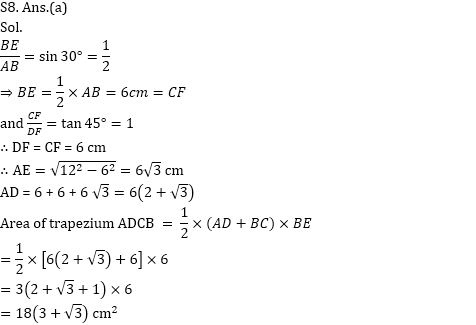 Q9. In parallelogram ABCD, AB = 10 cm. The altitude corresponding to the sides AB and AD are 7 cm and 8 cm respectively. Find AD :
समानांतर चतुर्भुज ABCD में, AB = 10 से.मी है। AB और AD भुजाओं के संगत शीर्षलंब क्रमशः 7 से.मी. और 8 से.मी. हैं। AD ज्ञात कीजिए।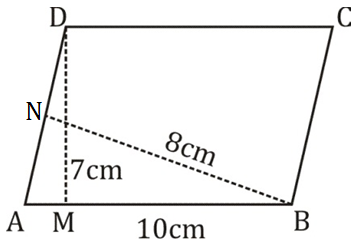 (a) 8.50 cm
(b) 8.25 cm
(c) 8.75 cm
(d) 9.00 cm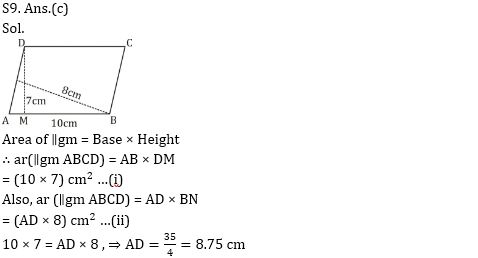 Q10. ABCD is a trapezium in which AB ∥ DC and AB = 8 cm, BC = 10 cm, CD = 12 cm, AD = 16 cm, then AC^2+BD^2 is equal to:
BCD एक समलंब चतुर्भुज है जिसमें AB ∥ DC और AB = 8 से.मी, BC= 10 से.मी, CD= 12 से.मी, AD = 16 सेमी है, तो AC^2+BD^2 किसके बराबर है?
(a) 458 cm^2
(b) 448 cm^2
(c) 546 cm^2
(d) 548 cm^2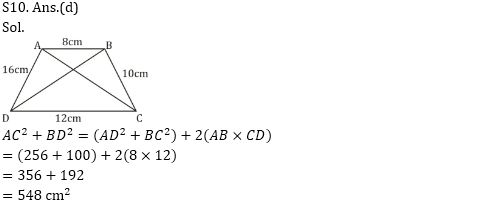 For RRB JE Free Study Material Click Here