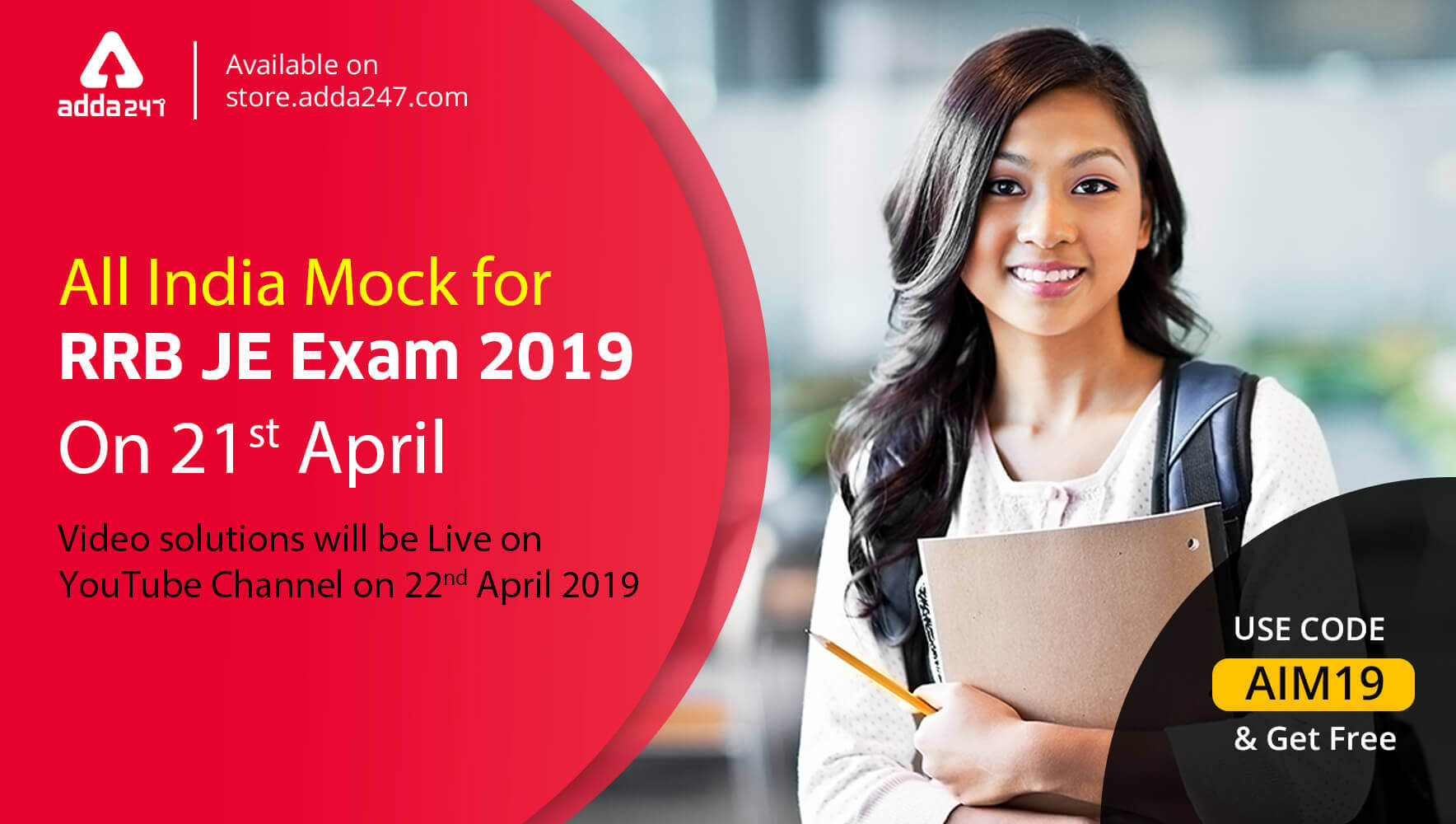 Dear Aspirants,
Railway Recruitment Board released notification for RRB JE Exam 2019 to offer 13, 487 job vacancies in various posts of Junior Engineer, Depot Material Superintendent and Chemical & Metallurgical Assistant. The exam is expected to be held in the month of April/May 2019. Efforts are put forward by aspirants but fall short of the competition level's expectations as they lack in productive practice sessions, required time management, self-analysis and performance improvement strategy. And that is where SSCADDA stands to assist you through all the productive sources to outshine in such competitive exams.
Click here to attempt Free Mock
With RRB JE 2019 looming large, SSCADDA is all set to utilize this platform to ease the competition for you by conducting All India Mock Test for RRB JE 2019 Exam  on 21 April 2019 has extended for today. Use Coupon Code AIM19 to take the Mock free of cost. Video Solutions will be live on our YouTube Channel.
The comprised Mock Test is based on latest exam pattern of RRB JE 2019 Exam and subsumes variety of questions matching the level and nature of frequently asked questions from all the mandatory sections of the same in the previous years thus filtering out the errors and flaws in your preparation to the expected level.
Visit store.adda247.com to take the RRB JE 2019 Mock Test
You may also like to buy:
15 Mocks for First Stage
7 Mocks for Second Stage
20 Topic wise Tests for First Stage
5 Previous Years Practice sets for Mechanical & Allied Engineering
20 Section wise Practice sets for First Stage
20 Topic wise Tests for Mechanical & Allied Engineering
Study notes Ebooks
15 Mocks for First Stage
7 Mocks for Second Stage
20 Topic wise Tests for First Stage
5 Previous Years Practice sets for Electrical & Allied Engineering
20 Section wise Practice sets for First Stage
20 Topic wise Tests for Electrical & Allied Engineering
Study notes eBooks
15 Mocks for First Stage
7 Mocks for Second Stage
20 Topic wise Tests for First Stage
5 Previous Years Practice sets for Electronics& Allied Engineering
20 Section wise Practice sets for First Stage
20 Topic wise Tests for Electronics & Allied Engineering
Study notes eBooks
15 Mocks for First Stage
7 Mocks for Second Stage
20 Topic wise Tests for the First Stage
5 Previous Years Practice sets for CS & IT & Allied Engineering
20 Section wise Practice sets for First Stage
20 Topic wise Tests for CS & IT& Allied Engineering
Study notes eBooks
15  Mocks for First Stage
7 Mocks for Second Stage
20 Topic wise Tests for First Stage
5 Previous Years Practice sets for Civil & Allied Engineering
20 Section wise Practice sets for First Stage
20 Topic wise Tests for Civil & Allied Engineering
Study notes eBooks
Important Links for RRB JE Recruitment 2019