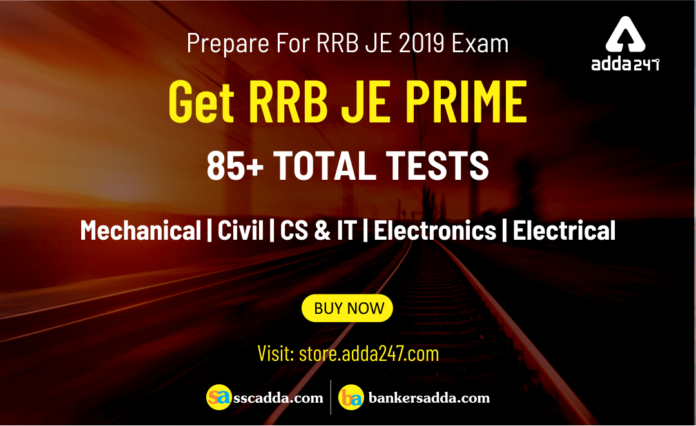 The
Railway Recruitment Board released 13,487 vacancies for the post of Junior Engineers the examinations for which will be held in the month of April or May this year.
This puts on you the onerous task of endeavoring to achieve your career goals without procrastinating anymore. Now, you must have yourself realized the dire need of keeping your casual attitude at bay and sinking your teeth into the preparations.
Get 25% Off, Use Code: EXAM25
Students, what plays an important role in one's success in any competitive examination is round-the-clock practice accompanied by a pinch of sincerity and determination. Regular practice not only helps you develop marvelous skills to ace an examination but also empowers you to get better as time goes by. Once you attune yourself to constant practice with mock tests, the real examination no longer seems outlandish to you. So, practice hard, compromise it for nothing and ace this year's RRB JE exams.
Here are Adda247 RRB JE Prime Test Series with topic-wise mocks for First stage CBT, and Second Stage (Mechanical & Allied Engineering, Electrical & Allied Engineering, Electronics & Allied Engineering, CS & IT and Allied Engineering and Civil & Allied Engineering). With these packages, discover where you stand and how much more you need to strive, because, in this fight for a seat of RRB Junior Engineer, it's like, shape up or ship out, and you are the one who has to decide if to withstand the competition or quit. If you are willing to bring the house down then get RRB JE Prime Test Series while the going is good.
15 Mocks for First Stage
7 Mocks for Second Stage
20 Topic wise Tests for First Stage
5 Previous Years Practice sets for Mechanical & Allied Engineering
20 Section wise Practice sets for First Stage
20 Topic wise Tests for Mechanical & Allied Engineering
Study notes Ebooks
15 Mocks for First Stage
7 Mocks for Second Stage
20 Topic wise Tests for First Stage
5 Previous Years Practice sets for Electrical & Allied Engineering
20 Section wise Practice sets for First Stage
20 Topic wise Tests for Electrical & Allied Engineering
Study notes eBooks
15 Mocks for First Stage
7 Mocks for Second Stage
20 Topic wise Tests for First Stage
5 Previous Years Practice sets for Electronics& Allied Engineering
20 Section wise Practice sets for First Stage
20 Topic wise Tests for Electronics & Allied Engineering
Study notes eBooks
15 Mocks for First Stage
7 Mocks for Second Stage
20 Topic wise Tests for the First Stage
5 Previous Years Practice sets for CS & IT & Allied Engineering
20 Section wise Practice sets for First Stage
20 Topic wise Tests for CS & IT& Allied Engineering
Study notes eBooks
15  Mocks for First Stage
7 Mocks for Second Stage
20 Topic wise Tests for First Stage
5 Previous Years Practice sets for Civil & Allied Engineering
20 Section wise Practice sets for First Stage
20 Topic wise Tests for Civil & Allied Engineering
Study notes eBooks
Important Links for RRB JE Recruitment 2019

❇Check Detailed Notification
❇Eligibility Criteria: Important FAQs
❇Steps to apply online
❇Job profile & Salary Structure
❇Exam Pattern and Syllabus 2019