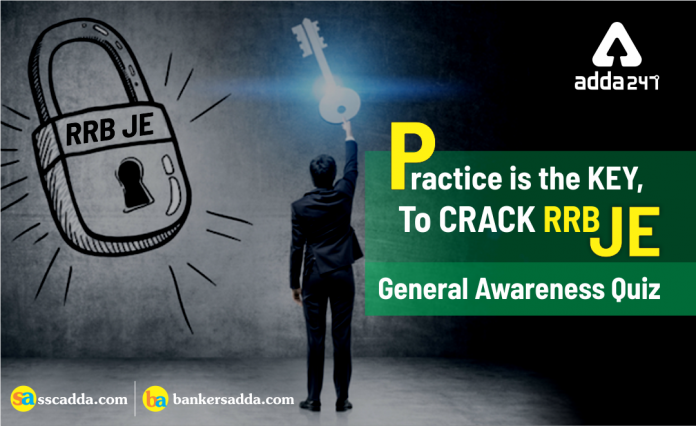 Dear Readers, GA section is taken on the light note but plays a vital role in achieving the score required to cross the cut off marks. We are providing important GA Questions for this, it will help you to score good in GA section if you regularly follow the contents provided on scaffold website and adda247 app regarding general knowledge important questions. We wish you the best wishes for all the upcoming exams.
Q1. Head office of Bank for International Settlements (BIS) is in which of the following city?
बैंक फॉर इंटरनेशनल सेटलमेंट्स (BIS) का मुख्य कार्यालय निम्नलिखित में से किस शहर में है?
(a) Washington D.C/ वाशिंगटन डी सी
(b) Geneva, Switzerland/ जिनेवा, स्विट्जरलैंड
(c) Basel, Switzerland/ बेसल, स्विट्जरलैंड
(d) New York City, USA/ न्यूयॉर्क शहर, यूएसए
Ans.(c)
Sol. The BIS is owned by 60 central banks, representing countries from around the world that together account for about 95% of world GDP.The BIS was established in 1930. Its head office is in Basel, Switzerland and it has two representative offices: in Hong Kong SAR and in Mexico City.
Q2. What is the Currency of the Republic of The Gambia?
गैम्बिया गणराज्य की मुद्रा क्या है?
(a) Kroon/ क्रून
(b) Dalasi/दलासी
(c) Ngultrum/ नोंग्त्रुम
(d) Pula/ पुला
Ans.(b)
Sol. The Gambia officially the Republic of The Gambia, is a country in West Africa that is almost entirely surrounded by Senegal with the exception of its western coastline along the Atlantic Ocean. It is the smallest country within mainland Africa.
Q3. Panna National Park is situated in which of the following Indian state/UT?
पन्ना राष्ट्रीय उद्यान निम्नलिखित में से किस भारतीय राज्य / केंद्रशासित प्रदेश में स्थित है?
(a) Madhya Pradesh/मध्य प्रदेश
(b) Assam/असम
(c) Odisha/ओडिशा
(d) Himachal Pradesh/हिमाचल प्रदेश
Ans.(a)
Sol. Panna National Park is a national park located in Panna and Chhatarpur districts of Madhya Pradesh in India. It has an area of 542.67 km2 (209.53 sq mi).
Q4. Jhumair is the folk dance of which of the following state?
झुमेयर निम्नलिखित में से किस राज्य का लोक नृत्य है?
(a) Odisha/ओडिशा
(b) Andhra Pradesh/आंध्र प्रदेश
(c) Arunachal Pradesh/अरुणाचल प्रदेश
(d) Maharashtra/महाराष्ट्र
Ans.(a)
Sol. The Jhumair is a folk dance of North Odisha and Western Odisha. It is performed during harvest season and Festivals.
Q5. Cheruthoni Dam is in which of the following state?
चेरुथोनी बांध निम्नलिखित में से किस राज्य में है?
(a) Karnataka/कर्नाटक
(b) Tamil Nadu/तमिल नाडू
(c) Kerala/केरला
(d) Maharashtra/महाराष्ट्र
Ans.(c)
Sol. Cheruthoni Dam is the largest concrete gravity dam in Kerala, is located close to Idukki arch dam. It is the third highest dam in India with a 454 feet-high across River Cheruthoni.
Q6. Who was the first ruler of Pala dynasty?
पाल वंश का पहला शासक कौन था?
(a) Gopala/गोपाल
(b) Vivyanathan/ विवियनाथन
(c) Dharmapala/ धर्मपाल
(d) Bhaskaran/ भास्करन
Ans.(a)
Sol. Pala dynasty, ruling dynasty in Bihar and Bengal, India, from the 8th to the 12th century. Its founder, Gopala, was a local chieftain who rose to power in the mid-8th century during a period of anarchy.
Q7. Who Invented electric iron?
एलेक्ट्रिक आइरन का आविष्कार किसने किया?
(a) William Friese-Greene/ विलियम फ्राइस-ग्रीन
(b) Arthur Fry/ आर्थर फ्राई
(c) Henry W. Seeley/ हेनरी डब्ल्यू सीली
(d) Otto von Guericke/ ओट्टो वॉन गुरिके
Ans.(c)
Sol.The first known use of heated metal to "iron" clothes is known to have occurred in China. The electric iron was invented in 1882, by Henry W. Seeley. Seeley patented his "electric flatiron" on June 6, 1882
Q8. _____ mirror is used by dentist to see the minute details of the tooth in a magnified form.
_____ दर्पण का उपयोग दंत चिकित्सक द्वारा दाँत के बारीक विवरण को आवर्धित रूप में देखने के लिए किया जाता है।
(a) Semi-circular/ अर्द्ध परिपत्र
(b) Conical/ शंक्वाकार
(c) Convex/ उत्तल
(d) Concave/ अवतल
Show Answer
Ans.(d)
Sol. A mouth mirror used by dentist is concave mirror which provide magnified , upright images. These mirrors are used for various purposes such as indirect vision by dentist, retraction of cheek or soft tissues, reflecting light on desired surface etc.
Q9. Which is the deepest trench (steep depression in ocean) in the world?
दुनिया की सबसे गहरी खाई (समुद्र में खड़ी अवसाद) कौन सी है?
(a) Sean trench/ सीन खाई
(b) Mariana trench/ मेरियाना खाई
(c) Arabic trench/ अरबी खाई
(d) Cism trench/ सिस्म खाई

Ans (b)
Sol. The Mariana Trench or Marianas Trench is the deepest part of the world's oceans. It is located in the western Pacific Ocean.
Q10. The Kalinga war was fought in ______.
कलिंग युद्ध ______ में लड़ा गया था।
(a) 161 BC
(b) 261 BC
(c) 361 BC
(d) 461 BC
Ans (b)
Sol. Kalinga War. The Kalinga War was fought in what is now India between the Maurya Empire under Ashoka and the state of Kalinga, an independent feudal kingdom located on the east coast, in the present-day state of Odisha north of Andhra Pradesh.