RRB JE 2019 Exam Dates 
Dear aspirants,
Railway Recruitment Board released RRB JE 2019 notification for the posts of Junior Engineer, Depot Material Superintendent and Chemical & Metallurgical Assistant. With 13,487 vacancies, starting date to apply for the same was 2 January 2019. Now the latest notification on the official website of Railway states the RRB JE Exam dates for 2019 Exam released. RRB JE First stage Exam will be held from 22nd May 2019.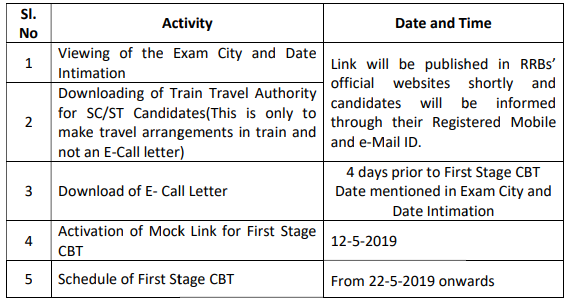 RRB JE Exam Analysis
With the motive to help our readers, Adda247 is all set to provide you the RRB JE exam analysis. We have always been among the first ones to provide you the exam analysis along with the questions asked in the exam. We will be assisting our readers in their quest to ace the RRB JE exam in the best possible way. Stay tuned on this page for Exam Analysis, Memory Based Paper and the questions asked in the exam.
RRB JE Exam Date Updates
Many aspirants are eagerly waiting for the RRB JE Exam dates and RRB JE admit card. According to the information provided in the notification, RRB JE 2019 Exam can be conducted from 22nd May. 
Stay in tune with SSCADDA for further updates on RRB JE exam dates.
RRB JE Exam Date 2019
As per the notification, the RRB JE exam dates were not mentioned clearly. It was tentatively scheduled to be conducted in May. Here are some of the important details to be considered regarding the RRB JE Exam dates:
Start Date to Apply Online for RRB JE: 2nd January 2019 (From 10:00 AM)
Last Date for registration of Online Application for RRB JE: 31st January 2019 (23: 59 hrs.)
RRB JE exam date for First stage CBT : From 22nd May 2019
RRB JE Admit card release date: 18th May 2019
Check RRB JE Admit Card Latest Updates 
Divisions under various RRBs for RRB JE Exam 2019
RRB
Railway Zone

     Divisions under the Respective RRB

RRB JE Ahmedabad Region
Western
Vadodara, Rajkot, Bhavnagar and Ahmedabad divisions.
RRB JE
Ajmer Region
North Western

West Central

HQ Office of North Western Railway and Jaipur, Ajmer, Jodhpur,
Bikaner divisions.
Kota division
RRB JE
Allahabad Region
North Central

Northern
DLW

HQ Office of North Central Railway and Allahabad, Jhansi,
Agra divisions.
Lucknow and Moradabad divisions
DLW
RRB JE
Bangalore Region
South Western

RWF

HQ Office of South Western Railway and Hubli Bangalore,

Mysore divisions.Rail Wheel Factory

RRB JE
Bhopal Region
West Central

Western

South East Central

HQ Office of West Central Railway and Bhopal, Jabalpur divisions.

Ratlam division

HQ Office of South East Central Railway and Bilaspur, Raipur divisions

RRB JE Bhubaneswar Region
East Coast
HQ Office of East Coast Railway and Khurda Road, Sambhalpur divisions
RRB JE Chandigarh Region
Northern
HQ Office of Northern Railway, Delhi & Ambala Divisions
RRB JE Chennai Region
Southern

ICF

HQ Office of Southern Railway and Chennai,
Tiruchchirappalli & Salem Divisions
ICF
RRB JE Gorakhpur Region
North Eastern

RDSO

HQ Office of North Eastern Railway and Lucknow, Izatnagar,
Varanasi divisions
RDSO
RRB JE Guwahati Region
Northeast Frontier
HQ Office of Northeast Frontier Railway and Lumding,
Tinsukia, Rangiya divisions
RRB JE Jammu Region
Northern
Ferozepur Division
RCF/ Kapurthala,
DMW/Patiala.
RRB JE Kolkata Region
Eastern South

Eastern

HQ office of E.Rly., Howrah & Sealdah Divisions
HQ office of SE Rly., Kharagpur Division
Metro Railway
CLW/Chittaranjan
RRB JE Malda Region
Eastern
South Eastern
Northeast Frontier
Malda & Asansol divisions
Adra division
Alipurduar division
RRB JE

Mumbai Region

Western
Central
South Central
South East Central
HQ Office of Western Railway and Mumbai (Central) division
HQ Office of Central Railway and Mumbai (CST), Bhusaval,
Nagpur, Sholapur, Pune divisions
Nanded division
Nagpur division
RRB JE Muzaffarpur Region
East Central
Northeast Frontier
Samastipur & Sonpur divisions
Katihar division
RRB JE Patna Region
East Central
Wheel Projects Organisation
HQ Office of East Central Railway and Mughalsarai & Danapur Divisions
Wheel Projects Organisation / Patna
RRB JE Ranchi Region
South Eastern
East Central
Ranchi and Chakradharpur divisions
Dhanbad division
RRB JE Secunderabad Region
South Central
East Coast
HQ Office of South Central Railway and Hyderabad, Secunderabad,
Guntakal, Vijayawada, Guntur divisions
Waltair division
RRB JE Siliguri Region
Northeast Frontier Railway
Katihar and Alipurduar Divisions
RRB JE Trivandrum Region
Southern
Palghat, Thruvananthapuram & Madurai Divisions
RRB JE CBT Stage 1 Exam Pattern & Syllabus
After the RRB JE Exam dates are released, it is really important to get through with the exam pattern of first stage CBT of RRB JE Exam. Here are the details:
Railway JE 2018 : First Stage CBT Exam Pattern
Subjects
No. Of Questions
Marks
Duration
1
Mathematics
30
30
90 min
2
General Intelligence and Reasoning
25
25
3
General Awareness
15
15
4
General Science
30
30
Total
100
100
RRB JE Syllabus for CBT Stage 1
Mathematics
Number system – BODMAS , Decimals & Fractions, LCM, HCF ,Square Root
Ratio and Proportion
Percentages
Mensuration
Time and Work
Time and Distance
Simple and Compound Interest
Profit and Loss
Algebra
Geometry and Trigonometry
Elementary Statistics
Age Calculations
Calendar & Clock
Pipes & Cistern
General Intelligence and Reasoning :
Analogies
Alphabetical and Number Series
Coding and Decoding
Mathematical operations
Relationships
Syllogism
Jumbling
Venn Diagram
Data Interpretation and Sufficiency
Conclusions and Decision Making
Similarities and Difference
Analytical reasoning
Classification
Directions
Statement – Arguments and Assumptions
General Awareness : 
Knowledge of Current affairs
Indian geography
Culture and history of India including freedom struggle
Indian Polity and constitution
Indian Economy
Environmental issues concerning India and the World, Sports,
General scientific and technological developments
General Science (up to 10th Standard CBSE syllabus)
Physics
Chemistry
Life Sciences
RRB JE Salary 2019: Job profile & Salary Structure
RRB JE Exam date is to be held from 22nd May. Before the RRB JE Exam, it is necessary to know about the job profile and salary structure of RRB JE exam 2019.
Candidates are advised to keep visiting this page for all the details regarding RRB JE Exam dates and
RRB JE Admit card
. Hope this post helped you in getting information about the RRB JE Exam dates.