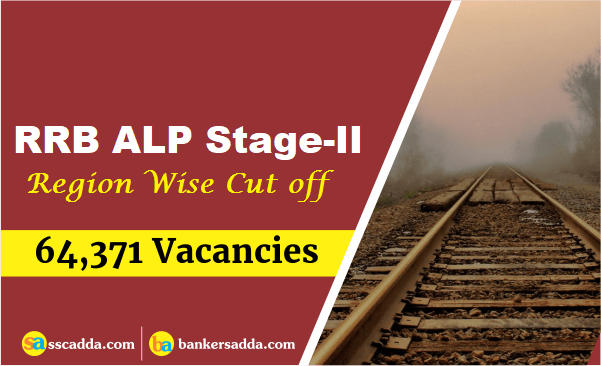 RRB ALP & Technician Cut Off | Check Regions Wise Cut Off
The second stage CBT for RRB ALP & technician was conducted in January and the verification of the documents of candidates was held from 17.06.2019 to 25.06.2019. Earlier, RRB released the cut off marks for ALP post only for the candidates shortlisted for CBAT. Now, RRB has released the cutoff for ALP & Technician for candidates shortlisted for the document verification round. The cutoff for both regular and stand by candidates is provided below. Candidates can click on the provided links to view the cutoff marks for their region.
Railway ALP & Technician 2nd Stage Cut Off 2018-19
The RRB Group C ALP  & Technicians Stage-II Exam was commenced from 21st to 23rd January 2019 and 8th February 2019. The Document verification process is over and the cut off for both RRB ALP & Technicians has been released for some regions. Stay tuned for RRB ALP & Technician Cut off for other regions.
Railway ALP (Assistant Loco Pilot) 2nd Stage Revised Cut Off 2018 as on 27th April 2019
Candidates can check revised RRB ALP Stage-2 cut off is given below table:-
About Course:
Prepare for all SSC exams like SSC CGL,CHSL,CPO,Stenographer,MTS,Selection post and GD Constable etc from India's Best Teaching Educators!

About SSC ka Maha Pack:
SSC ka Maha Pack is a full-fledged course which incorporates all the essentials like Live online classes, Test series, Video courses, eBooks & countless unprecedented features that will help you excel in all the upcoming Teaching exams like SSC CGL,CHSL,CPO,Stenographer,MTS,Selection post and GD Constable etc

Includes:
You get access to:
200+ Hours of Live Classes

300+ Recorded Videos

500+ Total Tests

100+ Ebooks

Teacher's Class Notes/Slides.

Course Language
Classes: Hindi and English (Bilingual)
Study Material: English and Hindi
Tests: English and Hindi

Validity: 1 Month

Offer available for ADDA247 APP. Download the APP Now.
SSC Test Pack Online Test Series


1400+ Tests
Detailed Solutions and Analysis
Content by Expert Faculties
Validity
14 Months
1 Month
3 Months
BUY NOW
| Region Name | UR | SC | ST | OBC |
| --- | --- | --- | --- | --- |
| RRB ALP Ahmedabad Cut Off | 53.26461 | 31.13617 | 25.22988 | 41.21651 |
| RRB ALP Ajmer Cut Off | 68.05049 | 48.59900 | 31.26253 | 58.43736 |
| RRB ALP Allahabad Cut Off | 59.59306 | 33.29067 | 25.04884 | 44.81916 |
| RRB ALP Bangalore Cut Off | 57.52077 | 30.02874 | 25.00457 | 48.57390 |
| RRB ALP Bhopal Cut Off | 66.57391 | 49.35859 | 40.85624 | 58.77360 |
| RRB ALP Bhubaneshwar Cut Off | 40.03478 | 30.02874 | 25.21082 | 30.02874 |
| RRB ALP Bilaspur Cut Off | 58.21998 | 30.04828 | 25.04884 | 50.03109 |
| RRB ALP Chandigarh Cut Off | 60.67084 | 42.57583 | 25.00457 | 47.01685 |
| RRB ALP Chennai Cut Off | 60.26068 | 46.24073 | 31.84961 | 55.32646 |
| RRB ALP Gorakhpur Cut Off | 48.01359 | 30.05318 | 25.00457 | 30.02874 |
| RRB ALP Guwahati Cut Off | 47.05229 | 30.19228 | 25.00457 | 35.09200 |
| RRB ALP Jammu Cut Off | 45.89996 | 30.40855 | 25.59902 | 36.01416 |
| RRB ALP Kolkata Cut Off | 58.20415 | 31.97181 | 25.06996 | 38.36308 |
| RRB ALP Malda Cut Off | 51.80819 | 30.04828 | 25.00457 | 32.20987 |
| RRB ALP Mumbai Cut Off | 57.91174 | 42.23504 | 25.85981 | 50.94367 |
| RRB ALP Muzaffarpur Cut Off | 40.18716 | 32.49846 | 25.48476 | 30.02874 |
| RRB ALP Patna Cut Off | 40.03478 | 30.04828 | 26.08537 | 30.02874 |
| RRB ALP Ranchi Cut Off | 60.92829 | 30.03843 | 31.12907 | 48.52838 |
| RRB ALP Secunderabad Cut Off | 61.26211 | 40.85624 | 33.25590 | 53.33785 |
| RRB ALP Siliguri Cut Off | 40.09207 | 30.39789 | 25.14851 | 30.02874 |
| RRB ALP Thiruvananthpuram Cut Off | 69.39146 | 37.58301 | 26.70645 | 61.57835 |
You may also like to read: