Dear Aspirants,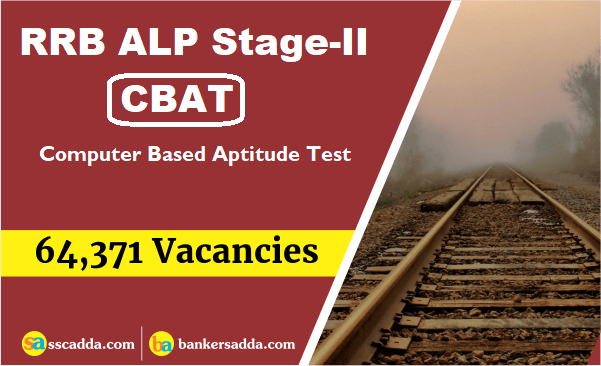 RRB ALP CBT Stage 2 was conducted from 21st to 23rd Jan 2019 with a re-exam on 8th February 2019, the result for which has been released on 5th April 2019. Now, the next step to your goal is the RRB ALP Computer Based Aptitude Test (CBAT) that will be conducted on 16th April 2019. 
As you all know, only few days are left for the RRB ALP CBAT exam and its time to gear up for the final stage that will bring you closer to the job of your dreams. In this article, we will discuss all the details regarding this particular exam.
What is RRB ALP CBAT exam?
The Computer Based Aptitude Test will have a Test Battery comprising of five tests.
The candidates will have to secure a minimum T-Score of 42 in each test of the test battery to qualify for the post of Assistant Loco Pilot.
This is applicable to all candidates and no relaxation is permissible on any ground.
There will be no negative marking in Computer Based Aptitude Test.
Why is it required to take the RRB ALP CBAT test?
The RRB ALP CBAT test is designed to make sure that the candidate applying for the post of ALP is capable enough to conduct the required procedures. The test will showcase the skills involved and will help you in adjusting to the job.
Test included under the RRB ALP CBAT exam
The aptitude tests have been designed for various jobs in critical safety categories.
You will be given the test battery, consisting of five‐six tests, prescribed for the job you have applied for. They are required to answer the questions display on monitor .You are required to give answer by clicking mouse among four/five or six alternatives. Below are the tests that a candidate has to take:
1. Memory Test (स्मृपति परीक्षण)
2. Following Directions Test (तिर्देश सृझिेकी योग्यिा का परीक्षण)
3. Depth Perception Test (र्दूरी प्रत्मयक्षीकरण परीक्षण)
4. Test of Power of Observation (अवलोकिमशति परीक्षण)
5. Perceptual Speed Test (प्रत्मयक्षीकरण गतिमपरीक्षण)
Note:
1. The tests shown here are only indicative. These may change at any time without prior notice.
2. Each test has separate Time Limit, which will be advised to you during test sessions. You have to
solve test items quickly and mark your answers within the prescribed time.
RRB will also provide the mock link for the CBAT exam so that a candidate can practice before appearing for the actual exam. The mock link will be active from 10th April 2019 to 16th April 2019. Keep following this page for further updates.
Click Here to Check Guidelines for RRB ALP CBAT exam
Click here to attempt Mock test for RRB ALP CBAT exam
You may also like to read:
RRB ALP Stage 2 Result 2018-19 | Result Declared