Dear aspirants,
SSC CGL 2019 Exam notification is on its way to once again raise the bar of competition. All the four sections bag impeccable practice when it comes to SSC Exams.
Considering the same, at ADDA247 we are prompted to make Daily Reasoning Quiz accessible to you, aiming at a cut above preparation of latest exam pattern based questions.
You are asked to practice Daily Reasoning Quiz at SSCADDA which encapsulates the exam like environment facilitated with extraordinary content. To make headway in upcoming SSC CGL Exams, go the extra mile with our Daily Reasoning Quiz.
Direction (1- 4): Find out the odd word/letters/ number/number pair from the given alternatives.
दिए गए विकल्पों में से विषम शब्द/वर्ण/संख्या का चयन करें
Q1.
(a)Pond – Lake/ तालाब – झील
(b) Pistol – Gun/ पिस्तौल – बंदूक
(c) Car – Bus/ कार – बस
(d) Church – Monument/ चर्च – स्मारक
S1. Ans. (d):
Sol. Except Church and monument, all other pairs of words indicate similar kind of
items.
Q2.
(a) Insurance/ बीमा
(b) Provident Fund/ भविष्य निधि
(c) Salary/ वेतन
(d) Shares/ शेयर
S2. Ans. (c):
Sol. Except Salary, all others are types of Investments.
Q3.
(a)27
(b) 64
(c) 125
(d) 144
S3.Ans. (d):
Sol. Except 144 all others are perfect cubes.
Q4.
(a)52, 68
(b) 63, 77
(c) 64, 80
(d) 50, 66
S4.Ans. (b):
Sol. Except in pairs 63, 77 in all other pairs there is a difference of 16 between
two numbers.
Q5. I. F is the brother of A./ F, A का भाई है
II. C is the daughter of A./ C, A की बेटी है
III. K is the sister of F./ K, F की बहन है
IV. G is the brother of C./ G, C का भाई है
Who is the uncle of G?
G के अंकल कौन हैं?
(a) A
(b) C
(c) K
(d) F
S5. Ans. (d):
Sol. G is the son of A and F is the brother of A.
Direction (6-7): Given below are two matrices of 25 cells each containing two classes of alphabets. The columns and rows of Matrix I are numbered from 0 to 4 and those of Matrix II from 5 to 9. A letter from these matrices can be represented first by its row number and next by its column number. For example 'C' can be represented as 12, 24 etc. Similarly 'A' can be represented by 56, 68 etc. In the following question identify one set of number pair out of a , b , c and d which represents the given word.
नीचे दिए गए 25 कोशिकाओं के दो मैट्रिक्स हैं जिनमें से प्रत्येक में दो वर्गों के अक्षर हैं। मैट्रिक्स-I को 0 से 4 तक संख्या दी गई हैं और उसी प्रकार मैट्रिक्स II को 5 से 9 तक संख्याएं दी गई हैं. एक वर्ण को पहले उसकी पंक्ति द्वारा फिर उसके स्तम्भ द्वारा दर्शया जा सकता है, उदाहरण के लिए 'C' को 12, 24 आदि के रूप में दर्शाया जा सकता है, इसी प्रकार 'A' को 56, 68 आदि द्वारा दर्शाया जा सकता है। तो निम्नलिखित प्रश्नों का उत्तर दे
Matrix I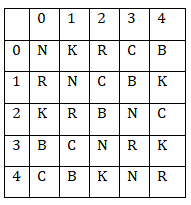 Matrix II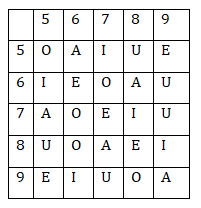 Q6. NIKE
(a) 34, 75, 01, 95
(b) 23, 69, 24, 55
(c) 34, 57, 24, 66
(d) 11, 78, 34, 77
Q7. ROAR
(a) 50, 67, 86, 02
(b) 44, 05, 98, 44
(c) 21, 67, 65, 80
(d) 33, 55, 87, 21
Solutions (6-7): All possible representations of alphabets:
Matrix I
B = 04, 13, 22, 30, 41
C = 03, 12, 24, 31, 40
K = 01, 24, 20, 34, 42
N = 01, 11, 23, 32, 43
R = 02, 10, 21, 33, 44
Matrix II
A = 56, 68, 75, 87, 99
E = 59, 66, 77, 88, 95
I = 57, 65, 78, 89, 96
O = 55, 67, 76, 86, 98
U = 58, 69, 79, 85, 97
S6. Ans. (d)
S7. Ans. (d)
Q8. Rohan walks a distance of 3 kms towards North, then turns to his left and walks 2 kms. He again turns to his left and walks for 3 kms. At this point he turns to his left and walks for 3 kms. How far is he from the starting point?
रोहन उत्तर की ओर 3 किलोमीटर की दूरी तय करता है, फिर अपने बाईं ओर मुड़ता है और 2 किलोमीटर तक चलता है। वह फिर से बाएं मुड़ता है और 3 किलोमीटर के लिए चलता है। अब वह अपने बाईं ओर मुड़ता है और 3 किलोमीटर तक चलता है। वह शुरुआती बिंदु से कितनी दूर है?
(a) 5 kms / किलोमीटर
(b) 3 kms/ किलोमीटर
(c) 2 kms/ किलोमीटर
(d) 1 km/ किलोमीटर
S8.Ans. (d)
Direction (9-10): Which one set of letters when sequentially placed at the gaps will complete the given letter series?
दिए गए पत्र श्रृंखला में अंतराल पर अनुक्रमिक रूप से रखे जाने पर अक्षरों का कौन सा सेट इसे पूरा करेगा?
Q9. a b _ c a b b _ a b b _ a b _ c
(a) aabc
(b) aaab
(c) accb
(d) bccb
S9. Ans. (d)
Sol. The sequence
given is a b b c a b b c a b b c a b b c
Q10. a b c _ b c _ a b c c _ a _ c c c c
(a) accb
(b) abbc
(c) bcca
(d) accc
S10. Ans. (a)
Sol. The sequence
given is a b c a b c c a b c c c a b c c c c
You May Also Like To Read :