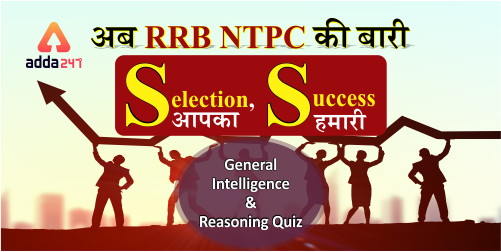 Dear Students,
As you all know, RRB NTPC Exam will be held in July/September 2019. We are providing daily learning quizzes, we aim to provide the best study materials to our students. Attempt this quiz and check your preparation.
Q1. Vineet travels 16 km towards west, turns right and travels another 12 km, and then takes two successive left turns covering 8 km and 12 km in each turn respectively. Finally, he takes a right turn and travels 10km further. How far is he now from his original position?
विनीत पश्चिम की ओर 16 किमी चलता है, दाएं मुड़ता है और 12 किमी की यात्रा करता है, फिर दो बार लगातार बाएं मुड़ता है और प्रत्येक बार मुड़कर क्रमश: 8 किमी और 12 किमी की दूरी तय करता है। अंततः वह दाईं ओर मुड़ता है और 10 किमी की यात्रा करता है। अब वह अपने आरंभिक स्थान से कितनी दूर है?
(a) 46 km
(b) 34 km
(c) 40 km
(d) 38 km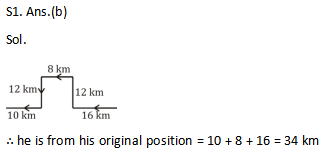 Q2.Select the odd word/letters/number/number pair from the given alternatives.
दिए गए विकल्पों में से विषम शब्द/वर्ण/संख्या का चयन करें
(a) Veena/ वीणा
(b) Guitar/गिटार
(c) Violin/वायोलिन
(d) Flute/बांसुरी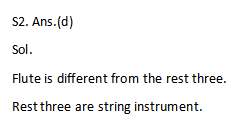 Q3. Select the related word/letters/number from the given alternatives.
दिए गए विकल्पों में से सम्बंधित शब्द/वर्ण/संख्या का चयन करें
VERMIN 😕 :: ORDERS : ERSORD
(a) MNIVER
(b) MINERV
(c) MINVRE
(d) MINVER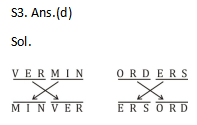 Q4.How many such digits will remain on their original position in the number 495637281, if all the digits are arranged in descending order within the number?
संख्या 495637281 में ऐसे कितने अंक अपने मूल स्थान पर रहेंगे, यदि संख्या के भीतर सभी अंकों को अवरोही क्रम में व्यवस्थित किया जाता है?
(a) None /कोई नहीं
(b) One/एक
(c) Two/दो
(d) Three/तीन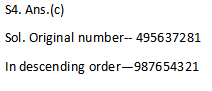 Q5. Pointing to a woman, a girl says, "She is mother of the only child of my father-in-law." How is the woman related to the girl?
एक महिला की ओर इशारा करते हुए, एक लड़की कहती है, "वह मेरे फादर-इन-लॉ के एकमात्र बच्चे की माँ है।" महिला लड़की से किस प्रकार सम्बंधित है?
(a) Mother-in-law/मदर-इन-लॉ
(b) Granddaughter/ग्रैंडडॉटर
(c) Mother /माँ
(d) Cousin/कजिन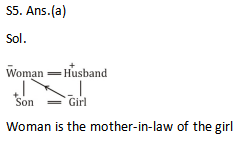 Q6. If "#" means "subtraction", "&" means "division", "@" means "addition" and "%" means "multiplication", then 315&3#9@4%6 = ?
यदि "#" का अर्थ "-", "&" का अर्थ "÷", "@" का अर्थ "+" और "%" का अर्थ "x" है तो,
315&3#9@4%6 = ? का मान ज्ञात करें.
(a) 120
(b) 190
(c) 221
(d) 420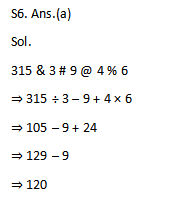 Q7. A piece of paper is folded and punched as shown below in the question figures. From the given answer figures, indicate how it will appear when opened.
एक कागज़ के टुकड़े को मोड़ कर पंच किया गया जैसा कि नीचे दर्शाया गया है. नीचे दिए गये चित्रों से ज्ञात कीजिये कि खोले जाने पर यह किस प्रकार का दिखेगा.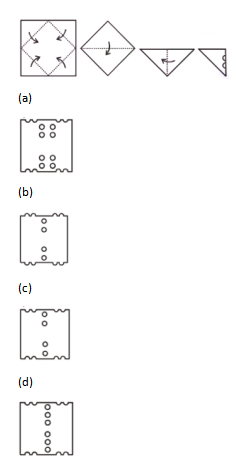 S7. Ans.(c)
Direction (8-9): Select the related word/letters/number from the given alternatives.
दिए गए विकल्पों में से सम्बंधित शब्द/वर्ण/संख्या का चयन करें
Q8. LETTER : MFUUFS : : AHEAD : ?
(a) BIFBE
(b) BIBFE
(c) BFIBE
(d) BEFBE
S8. Ans.(a)
Sol.
+1 series
Q9. 12 : 48 : : 104 : ?
(a) 415
(b) 420
(c) 480
(d) 416
S9. Ans.(d)
Sol.
12 × 4 = 48
104 × 4 = 416
Q10. In the following question, which one set of letters when sequentially placed at the gaps in the given letter series shall complete it?
निम्नलिखित प्रश्न में, कौन सा अक्षर समूह दी गयी अक्षर श्रृंखला के रिक्त स्थानों में क्रमिक रूप से रखने पर श्रृंखला को पूरा करता है?
TER_TE_S_ER_
(a) TERT
(b) STTT
(c) STRS
(d) SRTS

Get Free Study Material For RRB NTPC EXAM 2019
Important Links for RRB NTPC Recruitment 2019