Dear Students,
As you all know, the upcoming months are lined up with various important exams like
 SSC Stenographer, RRB JE, ​​RPF constable
 and many more, so we have given given exams. 
We are providing 
daily learning quizze
s,
 we aim to provide the best study materials to our students. 
Attempt this quiz and check your preparation. 
Directions (1-3) : In each of the following, a series is given with one term missing. Choose the correct alternative from the given ones that will complete the series.
निम्नलिखित में से प्रत्येक प्रश्न में, लुप्त पद के साथ एक श्रृंखला दी गई है। दिए गए विकल्पों में से उस सही विकल्प का चयन कीजिये जो इस श्रृंखला को पूरा करेगा।
1. 5, 30, 155, 780, ?
(a) 4000
(b) 3905
(c) 3900
(d) 3805
1. (b); 5 × 5 + 5 = 30
30 × 5 + 5 = 155
155 × 5 + 5 = 780
780 × 5 + 5 = 3905 
2. B, E, I, S, K, ?
(a) W
(b) X
(c) U
(d) V

3. ? , Planning, Strategy, Marketing, Finance
? , योजना, रणनीति, विपणन, वित्त
(a) Realization/ वसूली
(b) Success/सफलता
(c) Failure / असफलता
(d) Idea/विचार
3. (d); Idea → Planning → Strategy → Marketing → Finance
4. In a certain code language, "CONGO" is written as "RZPRD" and "TREAT" is written as "UQGWX". How is "PHONE" written in that code language?
एक निश्चित कूट भाषा में, "CONGO" को "RZPRD" के रूप में लिखा जाता है और "TREAT" को "UQGWX" के रूप में लिखा जाता है। उसी कूटभाषा में "PHONE" को किस प्रकार लिखा जाएगा?
(a) JNQIJ
(b) KMQHK
(c) MKQKH
(d) LLPIL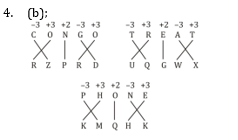 5. If "@" denotes "added to", "#" denotes "multiplied by", "®" denotes "divided by" and "%" denotes "subtracted from", then which of the following equation is true?
यदि "@" का अर्थ "जोड़ना", "#" का अर्थ "गुणा करना", "®" का अर्थ "भाग" और "%" का अर्थ "घटाना" है, तो निम्नलिखित में से कौन-सा समीकरण सही है?
(a) 8 @ 8 ® 8 # 8 % 8 = 9
(b) 42 % 26 ® 13 # 2 @ 8 = 46
(c) 19 % 84 ® 4 @ 3 # 4 = 12
(d) 31 % 4 ® 2 # 19 @ 3 = 4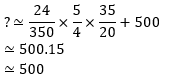 6. Ravi had five subjects in his final examination. The maximum marks in each subject are 100. If his percentage in four subjects is 80, and he scores 65 marks in the fifth subject, determine his overall percentage for the five subjects.
रवि के पास उसकी वार्षिक परीक्षा में पांच विषय थे। प्रत्येक विषय का पूर्णांक 100 था। यदि चार विषय में उसका प्रतिशत 80 है, और पांचवें विषय में वह 65 अंक प्राप्त करता है, तो पाँचों विषयों के लिए उसका समग्र प्रतिशत निर्धारित कीजिये।
(a) 78
(b) 79
(c) 77
(d) 76

7. How many triangles are there in the given figure?
दी गई आकृति में कितने त्रिभुज हैं?



(a) 12
(b) 11
(c) 10
(d) 15
7.(b); 11 triangles
8. Vineet travels 16 km towards west, turns right and travels another 12 km, and then takes two successive left turns covering 8 km and 12 km in each turn respectively. Finally, he takes a right turn and travels 10km further. How far is he now from his original position ?
विनीत पश्चिम की ओर 16 किमी चलता है, फिर दाएं मुड़कर 12 किमी चलता है, फिर दो बार लगातार बाएं मुड़ता है और प्रत्येक बार मुड़कर क्रमश: 8 किमी और 12 किमी की दूरी तय करता है। अंततः वह दाईं ओर मुड़ता है और 10 किमी चलता है। अब वह अपने आरंभिक स्थान से कितनी दूर है?
(a) 46 km/ किमी
(b) 34 km/ किमी
(c) 40 km/ किमी
(d) 38 km/ किमी

9. In the following question below are given some statements followed by some conclusions. Taking the given statements to be true even if they seem tobe at variance from commonly known facts, read all the conclusions and then decide which of the given conclusion logically follows the given statements.
नीचे दिए गए प्रश्न में कुछ कथन और उसके बाद कुछ निष्कर्ष दिए गए हैं। दिए गए कथनों को सत्य मानना है भले ही वे सर्वज्ञात तथ्यों से भिन्न प्रतीत होते हों। सभी निष्कर्षों को पढ़िए और फिर निर्णय लीजिये कि दिए गए निष्कर्षों में से कौन-सा निष्कर्ष दिए गए कथनों का तार्किक रूप से अनुसरण करता है।
Statements: I. Some pens are pencils./ कथन: I. कुछ पेन पेंसिल हैं।
II. All pencils are erasers. / II. सभी पेंसिल इरेज़र हैं।
Conclusions: I. Some pencils are not pens./ निष्कर्ष: I. कुछ पेंसिल पेन नहीं है।
II. Some erasers are not pens./ II. कुछ इरेज़र पेन नहीं है।
(a) Only conclusion (I) follows. / केवल निष्कर्ष (I) अनुसरण करता है
(b) Only conclusion (II) follows./ केवल निष्कर्ष (II) अनुसरण करता है
(c) Neither conclusion (I) nor conclusion (II) follows./ न तो निष्कर्ष (I) और न ही निष्कर्ष (II) अनुसरण करता है
(d) Both conclusions follow. / दोनों निष्कर्ष अनुसरण करते हैं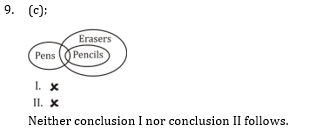 10. Three positions of a cube are shown below. What will come opposite to face containing '4'?
नीचे एक घन की तीन स्थितियां दर्शाई गई हैं। '4' संख्या वाले फलक के विपरीत फलक पर क्या आयेगा?



(a) 1
(b) 2
(c) 4
(d) 5
10. (a); 1 will be opposite to 4
3 will be opposite to 2
6 will be opposite to 5