Dear Students,
As you all know, the upcoming months are lined up with various important exams like
 SSC Stenographer, RRB JE, ​​RPF constable
 and many more, so we have given given exams. 
We are providing 
daily learning quizze
s,
 we aim to provide the best study materials to our students. 
Attempt this quiz and check your preparation. 
Q1.In this question, find out the pair of numbers that does not belong to the group due to lack of common properties.
इस प्रश्न में, उन संख्या युग्म का पता लगाएं जो सामान्य गुणों की कमी के कारण समूह से संबंधित नहीं हैं.
(a) 15,5
(b) 32,2
(c) 42,4
(d) 36,6
S1. Ans.(c)
Sol.
1st number is divisible by second number except in option (c).
Directions (2): Read the following information carefully and answer the questions.
निम्नलिखित जानकारी को ध्यान से पढ़ें और प्रश्नों के उत्तर दें
I. P, Q, R, S, T and U are six members of a family in which there are two married couples./ P, Q, R, S, T और U एक परिवार के छ: सदस्य हैं जिनमें दो शादी शुदा जोड़े हैं.
II. Teacher T, is married to a doctor who is mother of R and U/ शिक्षक T, एक डॉक्टर से विवाहित है जो R और U की माँ है
III. Lawyer Q is married to P / वकील Q, P से विवाहित है
IV. P has a son and a grandson/ P का एक बेटा और एक ग्रैंडसन है
V. Out of the married women one is a house wife/ विवाहित महिलाओं में से एक हाउस वाइफ है
VI. There are one student and a male engineer in the family./ परिवार में एक छात्र और एक पुरुष इंजीनियर हैं
Q2. How is P related to R?
P, R से कैसे सम्बंधित है?
(a) Maternal father/ मातृक पिता
(b) Mother/माता
(c) Sister/बहन
(d) Grand Mother/ग्रैंड मदर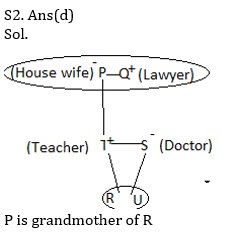 Q3.Find the missing number.
अज्ञात संख्या ज्ञात करें.

(a) 78
(b) 82
(c) 94
(d) 86

Q4.Consider the given question and decide which of the following statements is sufficient to answer the question.
दिए गए प्रश्न पर विचार करें और तय करें कि निम्नलिखित में से कौन सा कथन प्रश्न का उत्तर देने के लिए पर्याप्त है
Who among P, Q, R, S and T is the lightest in weight?
P, Q, R, S और T में से किसका वजन सबसे कम है?
Statement./ कथन:
I. Q weight < P and S also S weight > T / Q का वज़न P और S से कम है और S का वज़न T से अधिक है.
II. R weight > Q but < T/ R का वज़न Q से अधिक है परन्तु T से कम है.
(a) Neither statement I nor II is sufficient./ न तो कथन I और न ही II पर्याप्त है
(b) Both statement I and II are required./ कथन I और II दोनों आवश्यक हैं
(c) Statement I alone is sufficient while statement II alone is insufficient./ केवल कथन I पर्याप्त है जबकि कथन II अपर्याप्त है
(d) Statement II alone is sufficient while statement I alone is insufficient./ केवल कथन II पर्याप्त है जबकि कथन I अपर्याप्त है
S4. Ans.(b)
Sol.
By statement I, We can't decide who is the lightest, because R missing in the statement.
Also, we can't decide by statement – 2 alone because in Statement – 2 P & S are missing.
Therefore, by using both the statements we can conclude that Q is the lightest
Q5.Choose the correct alternate which will complete the series.
दी गयी श्रृंखला को पूरा करने के लिए सही विकल्प चुने.
ACT, EGX, IKB
(a) FUN
(b) DIP
(c) OLD
(d) MOF
S5. Ans.(d)
Sol. +4 series
Q6.Choose the correct analogues word pair from the given alternatives.
दिए गए विकल्पों में से सही अनुरूप शब्द युग्म चुनें
Carpenter : Hammer
बढ़ई: हथौड़ा
(a) Plumber : Wrench/ प्लम्बर: रिंच
(b) Crane : Builder / क्रेन: बिल्डर
(c) Computer : Writer/ कंप्यूटर: लेखक
(d) Axe : logger/ कुल्हाड़ी: लकड़हारा
S6. Ans.(a)
Sol.
Carpenter uses hammer similarly,
Plumber uses wrench
Q7.What will come in place of the question mark (?) in the following questions.?
निम्नलिखित प्रश्न में प्रश्न चिह्न (?) के स्थान पर क्या आएगा?
4, -8, 16, -32, 64, ? Q16
(a) -192
(b) -128
(c) 128
(d) -64
S7. Ans.(b)
Sol. In this series each subsequent number is multiplied by -2
Q8. In the below question figures, there is relation between the first two figures. Following this relation, which of the answer figures can be derived from third figure among question figures?
नीचे दिए गए प्रश्न आंकड़ों में, पहले दो आंकड़ों के बीच संबंध है। इस संबंध के बाद, प्रश्न आंकड़ों के बीच उत्तर आंकड़ों में से तीसरा आंकड़ा ज्ञात करें?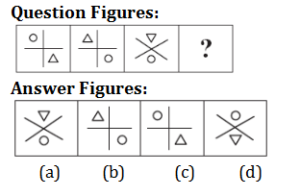 (a) a
(b) b
(c) c
(d) d
S8. Ans.(d)
Q9. If 'L' stands for '+' , 'M' stands for '-' , N stands for 'x' , P stands for '÷' then
14 N 10 L 42 P 2 M 8 = ?
यदि L का अर्थ '+', 'M' का अर्थ '-'. N का अर्थ 'x', P का अर्थ '÷', तो
14 N 10 L 42 P 2 M 8 = ?
(a) 153
(b) 216
(c) 248
(d) 251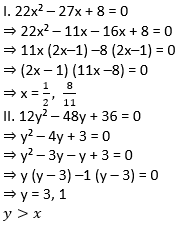 Q10.Find the number of triangles in the figure.
दी गयी आकृति में कितने त्रिभुज है?



(a) 12
(b) 20
(c) 22
(d) 24
S10. Ans (c)
Sol.
22 triangles