Dear Aspirants,
SSC CGL 2019 Exam notification is on its way to once again raise the bar of competition. All the four sections bag impeccable practice when it comes to SSC Exams. Considering the same, at ADDA247 we are prompted to make Daily Quant Quiz accessible to you, aiming at a cut above preparation of latest exam pattern based questions. You are asked to practice Daily Quant Quiz at SSCADDA which encapsulates the exam like environment facilitated with extraordinary content. To make headway in upcoming SSC CGL Exams, go the extra mile with our Daily Quant Quiz.
Q1. What is the LCM (least common multiple) of 57 and 93?
57 और 93 का लघुत्तम समापवर्त्य क्या है
(a) 1767
(b) 1567
(c) 1576
(d) 1919
Q2. If sec -5π/4 = x, then the value of x is
यदि sec -5π/4 = x हो तो , x का मान क्या है?
(a) -1/√3
(b) –√2
(c) -1
(d) √3
Q3. Marked price of an item is Rs 500. On purchase of 2 items discount is 8%, on purchase of 3 items discount is 16%. Radha buys 5 items, what is the effective discount?
एक वस्तु का अंकित मूल्य 500 रु. है. दो वस्तु खरीदने पर 8% की छूट है, तीन वस्तु खरीदने पर 16% की छूट है. राधा 5 वस्तुएं खरीदती है, उसे कितने प्रतिशत छूट प्राप्त होगी?
(a) 20.4 प्रतिशत
(b) 23.25 प्रतिशत
(c) 12.8 प्रतिशत
(d) 35 प्रतिशत
Q4. If tan(A/2) = x, then the value of x is
यदि tan(A/2) = x हो, तो x का मान क्या है?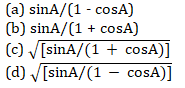 Q5. If 2secA – (1 + sinA)/cosA = x, then the value of x is
यदि 2secA – (1 + sinA)/cosA = x हो, तो x का मान क्या है?
(a) cosecA/(1+sinA)
(b) cosA/(1+sinA)
(c) cosA(1+sinA)
(d) cosecA(1+sinA)
Q6. The mean of marks secured by 60 students in division A of class X is 64, 40 students of division B is 60 and that of 60 students of division C is 58. Find the mean of marks of the students of three divisions of Class X.
कक्षा X के डिवीजन A में 60 विद्यार्थियों द्वारा प्राप्त अंकों का माध्य 64 है, डिवीजन B में 40 विद्यार्थियों द्वारा प्राप्त अंकों का माध्य 60 है तथा डिवीजन C में 60 विद्यार्थियों द्वारा प्राप्त अंकों का माध्य 58 है. कक्षा X के तीनों डिवीजन विद्यार्थियों द्वारा प्राप्त अंकों का माध्य क्या है?
(a) 60.05
(b) 59.35
(c) 62.15
(d) 60.75
Q7. The difference between simple and compound interests compounded annually on a certain sum of money for 2 years at 5% per annum is Rs 45. The sum is
एक निश्चित राशि पर दो वर्षों के लिए 5% की वार्षिक दर पर साधारण और चक्रवृद्धि ब्याज के मध्य का अंतर 45 रु. है. राशि क्या है?
(a) Rs 36000
(b) Rs 72000
(c) Rs 18000
(d) Rs 54000
Q8. The price of an article is cut by 33%, to restore to its original value, the new price must he increased by
एक वस्तु का मूल्य 33% घट जाता है, इसकी वास्तविक कीमत प्राप्त करने के लिए, नई कीमत को कितना बढ़ाना चाहिए?
(a) 33 प्रतिशत
(b) 49.25 प्रतिशत
(c) 24.81 प्रतिशत
(d) 41.25 प्रतिशत
Q9. The third proportional of two numbers 9 and 24 is
दो संख्याओं 9 और 24 का तीसरा समानुपात क्या है?
(a) 39
(b) 48
(c) 72
(d) 64
Q10. The total surface area of a hemisphere is 166.32 sq cm, find its radius?
एक अर्धगोले का कुल पृष्ठीय क्षेत्रफल 166.32 वर्ग सेमी है, इसकी त्रिज्या क्या है?
(a) 4.2 सेमी
(b) 8.4 सेमी
(c) 1.4 सेमी
(d) 2.1 सेमी
Solutions: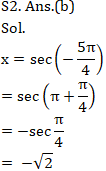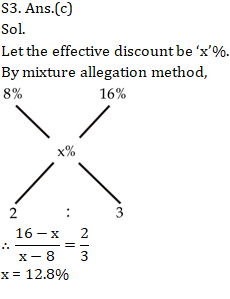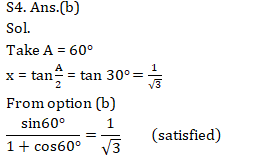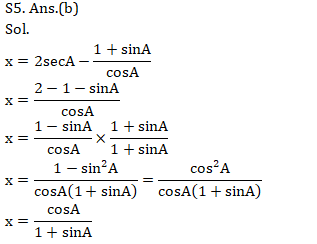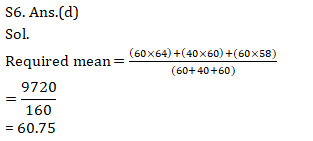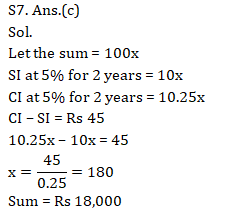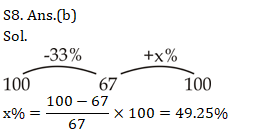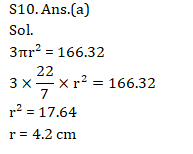 You May Also Like To Read :