Dear aspirants,
SSC CGL 2019 Exam notification is on its way to once again raise the bar of competition. All the four sections bag impeccable practice when it comes to SSC Exams. Considering the same, at ADDA247 we are prompted to make Daily Quant Quiz accessible to you, aiming at a cut above preparation of latest exam pattern based questions. You are asked to practice Daily Quant Quiz at SSCADDA which encapsulates the exam like environment facilitated with extraordinary content. To make headway in upcoming SSC CGL Exams, go the extra mile with our Daily Quant Quiz.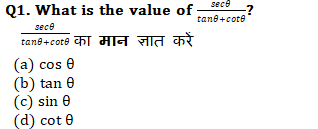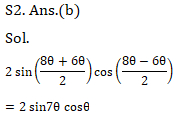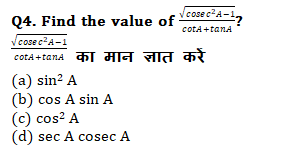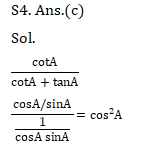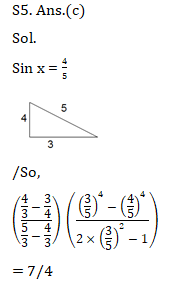 Direction (6-10): The given pie chart shows the stream wise distribution (in degrees) of the candidates who applied for an entrance exam. The total number of candidates who applied was 72,0000 and out of which 5,400 have qualified the exam.
दिए गए पाई चार्ट में प्रवेश परीक्षा के लिए आवेदन करने वाले उम्मीदवारों की स्ट्रीम वार वितरण (डिग्री में) दिया गया है। आवेदन करने वाले उम्मीदवारों की कुल संख्या 72,0000 थी और जिनमें से 5,400 ने परीक्षा उत्तीर्ण की है।
Q6.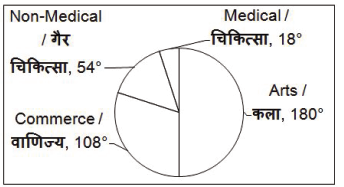 What percentage of the total candidates who applied for the exams have qualified it?
परीक्षा के लिए आवेदन करने वाले कुल उम्मीदवारों में से कितने प्रतिशत उम्मीदवार परीक्षा उत्तीर्ण करते है?
(a) 0.85
(b) 0.75
(c) 0.6
(d) 0.8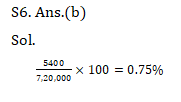 Q7.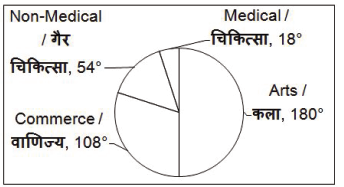 What is the respective ratio of the Arts candidates and Commerce candidates?
आर्ट्स उम्मीदवारों और कॉमर्स उम्मीदवारों का संबंधित अनुपात क्या है?
(a) 3 : 1
(b) 2 : 1
(c) 5 : 3
(d) 7 : 5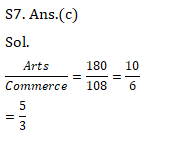 Q8.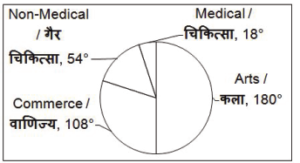 What percentage of the total candidates belong the non-medical?
कुल उम्मीदवारों में से कितने प्रतिशत उम्मीदवार नॉन-मेडिकल से हैं?
(a) 18%
(b) 8.33%
(c) 15%
(d) 14.28%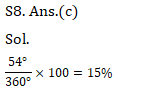 Q9.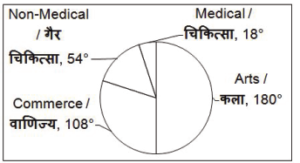 What is the average of the total candidates from Arts, Commerce and Non-medical?
आर्ट्स, कॉमर्स और नॉन-मेडिकल के कुल उम्मीदवारों का औसत क्या है?
(a) 216000
(b) 296000
(c) 260000
(d) 228000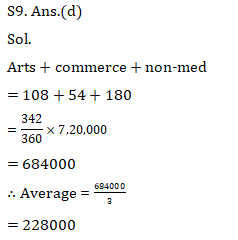 Q10.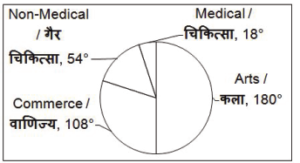 If from medical and non-medical both, 1.3% candidates have qualified the exam, then how many candidates have qualified the exam from commerce and arts in total?
यदि मेडिकल और नॉन-मेडिकल दोनों से, 1.3% उम्मीदवारों ने परीक्षा उत्तीर्ण की है, तो कॉमर्स और आर्ट्स से कुल कितने उम्मीदवारों ने परीक्षा उत्तीर्ण की है?
(a) 3452
(b) 3168
(c) 2088
(d) 3528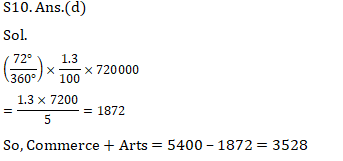 You May Also Like To Read :