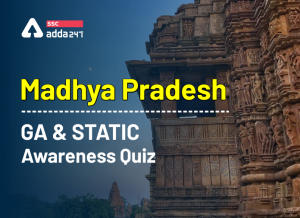 Q1. Madhya Pradesh Road Transport Corporation was formed in __________.
(a) 1963
(b) 1962
(c) 1964
(d) 1965
Q2. Devi Ahilyabai Aerodrum is at __________.
(a) Indore
(b) Bhopal
(c) Khajuraho
(d) Gwalior
About Course:
Prepare for all SSC exams like SSC CGL,CHSL,CPO,Stenographer,MTS,Selection post and GD Constable etc from India's Best Teaching Educators!

About SSC ka Maha Pack:
SSC ka Maha Pack is a full-fledged course which incorporates all the essentials like Live online classes, Test series, Video courses, eBooks & countless unprecedented features that will help you excel in all the upcoming Teaching exams like SSC CGL,CHSL,CPO,Stenographer,MTS,Selection post and GD Constable etc

Includes:
You get access to:
200+ Hours of Live Classes

300+ Recorded Videos

500+ Total Tests

100+ Ebooks

Teacher's Class Notes/Slides.

Course Language
Classes: Hindi and English (Bilingual)
Study Material: English and Hindi
Tests: English and Hindi

Validity: 1 Month

Offer available for ADDA247 APP. Download the APP Now.
SSC Test Pack Online Test Series


1400+ Tests
Detailed Solutions and Analysis
Content by Expert Faculties
Validity
14 Months
1 Month
3 Months
BUY NOW
Q3. Jabalpur Railway Zone was formed in _________.
(a) 1997
(b) 1996
(c) 1995
(d) 1998
Q4. It is said that, 'The death of the king disgusted both education & literature". It is applicable to king ________.
(a) Jaisingh
(b) Munj
(c) Bhoj
(d) Sriharsh
Q5. The capital of rulers of Kalchury dynasty was 'Tripuri' Who was the founder of this dynasty?
(a) Lakshman Raj
(b) Karna Dev
(c) Kokalla Dev
(d) Gangeya Dev
Q6. Raja Man singh, who ruled over Gwalior belonged to ________ dynasty.
(a) Parmar
(b) Tomar
(c) Haihai
(d) Scindia
Q7. Gwalior was captured by Akbar in __________.
(a) 1558
(b) 1559
(c) 1560
(d) 1561
Q8. The Holkar rulers of Indore did not support the British in the freedom struggle of 1857 as __________.
(a) Britishers were their enemies
(b) They were intended to fight with Britishers
(c) The army was not in discipline
(d) We stand non alligned
Q9. The British ruler, who fought with Rani Lakshmi Bai was __________. 
(a) Colonel Durand 
(b) Heuroz
(c) Warden
(d) Ispelt
Q10. Rani Lakshmi Bai was assassinated on _______.
(a) 28 June 1858
(b) 29 June 1858
(c) 28 July 1858
(d) 29 July 1858
Solutions
S1. Ans.(b)
S2. Ans.(a)
S3. Ans.(b)
S4. Ans.(c)
S5. Ans.(c)
S6. Ans.(b)
S7. Ans.(b)
S8. Ans.(c)
S9. Ans.(b)
S10. Ans.(a)
you may also like to read: