SSC CGL Tier 3 exam 2018 is scheduled to be held on 29th December 2019 (Descriptive) for the candidates selected in the SSC CGL Tier 2 exam, the result for which was announced on 25th October 2019. A total of 50,240 candidates were shortlisted to appear for the Tier 3 exam. As the SSC CGL Tier 3 consists of a descriptive paper of 100 marks, candidates must be wondering on the tips to prepare & attempt the SSC CGL Tier 3 exam. This post will guide you on how to prepare for the SSC CGL Tier 3 exam to score good marks adding up to the overall merit of SSC CGL 2018-19. Here are some tips that can be followed by the aspirants for the Tier 3 descriptive paper:
1. Know about the SSC CGL Tier 3 exam pattern carefully
The SSC CGL Tier 3 exam pattern consists of Essay, Letter & Precis for a total of 100 marks to be attempted in a duration of 60 minutes. Check out the exam pattern below:
Tier
Mode of Examination
Scheme of Examination
Maximum Marks
Time Allotted
Tier III
Pen and Paper
mode
Descriptive Paper in
English or Hindi
(Writing of Essay/ Precis/
Letter/ Application etc.)
100
60 Minutes
For VH/ OH (afflicted
with Cerebral Palsy/
deformity in writing
hand- 80 Minutes
2. Read & Analyze the Questions Carefully
Candidates must read the question properly and should think before writing on their answer sheet. Make a list of important points from the related topic in your mind and then start writing accordingly. 

3. Stay within the word limit
While appearing for the descriptive writing exam, make sure to stick to the word limit and don't exceed it as it may cost you marks. The maximum marks for the SSC CGL Tier 3 are 100 and one must strictly follow the word limit to score well.
4. Revise important Topics Before appearing for the exam
Candidates must be aware of all the recent happenings in India as the topic can be asked from anywhere. Click on the links given below to check important essay topics:

5. Time management is important
In SSC CGL Tier 3, you will be provided 1 hour to complete the descriptive paper. It is really important to manage the time accordingly. Note down important points in rough before writing anything on paper. Make sure you practice enough before writing the actual paper.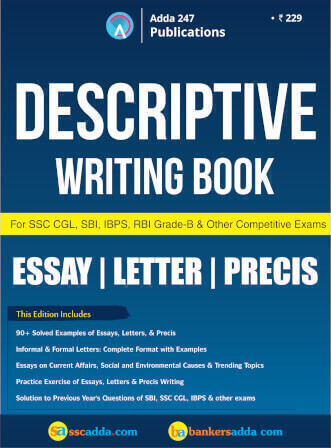 Click here for Free Study Material For SSC Exams 2019-2021
Click here for best SSC CGL mock tests, video course, live batches, books or eBooks