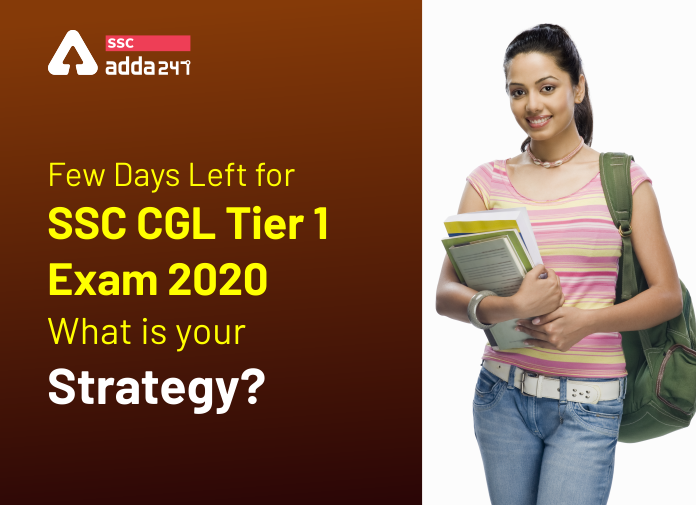 | Updated On February 15th, 2020 at 04:01 pm
SSC CGL Exam Preparation Strategy and Tips : In SSC CGL Tier-1 Exam, only few days are left for ssc cgl exam preparation. Have a good look at your preparation and analyze your preparation? Ask yourself some tough questions. Are your really prepared for the big day? what is your score in the daily practice mock tests? You all must be aiming for 170+ marks in SSC CGL 2020. You need ssc cgl study material which gives you a very informative choice, plan these last days effectively.
Click here to get latest SSC CGL Study Plan
Ssc cgl study material There are total 4 subjects and you need to revise and practice only those topics which you have learned already. No new topic should be learned, only concepts and formulas should be revised. The trick is to study ssc cgl Previous years questions as much as you can. And most importantly, stay cool. Do not panic, your courage to keep going in spite of the dull moments, the power of your dreams will help you in achieving the difficult tasks. Let's discuss subject wise strategy for SSC CGL exam preparation 2020. Most of the students find English Section very challenging, hence we are providing detailed information on English Section.

SSC CGL English Preparation :-
Most of the students dread English Section, so we will begin with the English Section of SSC CGL Tier-1. In English, there are three types of questions, Vocabulary questions, Grammar questions and Reading Comprehension.
For Sentence Improvements, knowledge of tenses, sentence structure is required. So, learn and memorize important structures in the English language.
For Error Detection, Knowledge of Subject-verb agreement, pronouns, adjectives, conjunctions, determiners, and tenses is required. Revise and learn all important rules for this section.
For Fill in the blank type Questions, Focus on prepositions and vocabulary. Questions are asked from these two topics.
For One Word Substitution, memorize important and frequently asked at least 300 words.
For Idioms/Phrases, memorize important and frequently asked at least 300 words/phrases.
For Comprehension, Practice mock tests.  The trick is to read the questions first and then read the passage. This way you can save your precious time. your reading habits come handy in this section.
For Antonym/Synonym/Spellings, learn, memorize and practice mock tests.
Always maintain a personal vocab diary, note down all the important vocabulary that you encounter in your newspaper reading. This habit will benefit you a lot.
SSC CGL Quantitative Aptitude Preparation :-
Quant Section is feared and loved at the same time by many. Many of you practice a lot so it comes naturally to you, and some struggle to even comprehend the basic concepts. So, in quant, there is no fixed 'one size fits all' strategy. It's an open secret, you practice, you score great marks. there are many topics which are high scoring, such as trigonometry, geometry, algebra, mensuration, time and work, profit and loss, Time, speed and distance. study only these topics in detail and you will surely score maximum marks in SSC CGL.
SSC CGL General Intelligence & Reasoning preparation :-
Reasoning Section is easier and always high scoring. Let's discuss some easier question types. Questions related to images, analogy, odd-one out, direction sense, dictionary questions. You should attempt these questions first, you can attempt these questions within a few seconds. Then you should move on to the remaining questions. Practice mock tests daily, analyze your scores, see what went wrong, have good look the solutions and tricks used,  learn the approach.
SSC CGL General Awareness preaparation :-
For GA Section, Analyze the previous year papers, note down all the topics from where the questions have been asked. study only these topics studiously and make hand written notes. These handwritten notes should be your weapon in these last moment revision. In GA section, SSC repeats 3-4 questions every time, so you should definitely study previous years questions to get easy marks. Refer only selected topics and do not waste much time for this section. Focus more on Polity, economics and modern history.
If you observe the pattern in last a few years, SSC has repeated many questions and most importantly the type of questions or theme is more or less same. Since you don't have much time left, do not read any new topic. Whatever you have learned or practiced before, continue that only. Solve previous years questions. At ADDA247 and SSCADDA, we have provided ample study material, study notes on all SSC CGL Tier-1 subjects. You can attempt all these quizzes in just 6-8 min and you can check your speed and accuracy. Remember students, the SSC CGL Exam platform is same for all, only your speed and accuracy will create the difference between the winners and losers. of course, you all want to win with flying colors. But it's not that easy.
In the end and most importantly attempt daily two practice mock tests in time bound manner and analyze your performance. If you are getting better day by day, then great otherwise go back to basics of the topic, learn and get back to practice and do not stop until you make it. At Adda247, we wish you Good luck. keep studying, keep learning, And Succeed.