As you all know, the upcoming months are lined up with various important exams like
SSC Stenographer, RPF constable 
and many more, so we are here to help given exams We are providing
 daily quantitative aptitude quizzes
. We aim to provide the best study material to our students. 
Attempt this quiz and check your preparation. 
Q1. Fund allocation to northeast region increased to Rs 58166 crore in the year 2019, which is 21% more than the previous year. What was the allocation is the year 2018 ?
वर्ष 2019 में पूर्वोत्तर क्षेत्र के लिए धन आवंटन बढ़कर 58166 करोड़ रु. हो गया,  जो पिछले वर्ष की तुलना में 21% अधिक है। वर्ष 2018 का आवंटन क्या था?
(a) 48071 Crore / करोड़
(b) 47011 Crore /करोड़
(c) 43011 Crore /करोड़
(d) None of these / इनमें से कोई नहीं

Q2. 25 percent of Sourcing for government projects will be from MSME, of which 3% will be from women entrepreneurs, if 10000 projects were to be sourced by the government then the number of government projects sourced from MSME which are owned by women entrepreneurs ?
सरकारी परियोजनाओं के लिए 25 प्रतिशत स्रोत MSME से प्राप्त होगा, जिसमें से 3% भाग महिला उद्यमियों से प्राप्त होगा,  यदि सरकार ने 10000 परियोजनाओं से स्रोत प्राप्त किया, तो महिला उद्यमियों के स्वामित्व  वाली MSME से प्राप्त सरकारी परियोजनाओं के स्रोतों की संख्या ज्ञात कीजिए।
(a) 85
(b) 75
(c) 95
(d) 65

Q3. For salaried parsons, standard deduction for Income tax is being raised from current Rs 40000 to Rs 50000. By how much percent standard deduction is increased ?
वेतनभोगी व्यक्तियों के लिए, आयकर के लिए मानक कटौती को 40000रु. से बढ़ाकर 50000रु. किया जा रहा है। मानक कटौती कितने प्रतिशत बढ़ी है?
(a) 32%
(b) 40%
(c) 25%
(d) 15%

Directions (4-8): Following Bar-graph shows the earnings of Railways from freight & passengers.
निम्नलिखित बार-ग्राफ रेलवे को मालभाड़ा और यात्रियों से होने वाली आय को दर्शाता है।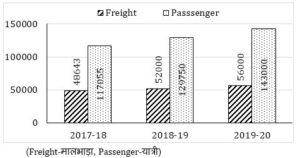 (Freight-मालभाड़ा, Passenger-यात्री)
Q4. What is the increase in the Earnings from freight from 2017-18 to 2018–2019 ?
वर्ष 2017-18 से 2018–2019 तक मालभाड़े से होने वाली आय में प्रतिशत वृद्धि ज्ञात कीजिए।
(a) 7.8%
(b) 6.9%
(c) 7.3%
(d) इनमें से कोई नहीं

Q5. What is the average of earnings from passengers for all the years :
सभी वर्षों के लिए यात्रियों से अर्जित आय का औसत कितना है?
(a) 129939
(b) 129935
(c) 129926
(d) None of these / इनमें से कोई नहीं

Q6. Earnings from passengers in 2019–20 is what percent of Earnings from freight in 2017 – 18 ?
वर्ष 2019–20 में यात्रियों से अर्जित आय, वर्ष 2017 – 18 में मालभाड़े से अर्जित आय का कितने प्रतिशत है?
(a) 290.9%
(b) 250.9%
(c) 293.9%
(d) 283.9%

Q7. Average Earnings from passenger of all the year together is by how much percent more than the average earnings from freight all the yeas taken together ?
सभी वर्षों में कुल मिलाकर यात्रियों से अर्जित आय का औसत, सभी वर्षों में कुल मिलाकर मालभाड़े से अर्जित आय के औसत से कितने प्रतिशत अधिक है?
(a) 130%
(b) 140%
(c) 148%
(d) None of these / इनमें से कोई नहीं

Q8. What is the percentage increase in the earnings from passenger in year 2019-20 from previous year ?
विगत वर्ष की तुलना में,  वर्ष 2019-20 में यात्रियों से अर्जित आय में प्रतिशत वृद्धि कितनी है?
(a)10%
(b) 20%
(c) 30%
(d) 40%

Q9. Non-tax revenue collection in 2019-20 is budgeted at Rs. 272647 Crore as compared to Rs. 245276 Crore is 2018-19 , This shows an increase of how much percentage ?
वर्ष 2019-20 में गैर-कर राजस्व संग्रह का बजट, वर्ष 2018-19 में 245276 करोड़ के गैर-कर राजस्व संग्रह बजट की तुलना में 272647रु. है। यह कितने प्रतिशत वृद्धि को दर्शाता है?
(a) 12.50%
(b) 11.15%
(c) 12.95%
(d) 13.15%

Q10. 80% Increase in the tax base of Rs. 3.79 Crore is recorded in the five years. Find the Ratio of new tax base to old tax base ?
पांच वर्षों में 3.79 करोड़ के कर आधार में 80% की वृद्धि दर्ज की गई। नए कर आधार का, पुराने कर आधार से अनुपात ज्ञात कीजिए।
(a) 379 : 682
(b) 379 : 647
(c) 379 : 657
(d) None of these / इनमें से कोई नहीं

For RRB JE Free Study Material Click Here