Dear aspirants,
As you all know, the upcoming months are lined up with various important exams like SSC Stenographer, RRB JE , SSC CGL , SSC JE and many more, so we are here to help you with the subject that is common to all of the given exams. We are providing daily quantitative aptitude quizzes, practice which will help you to score good marks in this section. We aim to provide the best study material to our readers with exam level questions to help them get used to the recent pattern. Attempt this quiz and check your preparation. 
Q1. Rohit earns an interest of Rs. 1656 for the third year and Rs. 1440 for the second year on the same sum. Find the rate of interest if it is lent at compound interest.
रोहित ने समान राशि पर तीसरे वर्ष में 1656 रूपए और दूसरे वर्ष में 1440 रूपए ब्याज अर्जित किया. यदि यह चक्रवृद्धि ब्याज पर दिया गया है तो ब्याज दर बताएं.
(a) 18%
(b) 12%
(c) 15%
(d) None of these/ इनमें से कोई नहीं
Q2. The population of a town increases annually by 25%. If the present population is one crore, then what is the difference between the population 3 years ago and 2 years ago?
एक शहर की आबादी में सालाना 25% की बढ़ोतरी होती है. यदि वर्तमान आबादी एक करोड़ है, तो 3 साल पूर्व और 2 साल पूर्व की आबादी के बीच क्या अंतर है?
(a) 25,00,000
(b) 12,80,000
(c) 15,60,000
(d) None of these/ इनमें से कोई नहीं
Q3. Anuj has deposited certain amount in the bank to earn compound interest at 10% per annum. The difference in Compound Interest for 3rd and 2nd years is Rs. 1,100. What amount has Anuj deposited?
अनुज ने प्रति वर्ष 10% पर चक्रवृद्धि गिक ब्याज अर्जित करने के लिए बैंक में कुछ राशि जमा की. तीसरे और दूसरे वर्ष के चक्रवृद्धि ब्याज का अंतर 1100 रुपये है. अनुज ने कितनी राशि जमा की है?
(a) Rs. 10000
(b) Rs. 11000
(c) Data inadequate/ डेटा अपर्याप्त
(d) None of these/इनमें से कोई नहीं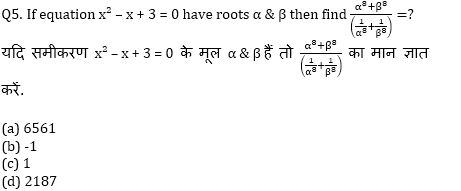 Q6. If A has got 20% more marks than B, then by what percent marks of B are less than the marks of A?
यदि A को B की तुलना में 20% अधिक अंक प्राप्त होते हैं, तो B के अंक A के अंक से कितने प्रतिशत कम है?
(a) 16.66
(b) 20
(c) 33.33
(d) 14.28
Q7. A train leaves Delhi at 10 a.m. and reaches Jaipur at 4 p.m. on same day. Another train leaves Jaipur at 12 p.m. and reaches Delhi at 5 p.m. on same day. What is the time of day (approximately) when the two trains will meet?
एक ट्रेन सुबह 10 बजे दिल्ली से निकलती है और उसी दिन शाम 4 बजे जयपुर पहुँच जाती है. दूसरी ट्रेन दोपहर 12 बजे जयपुर से निकलती है और उसी दिन शाम 5 बजे दिल्ली पहुँच जाती है. दिन के किस समय (लगभग) दोनों ट्रेने मिलेंगी?
(a) 1:42 p.m.
(b) 1:27 p.m.
(c) 2:04 p.m.
(d) 1:49 p.m.
Q8. In a race of 2 km, Rahul beats Prabhat by 250 m and Prabhat in a race of 1 km beats Rajat by 250 m , in 128 km race by how much distance Rahul beats Rajat?
2 किमी की दौड़ में, राहुल ने प्रभात को 250 मीटर से हरा दिया और प्रभात ने 1 किमी की दौड़ में रजत को 250 मीटर से हरा दिया. 128 किलोमीटर की दौड़ में रजत ने राहुल को कितनी दूरी से हराया?
(a) 44 m
(b) 36 m
(c) 32 m
(d) 63 m
Q9. What is the sum of the roots of the quadratic equation?
द्विघात समीकरण के मूल का योग क्या है?
15x² + 13x – 2 = 0
(a) 13/15
(b) 2/15
(c) 2/13
(d) -13/15

Q11. The interest on a certain amount of money is Rs. 5400 in 18 yrs. What is the simple interest if the principal amount is increased by 16 2/3% and 66 2/3% respectivelyl from the initial principal amount after every 6 yrs.
एक निश्चित राशि पर 18 वर्ष के लिए ब्याज 5400 रूपए है. यदि मूल राशि में प्रत्येक 6 वर्ष के बाद प्रारंभिक मूल राशि से क्रमशः 16 2/3% और 66 2/3% की वृद्धि की जाती है तो साधारण ब्याज क्या है?
(a) 5300
(b) 5350
(c) 6900
(d) 6400
Q12. Find the inradius of a triangle having sides 13, 14, 15
13, 14, 15 वाले त्रिभुज की आंतरिक त्रिज्या ज्ञात कीजिए.
(a) 4
(b) 6
(c) 8
(d) 42
Q13. The difference between the compound interest compounding half yearly for 1 year and the simple interest for 1 year on a certain sum of money lent out at 8% per annum is Rs 64. What is the sum (in Rs)?
एक निश्चित राशि पर 8% प्रति वर्ष की ब्याज दर पर एक वर्ष में प्राप्त अर्ध वार्षिक संयोजित चक्रवृद्धि ब्याज और एक वर्ष के लिए सामान्य ब्याज के मध्य का अंतर 64 रूपए है. योग (रुपये में) क्या है?
(a) 40000
(b) 42000
(c) 44000
(d) 44800

Q15. The ratio of males and females in a city is 7 : 8 and the percentage of children among males and females is 25% and 20% respectively. If the number of adult females in the city is 156800 what is the total population?
एक शहर में पुरुषों और महिलाओं का अनुपात 7: 8 है और पुरुषों और महिलाओं के बीच बच्चों का प्रतिशत क्रमशः 25% और 20% है। यदि शहर में वयस्क महिलाओं की संख्या 156800 है तो कुल जनसंख्या कितनी है?
(a) 245000
(b) 367500
(c) 196000
(d) 171500
For RRB JE Free Study Material Click Here
You may also like to read: