SSC Descriptive Exam
Dear Aspirants,
SSC MTS Paper 2 is scheduled to be held on 24th November 2019 and SSC CGL 2018 Tier 3 is scheduled to be held on 29th December 2019. Candidates are going to appear for the descriptive exams in the upcoming months for SSC MTS & SSC CGL. We have already provided the tips and strategies to attempt the descriptive paper. Many aspirants are now confused about the topics that can be asked and need to be prepared for the descriptive exam. To ace the descriptive paper, one should be ready for any kind of challenge. This article will provide you the list of topics for essay writing that can be asked in the exam by SSC. 
SSC Descriptive Exam: Essay Writing Topics
Topics related to National Schemes for SSC Descriptive exams
There are various schemes launched by the Central government. Candidates can prepare the major schemes and learn about them in detail. Any topic that may be indirectly related to the schemes can be asked in the exam where you will be required to write down the details. Some of the schemes that can be prepared beforehand are given below:
Beti Bachao Beti Padhao
Pradhan Mantri Jan Dhan Yojana
Which methods can be adopted to increase the income of farmers?  PM- Kisan scheme etc
Pradhan Mantri Fasal Bima Yojana
How to increase the rank of India in the cleanliness Index? Swachh Bharat Mission, Namami Gange, etc
Pradhan Mantri MUDRA Yojana
Pradhan Mantri Kaushal Vikas Yojana
Pradhan Mantri Awas Yojana: PMAY Urban and PMAY Gramin
Saubhagya Scheme: Pradhan Mantri Sahaj Bijli Har Ghar Yojana
 Steps taken by the government to increase health facilities all over India (Pradhan Mantri Jan Arogya Yojana (Ayushman Bharat Scheme) etc
Topics related to Environment for SSC Descriptive exams
Environmental issues are one of the most favorite topics to be asked in SSC exams. Here is the list of some topics related to the environment that can be prepared:
1. Increasing effects of Air pollution
2. How to minimize Global Warming
3. What are the consequences of deforestation?
4. What role can humans play in conserving the resources?
5. Forest fires and how can they be prevented
6. Alternate resources for a sustainable environment
7. How plastic bags are harming marine life?
8. What is Smog and how is it affecting the environment?
9. Disaster Management
10. Man-made disasters, nuclear disasters, etc
Topics related to recent happenings or major judgments passed for SSC Descriptive exams
Make sure you read all the important news happened in the last 6 months as it helps in writing in the descriptive exam.
1. Measures taken to prevent Triple Talaq
2. Article 370 of the Constitution of India
3. Is untouchability still prevalent in India? Can use Article 15
4. Health & Nutrition (India falls to 102 in the hunger index)
5. Steps taken by the government to increase Employment in India (Use Made in India, Skill India)
6. Ease of doing business and India
Other topics that can be asked in SSC Descriptive exams
1. Increasing Population: A menace
2. Women Empowerment
3. Role of technology
4. How digitization has affected the modern world?
5. Role of social media in spreading information
6. Advancement in space technology over the years
7. Right to Equality or Right to Information
8. Cyber attacks and its prevention
9. Corruption in India
10. Safety of Women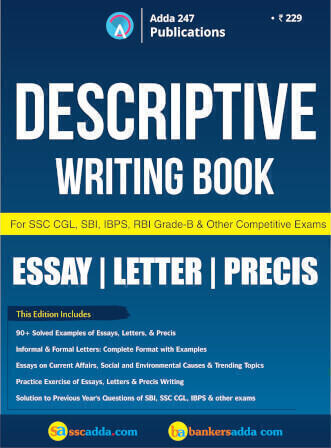 Click here for Free Study Material For SSC Exams 2019-2021
Click here for best SSC CGL mock tests, video course, live batches, books or eBooks