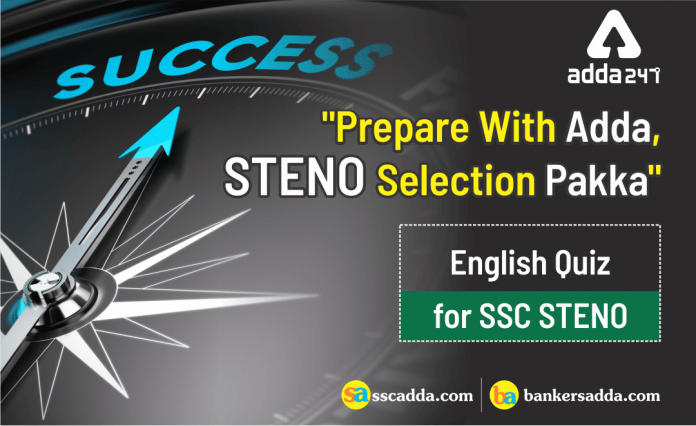 SSC CGL, SSC CPO, SSC Stenographer 2018 Exams are big opportunities to serve in a govt job and to live in clover. The Commission has already released exam dates for major SSC exams to be conducted in the month of February, March, June and July 2019 among which nearby exams  include SSC Stenographer Exam 2018, to be held from 5 to 7 February 2019 & SSC CPO 2018 to be commenced from 12 March to 16 March 2019. Also SSC CGL and CHSL 2018 Exam dates are out now. English Section carries a heavy weightage in SSC CPO & SSC Stenographer exams. Also SSC CGL is no exception. Consolidating the level, priorities and type of questions, Daily English Quiz on SSCADDA & ADDA247 App is a productive outcome of our experts' efforts to sharpen your practice skills.
Download our celebrated app ADDA247 to outsmart others. Our Revised Study Plan for SSC Stenographer 2018 Exam is all set to deliver the quizzes and notes on each four subjects asked in the Examination. 
Directions (1-15): In the following question, out of the four alternatives select the alternative which best expresses the meaning of the idiom/phrase.

Q1. Touch and go
(a) To waste
(b) Dangerous and Uncertain
(c) Conduct Secretly
(d) Pleasant and Certain
Ans.(b)
About Course:
Prepare for all SSC exams like SSC CGL,CHSL,CPO,Stenographer,MTS,Selection post and GD Constable etc from India's Best Teaching Educators!

About SSC ka Maha Pack:
SSC ka Maha Pack is a full-fledged course which incorporates all the essentials like Live online classes, Test series, Video courses, eBooks & countless unprecedented features that will help you excel in all the upcoming Teaching exams like SSC CGL,CHSL,CPO,Stenographer,MTS,Selection post and GD Constable etc

Includes:
You get access to:
200+ Hours of Live Classes

300+ Recorded Videos

500+ Total Tests

100+ Ebooks

Teacher's Class Notes/Slides.

Course Language
Classes: Hindi and English (Bilingual)
Study Material: English and Hindi
Tests: English and Hindi

Validity: 1 Month

Offer available for ADDA247 APP. Download the APP Now.
SSC Test Pack Online Test Series


1400+ Tests
Detailed Solutions and Analysis
Content by Expert Faculties
Validity
14 Months
1 Month
3 Months
BUY NOW
Q2. Be hand and foot
(a) In all possible ways; by all means
(b) To be lazy to move your hands and foots
(c) To fall between two great difficulties
(d) In disorder
Q3. Pore over
(a) Go through
(b) Reach to the lowest level
(c) To refund old dues
(d) Cheerful
Q4. In awe of
(a) Have no clear idea
(b) Respect
(c) In a precarious/dangerous position
(d) To take advantage of
Q5. Cast a shadow on
(a) Without delay
(b) In disagreement
(c) Spoil or let down
(d) In essence
Q6. Come to naught
(a) Be unsuccessful
(b) To win
(c) To very great extent
(d) To be doubtful
Q7. By implication
(a) Obliquely
(b) Do one's share of work
(c) To go unnoticed
(d) Precisely what the law says.
Q8. In the face of
(a) All at once
(b) Regardless of
(c) At a time
(d) To dislike someone
Q9. Drive to the wall
(a) Developing
(b) Moderately
(c) Come to exist
(d) Irritate/annoy
Q10. Far and wide
(a) Not frequent
(b) Nowhere
(c) To get disappeared
(d) Over a large area
Q11. Fuddy-duddy
(a) An old fashioned and foolish type of person.
(b) A mental institutional facility.
(c) To become serious about something
(d) A wise person.
Q12. Milk and water
(a) To be physically strong
(b) Lacking the will or ability
(c) To be very partial
(d) To criticize somebody
Q13. The salt of the Earth
(a) To expect something in return
(b) Very good & honest/kind
(c) To support someone
(d) Neat and clean
Q14. Feel blue
(a) Feeling ecstatic
(b) In trouble/depressed
(c) An easy achievement
(d) None of these
Q15. Flies off at a tangent
(a) Self praising
(b) To boast
(c) Start discussing something irrelevant
(d) Well informed
  You may also like to read: