IBPS AFO Salary 2022
IBPS AFO salary 2022: When a candidate applies for any recruitment, then the most common thought which appears in his/her mind is the salary that is offered to persons working at the post to be filled. Those preparing for the IBPS AFO exam must be aware of the IBPS AFO salary 2022. The officers working at the post of AFO get perks along with a good salary. This is a very good opportunity for those candidates who have done their graduation in agriculture and want to go into the banking sector. In this article, we have given information about IBPS AFO salary 2022 along with allowances, job profile, and benefits.
IBPS AFO Salary 2022: Pay scale
IBPS AFO Officer Scale I's Basic Salary is Rs. 23,700. The table describes the pay scales for IBPS AFO Scale I, II and III officer. The candidates who will get selected as Agriculture Field Officer will be offered IBPS AFO Salary per month.
| | | |
| --- | --- | --- |
| Category | Pay scale | Monthly salary |
| IBPS AFO Officer Scale I | Rs. 23700-980/7-30560-1145/2-32850-1310/7-42020 | Rs. 36400 |
| IBPS AFO Officer Scale II | Rs. 31705-1145/1-32850-1310/10-45950 | Rs. 48800 |
| IBPS AFO Officer Scale III | Rs. 42020-1310/548570-1460/2-51490 | Rs. 64600 |
IBPS AFO Salary & Perks
The public sector banks offers various allowances  to candidates who gets selected through IBPS AFO Recruitment in addition to IBPS Agriculture Field Officer Salary. The wage is increased by the benefits and allowances, and the employees are given the final sum in cash. The location of the posting affects the House Rent Allowances (HRA) and City Compensatory Allowances (CCA). The IBPS AFO Starting Salary is around 36,000 per month. The table given below includes a list of the allowances and their rates.
| | |
| --- | --- |
| Allowances | Rate |
| Dearness Allowance (DA) | Rs. 8605.88 |
| House Rent Allowance (HRA) | 7% to 9 % |
| City Compensatory Allowance (CCA) | 0% to 4% |
| Special Allowance | 7 to 8 % (For scale I) |
IBPS AFO Salary 2022, Job profile, Pay Scale, Read in Hindi
IBPS AFO Salary Slip 2022
During the time of doing preparation, salary for the post applied for remains one of the motivating factors for the candidates. Now as the IBPS AFO Notification 2022 is out, some aspirants are looking for IBPS AFO Salary slip 2022. The salary slip contains all the components of IBPS AFO Salary Per Month such as basic pay, perks and allowances and monthly deductions etc. Aspirants can all the details related to IBPS AFO Salary 2022 in this post which you will find in IBPS AFO salary slip 2022.
IBPS AFO Job Profile
It is important for the aspirants to know what kind of work they will have to do after becoming Agriculture Field Officer. AFOs have a number of responsibilities, particularly in rural areas. The primary responsibility of those hired to fill the position of Agriculture Field Officer (AFO) is to inform farmers about the bank's financial products and services. The additional duties of IBPS AFO employees include:
The AFO is responsible for promoting rural funding.
The function of AFO is to give loans to farmers as well as people related to agriculture.
Make sure that the farmers are receiving the loans.
Examine the loans for agriculture.
Examine the instances of failed crops
Educating farmers about the bank's particular programs and perks
Spend more money in rural areas
IBPS AFO Career growth
The candidates chosen for the post of IBPS AFO offered fantastic professional advancement. Below is a list of the IBPS AFO's promotion structure.
Officer/Assistant Manager
Manager
Senior Manager
Chief Manager
Assistant General Manager
Deputy General Manager
General Manager
Related Articles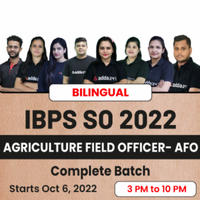 You May Also Like To Read
IBPS AFO Salary 2022: FAQs
Q.1 What is the basic salary offered to IBPS AF
Ans The basic salary offered to IBPS AFO is 23700
Q.2 What is the IBPS AFO Salary per month?
Ans The monthly salary of IBPS AFO is 36400