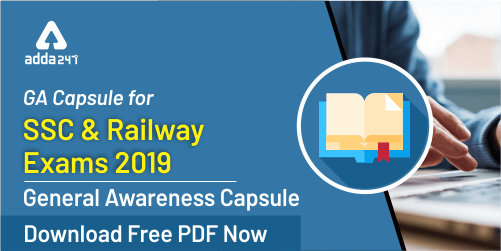 Major examinations such as SSC MTS, RRB NTPC, RRB JE and much more are lying ahead in the upcoming months. To make sure your preparation is up to the mark, you need to be one step ahead of your competitors. Its time to leave no stone unturned in your preparations and start boosting your preparations. General Awareness section covers the major portion of all competitive exams and hence it needs to be prepared thoroughly. To help our aspirants with this section, we are providing a detailed capsule of General Awareness section that covers all the information required to ace the examination.
G.A. Power Capsule by ADDA247 is that tool kit which will make the GA section a piece of cake for you.
G.A. Power Capsule has been developed under the meticulous guidance covering all the important topics with sufficient explanation, one liners and especially covers the questions having an assured possibility to appear in the exams.
You need not go through numerous newspapers and web pages to collect matter for the upcoming exams; you can simply study with this G.A. Power Capsule by downloading the Free PDF.
SSC MTS, RRB NTPC, RRB JE जैसी प्रमुख परीक्षाएं आगामी महीनों में आयोजित होने वाली हैं। यह सुनिश्चित करने के लिए कि आपकी तैयारी पर्याप्त है, आपको अपने प्रतिस्पर्धियों से एक कदम आगे रहने की आवश्यकता है। आपकी तैयारी में कोई कसर नहीं रहनी चाहिए। सामान्य जागरूकता अनुभाग सभी प्रतियोगी परीक्षाओं के प्रमुख हिस्से को कवर करता है और इसलिए इसे पूरी तरह से तैयार करने की आवश्यकता है। इस अनुभाग में उम्मीदवारों की मदद करने के लिए, हम जनरल अवेयरनेस सेक्शन का एक विस्तृत कैप्सूल प्रदान कर रहे हैं, जो परीक्षा में शामिल होने के लिए आवश्यक सभी जानकारी को कवर करता है।
You just need to give 2-3 hours on this section daily and you are good to go. Manage your time accordingly and study from the GA Capsule to pass your exams with flying colours. Click on the above link to download the GA Capsule for SSC & Railways exams.
IMPORTANT LINKS