GA Questions asked in SSC CHSL Exam
GA Questions asked in SSC CHSL Exam: Staff Selection Commission conducts the SSC CHSL Tier 1 examination for recruiting various vacancies like Lower Divisional Clerk (LDC), Junior Secretariat Assistant (JSA), Postal Assistants(PA), Sorting Assistants(SA), Data Entry Operator (DEO), Data Entry Operator Grade A across ministries and government offices. The SSC CHSL Tier 1 exam begins on 24th May 2022 and the 1st Shift is successfully conducted across the country.
GA Questions in SSC CHSL Exam 2022
The SSC CHSL is a big opportunity for the candidates to serve and grow their careers in central government organization. The competition in the SSC CHSL Tier 1 is tough and we hope the candidates have prepared up to the mark to grab their seats. To help our aspirants we are providing you with the GA Questions asked in SSC CHSL Exam today i.e. 24th May 2022. We will keep updating the General Awareness questions from 24th May to 10th June 2022 for all the shifts. Candidates must keep visiting the page to get a detailed idea about the type of questions asked and the level of questions also.
According to the 24th May exam analysis, the General Awareness Section was moderate. The questions asked were for current affairs, static GK, history, Geography, etc. Here is the list of the questions asked today for the GA section.
SSC CHSL Tier 1 GA Questions Shift 1 & 2
What color cards are given for fouls in a football game?
Where is Ramgarh Vishdhari Wildlife Sanctuary?
Who is the author of Playing to Win?
Medieval History War
Author of "Lazza".
Who has been awarded Padma Shree, Padma Bhushan, Padma Vibhusan?
Biosphere Reserve related question
Who won Dada Saheb Falke Award 2022?
Hornbill Festival Nagaland-related question.
Question asked on Governor
Question asked on Budget
Who was Jains' 4th Guru?
Geography map based 1 question
Acid and Base- 1 question
Article – 1 question
State formation year
One question was asked related to Female Hockey
Rajya Sabha and Lok Sabha related question
Periodic table related 2 questions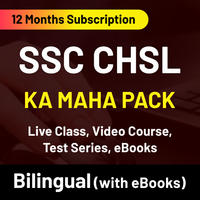 GA Questions asked in SSC CHSL Exam: FAQ
Q. What are the good attempts of the SSC CHSL TIER I First Shift 24th May 2022 GA Section?
Ans: The good attempts for General Awareness are 16-17.
Q. Which months of current affairs have been asked in the SSC CHSL Tier 1 exam?
Ans. Current Affairs Questions asked for more from 8 months to 1 year.
Q. How many questions were asked from Current Affairs?
Ans: 6-7 questions were asked from the current affairs section in the General Awareness.