Ministry of Home Affairs has released the official notification for the post of Assistant Central Intelligence Officer (ACIO) Grade-II and Executives. The Intelligence Bureau has announced 2,000 vacancies for various posts. The selection process consists of Tier I, II, and III exams. The exam is being scheduled from today onwards. The IB is conducting the exam in 3 shifts. This is the first time IB is conducting an online examination earlier it was an offline exam.
This time IB is following the UPSC exam pattern and forming the questions in a different manner. The questions are in the form of statement patterns and match the pair.This is becoming a little bit difficult for the candidates to understand the questions. In this article, we are going to discuss the complete analysis of  GA and GS for the IB ACIO exam conducted on 19th February 2021 in the first shift. 
GA and GS questions asked in IB ACIO  Shift 1:
Q. Who appointed as solicitor general of India in 2020?
Ans: Tushar Mehta
Q. Scotch Golden Award won by which ministry?
Ans: Ministry of Tribal Affairs
Q.Bricks are made up of which types of soil?
Ans: Red Soil
Q. Swanidhi Scheme – 3 statement – 10,000 rs: old person/child; time limit
Q. Padma Award : 3 statement 1. 3 types of Padma; Japan president got Bhushan
Q. Shaheen person related news
Q. Mahajanpada – matching
Q. Plageria disease – B3
Q. Volt = Columbus – unit
Q. June 2020 Israel tie-up deal
Q. One question related to Abdul Kalam.
GA and GS questions asked in IB ACIO  Shift 2:
Q. Treaty signed by Tipu Sultan and East India company?
Ans: Treaty of Mangalore
Q. Bhima is a tributary of which river?
Ans: Krishna River
Q. One Question-related to books and Authors match the pair.
Q. Vinesh Phogat is associated with which sport?
Ans: Freestyle Wrestling
Q. a) GST status is available on the GST portal; b) E-Gst is valid on transport above a certain threshold amount. Which one is correct.
Q. a) CS-01 Satellite was launched using pSLV c50 rocket: b) it is launched to replace Gsat 12 which was launched in 2003. Which is correct?
GA and GS questions asked in IB ACIO  Shift 3:
Q.In which field Nana Ji Deshmukh got Bharat Ratna Award & in which year?
Ans:  Fields of education, health, and rural self-reliance
Q.Tyndal effect (4 statements), which statement is correct for the Tyndall effect?
Q.One question from the Home rule league?
Q.Sports [Match the following]
Q.Which book is not written by R K Narayan?
Q.Free Education for 6-14 years children comes under which article?
Ans-Article 21(A) 
Q.Rajasthan's Pushkar Mela is celebrated in which district?
Ans: Pushkar
Q.One question from Vijay rath festival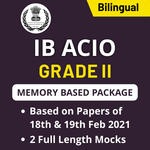 You may also like to read: