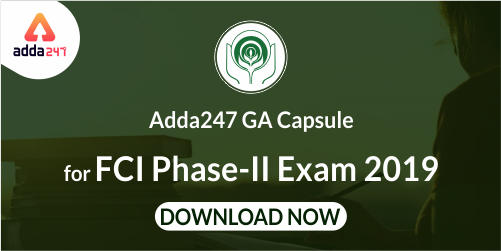 Dear Aspirants,
Food Corporation of India, the organization that takes care of food-related issues and food security of India, conducted the Phase I online examination for various posts to the recruitment in FCI in May. The result of the FCI Phase I exam was declared recently and now it is all set to conduct the next stage i.e. FCI Phase II exam. The FCI Phase I exam was common to all posts but FCI Phase II consists of papers according to the posts.
About Course:
Prepare for all SSC exams like SSC CGL,CHSL,CPO,Stenographer,MTS,Selection post and GD Constable etc from India's Best Teaching Educators!

About SSC ka Maha Pack:
SSC ka Maha Pack is a full-fledged course which incorporates all the essentials like Live online classes, Test series, Video courses, eBooks & countless unprecedented features that will help you excel in all the upcoming Teaching exams like SSC CGL,CHSL,CPO,Stenographer,MTS,Selection post and GD Constable etc

Includes:
You get access to:
200+ Hours of Live Classes

300+ Recorded Videos

500+ Total Tests

100+ Ebooks

Teacher's Class Notes/Slides.

Course Language
Classes: Hindi and English (Bilingual)
Study Material: English and Hindi
Tests: English and Hindi

Validity: 1 Month

Offer available for ADDA247 APP. Download the APP Now.
SSC Maha Pack


English and Hindi Medium
Detailed Solutions of all Questions
Detailed Solutions of all Questions
Validity
14 Months
8 Months
3 Months
1 Month
BUY NOW
FCI Phase II exam is scheduled to be held on 27th July. One paper that is common to most of the posts is Paper I which consists of 120 questions including 30 questions from General Awareness/ current affairs. 
सामान्य जागरूकता / करंट अफेयर्स इन दिनों किसी भी प्रतियोगी परीक्षा के लिए बैकबोन के रूप में कार्य करता है। अत्यधिक प्रतिस्पर्धी माहौल को पार करने के लिए इस खंड में मज़बूत पकड होने की आवश्यकता है। FCI चरण II परीक्षा एक सुनहरा अवसर है और आपको इसमें अपना सर्वश्रेष्ठ देने की आवश्यकता है। FCI चरण II परीक्षा के साथ हमारे उम्मीदवारों की मदद करने के लिए, हम जीए कैप्सूल प्रदान कर रहे हैं जो परीक्षा के संबंध में हालिया महत्वपूर्ण वर्तमान मामलों के साथ-साथ स्थैतिक जीके को कवर करता है। FCI चरण II परीक्षा GA कैप्सूल डाउनलोड करने के लिए दिए गए लिंक पर क्लिक करें:
General Awareness/Current Affairs acts as a backbone for any competitive exam these days. One needs to have a stronghold in this section in order to surpass the highly competitive environment. FCI Phase II exam is a golden opportunity and you need to give your best shot to it. To help our aspirants with the FCI Phase II exam, we are providing GA Capsule that covers static GK along with the recent important current affairs with respect to the exam. Click on the given link to download the FCI Phase II Exam GA Capsule:
What does the GA capsule cover?
It covers all the important static GK with exam point of view including the important dances, airports, ports, temples, stadium, etc
Ministers and all the recent information about politics, sports news, important schemes, all current affairs covered
Current affairs from 8th Feb to 1st July are covered in this capsule.
It acts as a concise booklet that you can read anywhere on the go.
Download the PDF and you are set to go. You can even take a print out of this capsule.
You may also like to read: