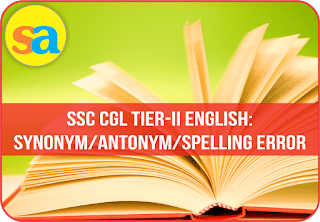 Dear Readers,
We are providing the alternate quizzes on Antonym/Synonym/Spelling error. From this section you will get at leas
t
10-15 questions

in S
SC CGL TIER-II Exam. So from this quiz one can prepare vocabulary portion on daily basis.
Directions (1-15): Choose the option which is the antonym of the word mentioned in the question.
Q1. GUFFAWED
Ans.(b)
Sol. GUFFAWED -> a loud or boisterous burst of laughter
Q2. CONSENT
Ans.(a)
Sol. CONSENT ->to agree to do or allow something
Q3. PLUMMETED
Ans.(d)
Sol. PLUMMETED ->to fall suddenly straight down especially from a very high place ,to fall or drop suddenly in amount, value, etc.
Q4. ESTRANGED
Ans.(c)
Sol. ESTRANGED ->to cause someone to be no longer friendly or close to another person or group
Q5. DEFIANCE
Ans.(c)
Sol. DEFIANCE ->a refusal to obey something or someone
Q6. CRIPPLING
Ans.(a)
Sol. CRIPPLING ->something flawed or imperfect
Q7. ABATEMENT
Ans.(d)
Sol. ABATEMENT -> the act or process of abating
Q8. INEVITABLE
Ans.(a)
Sol. INEVITABLE ->sure to happen
Q9. DITHERED
Ans.(d)
Sol. DITHERED -> to delay taking action because you are not sure about what to do
Q10. THRASH
Ans.(a)
Sol. THRASH ->to hit (someone or something) very hard with a stick, whip, etc.
Q11. DESPITE
Ans.(b)
Sol. DESPITE -> the feeling or attitude of despising someone or something
Q12. INSURGENT
Ans.(c)
Sol. INSURGENT -> a person who fights against an established government or authority
Q13. COMPENSATE
Ans.(d)
Sol. COMPENSATE -> to provide something good as a balance against something bad or undesirable
Q14. AMMUNITION
Ans.(a)
Sol. AMMUNITION -> the objects (such as bullets and shells) that are shot from weapons
Q15. PROFOUND
Ans.(c)
Sol. PROFOUND -> having or showing great knowledge or understanding