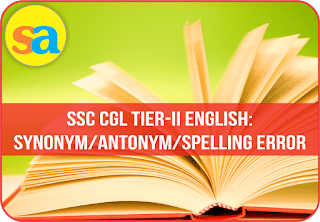 Dear Readers,
We are providing the altern
ate quizzes on Antonym/Synonym/Spelling error. From this section you will get at least
10-15 questions in S
SC CGL TIER-II Exam. So from this quiz one can prepare vocabulary portion on daily basis.
Directions (1-15): Choose the option which is the antonym of the word mentioned in the question.
Q1. ENVISIONED
Ans.(a)
Sol. ENVISIONED ->to picture (something) in your mind
Q2. PERTINENCY
Ans.(c)
Sol. PERTINENCY ->the quality or state of being pertinent : relevance
Q3. DISSIMULATE
Ans.(b)
Sol. DISSIMULATE ->to take on a false or deceptive appearance
Q4. CONDEMNATION
Ans.(d)
Sol. CONDEMNATION ->an often public or formal expression of disapproval
Q5. REITERATES
Ans.(d)
Sol. REITERATES ->to make or do again
Q6. DISPENSATION
Ans.(b)
Sol. DISPENSATION ->the act or process of giving out something to each member of a group
Q7. PREDOMINANCE
Ans.(b)
Sol. PREDOMINANCE ->controlling power or influence over others
Q8. ALLIANCE
Ans.(a)
Sol. ALLIANCE ->a formal agreement between two or more nations or peoples
Q9. VIGOR
Ans.(b)
Sol. VIGOR ->active strength of body or mind
Q10. DISHEVEL
Ans.(c)
Sol. DISHEVEL ->to undo the proper order or arrangement of
Q11. PLIABLE
Ans.(d)
Sol. PLIABLE ->able to bend easily without breaking
Q12. CONVERGENCE
Ans.(b)
Sol. CONVERGENCE ->the coming together of two or more things to the same point
Q13. CAPITULATION
Ans.(d)
Sol. CAPITULATION ->the usually forced yielding of one's person or possessions to the control of another
Q14. RESILIENT
Ans.(a)
Sol. RESILIENT ->able to revert to original size and shape after being stretched, squeezed, or twisted
Q15. UNRELENTING
Ans.(a)
Sol. UNRELENTING ->sticking to an opinion, purpose, or course of action in spite of reason, arguments, or persuasion