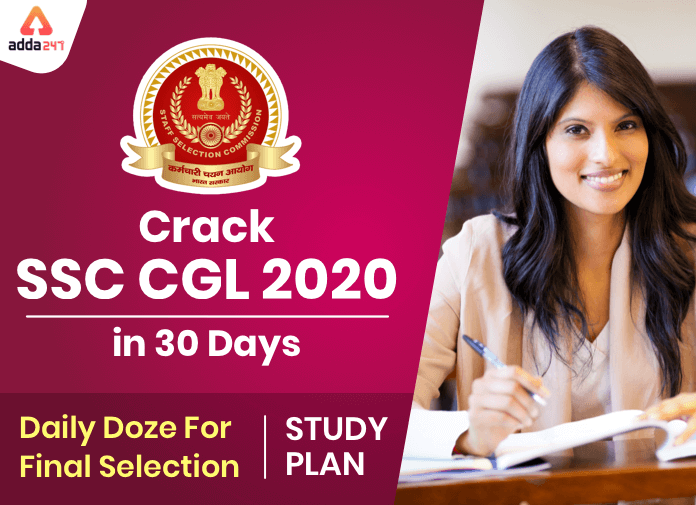 | Updated On February 25th, 2020 at 07:06 pm
Crack SSC CGL 2020 with Daily SSC CGL Study Plan: While preparing for the SSC CGL 2020, many aspirants might wonder, "Is it possible to crack SSC CGL exam in just 30 days? Are 30 days enough to score good marks and outshine your competitors who are preparing for the past one year? How can you prepare for SSC CGL in 30 Days? SSC CGL 2020 Tier 1 exam will be conducted by the commission from 2nd to 11th March 2020.
Needless to say, it is one of the major examinations that candidates look forward to excelling and scoring high marks. But how can you prepare for the exam in the remaining 30 days? The SSC CGL Tier 1 exam will consist of 4 sections including subjects- General Intelligence and Reasoning, General Awareness, English Comprehension and Quantitative Aptitude. The total number of questions with 25 questions for each will be 100 comprising of 200 marks. You will be given 1 hour to attempt the exam. 
Crack SSC CGL 2020 With Daily Study Plan
For all those aspirants panicking with the thought of preparing in the last 30 days, SSCADDA is providing you with the 30 days study plan for SSC CGL 2020 exam. SSC CGL 2020 can be cleared in 30 days by proper planning and studying regularly devoting 8-10 hours on a daily basis. Follow the detailed subject-wise study plan provided below and attempted daily quizzes available at free of cost on SSCADDA. We have also mentioned the marks allotted to each section based on the previous exams.
Dedicated and Disciplined strategy needs to be followed on a daily basis for the sure-shot selection. This study plan will give a final touch to your preparations and would make sure you come out as a winner.
SSC CGL 2019-20 | SSC CGL Maths | Arithmetic | 1000+ Previous Year Questions

Click here for Free Study Material For SSC Exams 2019-2021
Click here for best SSC CGL mock tests, video course, live batches, books or eBooks