Dear Aspirants,
Adda247 has always believed in giving priority to its students and have always tried to provide the best study material to all aspirants. We understand that your goal holds a lot of importance in your life and we tried helping our students in every possible way through all these years since 2010. We cherish our journey from being an educational startup to becoming the largest educational technology imparting knowledge to millions of students. Today, we are obliged to announce that with the support of our students, we have become a family of 10+ crore students over 10 years. On this occasion, let's take a look at our journey and how we progressed through all these years spreading smiles on the faces of millions of students.
The journey of Adda247
Starting something new in any field can be a tough task when it comes to planning and executing your ideas in a proper way. The journey of Adda247 kickstarted a decade ago with the foundation of "Bank Power", the first offline coaching institute set up by Adda247 in 2010.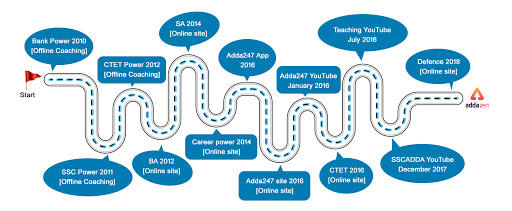 The Beginning of a Revolution
Bank Power in 2010 [Offline Coaching]
Bank Power was founded in 2010 by Anil Nagar and Saurabh Bansal with an objective to empower quality education to students and help them grow in the Banking Sector. The institute flourished under the guidance of its mentors with hundreds of students getting success in the banking sector. After the success of Bank Power, it was the time to revolutionalise other sectors such as SSC and teaching. Hence, SSC Power was founded in 2011 covering all SSC exams, and CTET Power in 2012 for teaching exams. 
Later, all these separate entities were merged into one, now known as "Career Power" the premier institute for the preparations of Banking and SSC exams.
Transforming into the Digital Era
With the advent of the digital era and internet as a major source of learning, our next step was to utilise the digital technology to educate people. Bankersadda was launched in April 2012, our online website with the motive to help aspirants about the latest job alerts, quizzes, articles on exams etc. Bankersadda focused on all the banking exams conducted throughout the year and to make sure that readers are updated regularly on the latest happenings in the banking sector. Today, Bankersadda registers a total of approx 5 lakh students users on a daily basis. 
Career power website in 2014 
After the success of the Career Power Offline coaching centers, the online website of Career Power was launched in 2014. It provided information regarding the offline centers, how to enrol and about all the latest government exams.
Sscadda website in 2014 and SSC अड्डा youtube channel in 2017
With the increase in the students appearing for SSC exams, the online website "SSCADDA" was launched in March 2014 focusing mainly on the SSC & other state-level examinations. Sscadda started off with only 1000 users per day and today, over 3 lakh users visit and study from this portal on a daily basis. Sscadda now provides quizzes, job alerts, etc and has helped thousands of people in getting the job of their dreams. The sscadda youtube channel has now more than 5 lakh subscribers attending free classes for SSC & railways exams.
Increasing the Accessibility
To make sure that study material and updates are available at your fingertips, the Adda247 App was launched in 2016. ADDA247 App has set up a well-entrenched place in the Google Play Store with an overall rating of 4.6 and more than 6 million downloads. provides exam friendly Subject wise Quizzes, Mock Test Columns, Daily news feed, Current Affairs, Job Alerts, Articles, Videos and many more facilitated with the best user interface!
Our Growth and the launch of new portals
Adda247 YouTube Channel in January 2016
Adda247 Youtube Channel was launched in 2016 to provide FREE online video tutorials for various competitive exams starting from basics to the highest level to help the students who were not able to join coaching classes but needed tutorial classes to ace the competitive examinations. Adda247 Youtube channel has now a total of 3 million subscribers and covers the best study material provided on a daily basis.
Teachersadda website and youtube channel in 2016
Teachersadda website, formerly known as CTET adda and teachersadda youtube channel was launched in 2016 with a focus on all teaching exams such as CTET, UPTET, DSSSB, NVS, TGT, PGT and other state-level teaching exams. Today, teachersadda website registers 3-4 lakh total monthly users and the youtube channel has over 1 lakh subscribers guiding them in the teaching sector.
Defenceadda website in 2018 
Defenceadda was launched in 2018 dedicated to providing all information related to the ongoing defence exams in the country. Today, the portal covers all defence exams including CDS, NDA, AFCAT etc and is growing with time.
Below is the list of some successful candidates who cleared SSC 2017, Railway 2017 exams and are more than ever excited to reveal the contribution of SSC and Railway Package in their successful journey of cracking these prominent exams.
Anurag Anand
Roll no- 7002700018
SSC CGL Tier-I Marks -157.5
SSC CGL Tier-II Marks
Maths- 154.5
English – 150
Paper 4(Eco)- 137.5
Showing my trust in SSC Prime was my best decision ever. I continuously practiced through its Mock Tests and Subject-Wise Tests to improve my performance. Its e-books helped me a lot in revision work. Detailed explanation of questions helped me to the core and I got 157.5 marks in SSC CGL Tier-1 2017. I was worried for Tier-2 but scored my best. Bless you, ADDA247 for providing SSC Prime.
Mohd. Sartaj
Roll No. – 441030005080028
RRB ALP 2018 Stage-I Marks- 49.27877
I come from a middle-class family and was always an average student. To get a job in Railway was always in my priority list which made me give a try to Railway Prime by ADDA247. I could not only manage the price but also got sufficient study content. And it single-handedly helped me in cracking Railway ALP & Technician Stage 1 & stage 2 2018 Exam.
This journey has witnessed a lot of challenges, struggles, ups and downs and many joyous moments as well. The love we get from our students makes this journey worth it. Today, Adda247 provides the best study material including test series, video courses, live batches, e-books, etc and is growing with each passing day. We thank all our students for believing in us and making Adda247 the most loved platform for all government job preparations.