UNION BUDGET 2020 Key Highlights: Check all Updates Hon'ble Union Finance Minister Nirmala Sitharaman presented the Union Budget 2020 in the parliament for the second time in a row. The Union Budget is the yearly financial report estimating the income and expenditure presented to outline future policies to be adopted by the government for sustainable growth and development. The Economic Survey 2019-20 was released on 31st January 2020 by the Chief Economic Advisor of India, Krishnamurthy Subramanian. As India is facing the major economic slowdown, all eyes will be set on this year's Budget. Between 2006-16 India was able to raise 271 million people out of poverty.  In this post, we will be providing the live updates of the Union Budget 2020-21 to be presented today at 11 AM in the Parliament.

BUDGET 2020-21 "At a Glance"
Feb 01, 2020
13:12 PM: Dividend Distribution Tax to be removed, companies would not be required to pay DDT, dividend to be taxed only at the hands of recipients at applicable rates: FM
13:10 PM: Tax system simplified, reviewed all the exemptions and deductions. Currently, more than 100 exemptions and deductions are provided in the income tax Act. 70 exemptions and deductions removed.
13:05 PM: Tax rates reduced
10% tax to be paid for income between 5 Lakh- 7.5 lakh
for 5 Lakh- 7.5 Lakh income- 15% tax to be paid against 20%
For 10 Lakh-12.5 Lakh, 20% tax to be paid against 30%
13:01 PM: Reducing the corporate tax rates for new companies in the manufacturing sector to 15%. Similarly, for existing companies, rates lowered at 22%
13:00 PM: Tax reforms for boosting investment. Fiscal deficit estimated 3.8 % in 2019-20 and 3.5 % for 2020-21 Capital expenditure scaled up by more than 21%. 
12:53 PM: Nominal growth of GDP estimated for 2020-21 on the basis of trends at 10%. Revised estimates of the expenditure for FY 2020-21, 26.99 lakh crores. Receipts estimated at 19.32 lakh crores.
12:52 PM: "For greater clarity, I have enumerated those central government debts that are not part of market borrowing and are used to fund the expenditure".
Finance Commission to submit the final report in the latter part of the year. Transfer GST compensation fund
12:42 PM: Insurance cover for bank deposits to be increased to Rs. 5 lakhs from Rs. 1 lakh
12:41 PM: Proposed to sell the balance holding of the government of India's IDBI  to private retail and institutional investors through the stock exchange
12:35 PM: Indian statistical system to improvise. Roadmap to modernised data collection and integrated information portal. India to host G20 presidency in 2022
12:32 PM: National Recruitment Agency to be set up for recruitment to non gazetted posts through computer-based online process.  
12:31 PM: A Tax payers charter is getting institutionalized 
12:30 PM: FM announces 2 National Science Schemes Genetic Database for drug innovation & Quantum Computing for advancing our computational n analytical capabilities to join an exclusive global league – Rs 8000 Cr over 5 years. A very important investment with huge future returns
12:25 PM: Our commitments for Paris agreements will start from 1st Jan 2021 Encourage states to ensure cleaner air- 4,400 Crores allocation for the ministry of environment
12:20 PM: 3150 crores allocated to the Ministry of Culture. Tribal Museum to be set up in Ranchi Jharkhand. The maritime museum would be set up.
12:17 PM: Indian Institute of Heritage and Culture to be set up. 5 archaeological sites would be developed as iconic sites with the onsite museum: Rakhi Garhi Haryana, Hastinapur UP, Shivsagar Assam, Dolavira Assam, Adichalanur in TN.
12:16 PM: For SC and OBC Classes, 85,000 crores allocated for FY 2020-21 For ST Classes, 53,700 crores allocated for FY 2020-21 For Senior Citizens & Divyangs, 9,500 crores for 2020-21
12:15 PM: 28,600 crores allocated to programmes related to women 
12:14 PM:  35600 crores Allocated to nutrition-related programmes for FY 2020-21. Nutrition of Children, pregnant women, Poshan Abhiyan was launched. More than 6 lakh Anganwadi workers equipped with smartphones to update the nutritional status of 10 crore households Task Force appointed to mothers,
12:12 PM Govt allows tech companies to set up Data Centre parks to provide internet to citizens. It allocates Rs 6,000 crore for BhartatNet.
12:06 PM: Propose to provide Rs 27,300 crores for development for industry and commence for year 2020-21: FM  Power & Renewable Energy Section for 2020-21: 22,000 Crores allocated to this sector
12:03 PM: High-Speed Train Mumbai-Ahemadabad would be actively pursued, urge to State & UTs to replace conventional energy meters by prepaid smart meters in the next 3 years
11:57 AM: 1.7 Lakh Crores for Transport Infrastructure
Accelerated Development of Highways which will include 2500 km access control highway, 9000 km of economic corridors, 2000km of coastal & land port roads and 2000 km of Strategic Highways
11:56 AM: 100 lakh Crore would be invested on Infrastructure in next 5 years as a followup Launched National Infrastructure Pipeline on 31st December 2019 of 103 lakh core work project consists of more than 6500 projects across sectors these projects will include Housing, safe drinking water, Acess to clean energy, Health Care, World-Class Education institution, Modern Railway Station, Airports, Metro, Logistics, Irrigation
11:47 AM: 99,300 crores to the education sector and 3000 crore for skill development. Bridge course to be designed for professional courses. 
11:44 AM: National Police University and National Foreign University will be set up. Medical colleges to be set up at district level to produce more doctors.
11:43 AM: About 150 higher education institutes will start Apprenticeship embedded degree diploma courses by March 2021. Steps would be taken to enable sourcing to provide higher quality education. Urban Local Bodies to provide internship opportunities for young engineers. For deprived students, degree level full-fledged online education programme to be started
11:42 AM: By 2030, India will have the l
argest working-age population in the world The new education policy will be announced soon, IND-SAT exam proposed in Asian and African country for foreign university
New Edu policy soon.
11:41 AM: Augmenting local water resources, promote water harvesting in 2020-21, 11,500 crores will be provided, 3.60 lakh crores for Jal Jeevan mission. Swachh Bharat Mission allocation Rs 12,300 crore.
11:40 AM: 69,000 crores to the health sector
"TB हारेगा, देश जीतेगा" Campaign, Strengthen the campaign to end Tuberculosis by 2025. Jan Aushadi Kendra Scheme offering 2000 medicines, 300 surgical by 2024
11:39 AM: 112 Aspirational Districts to be covered for AYUSHMAN Treatment
FM Proposes a public-private partnership (PPP) mode hospitals in 112 aspirational districts. Wellness water and sanitation & Healthcare Mission Indradhanush expanded to cover 12 diseases, Fit India Movement, Jal Jeevan Mission, Swachh Bharat Mission
11:38 AM: 2 broad categories: For sector comprising of agriculture, allied sector, 2.83 lakh crores has been made for 2020-21, 1.6 lakh crores for agriculture For rural and Panchayati Raj- 1.23 lakh crores
11:37 AM: 16th Action Point Under Deen Dayal Antodaya Yojana 58 Lakh SHGs has been mobilised, Further expanding
"Our government shall encourage balanced use of all kinds of fertilisers, including traditional organic variety to discourage use of chemical fertilisers": Finance Minister Nirmala Sitharaman
11:30 AM: Kisan Rail through PPP model so that perishable goods can be transported quickly. Krishi Udaan will be launched by MoCA on international and national routes.
11:25 AM: First Action Point includes 3 Model Agricultural-related Laws and water stress-related issue
Comprehensive measures for 100 water-stressed districts, PM Kusum schemes removed farmers dependence, Solar Power generation units will be set up for farmers to make a living out of the barren land
11:24 AM: Propose to undertake 16 Action Points including agricultural-related points, water stress-related points 
11:17 AM: Budget is about 3 Prominent Things- aspirational India, economic development for all & develop a caring society with ease of living

11:16 AM: The central Govt Debt got reduced in March 2019 to 48.7% of GDP from 52.2% in March 2014
11:15 AM: India was able to raise 270 Million people out of poverty
India FDI elevated to 284 Billion USD from 190 Billion USD
11:11 AM Budget is to boost income and purchasing power of people
11:10 AM: FM discusses the importance of GST and pays tribute to Arun Jaitley
FM calls GST as "the most historic reform". GST has integrated the country economically, 10% reduction in overall taxes.
11:00 AM: Video is Live. Nirmala Sitharam starts reading the Budget in the Parliament before the Speaker of Lok Sabha, Om Birla
10:50 AM: Prime Minister and FM reach the Parliament
Prime Minister has reached the parliament with Finance Minister Nirmala Sitharaman. The Union Budget 2020 is all set to be presented.
9:45 AM: Ahead of Budget 2020, Sensex falls over 200 Points
Before the budget, the market is seen to face a slowdown.
9:30 AM: Finance Minister meets the president with her team carrying the 'Bahi Khata'
Nirmala Sitharaman meets President Ramnath Kovind carrying the 'Bahi Khata'. She carried the 'Bahi Khata' for the first time last year breaking the tradition of the budget in the leather briefcase. The Budget will be presented after the meeting at 11 AM.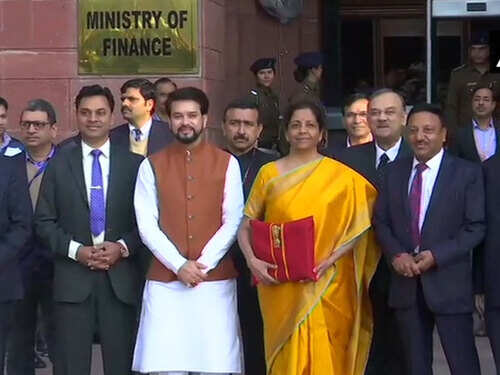 Questions Based On Economic Survey 2020 For SSC, IAS, Railways and Other Government Exams 2020