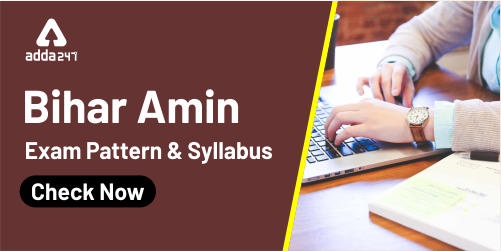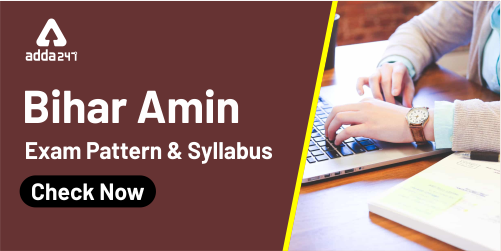 Bihar Amin Exam Pattern & Syllabus 2020: Bihar Amin exam 2020 has been postponed as per the official notice due to unavoidable reasons. You must know the exam pattern & Syllabus for the Bihar Amin 2020 exam before appearing for the exam. Approx a total of 18000 candidates will appear for the written examination to get recruited as Amin. As the exam is postponed, candidates have time to preparing accordingly. The exam date will be released on the official site at
BCECEB invited applications for a total of 1767 vacancies for Bihar Amin Posts. The candidates will be selected for the Bihar Amin computer-based test on the basis of their educational qualifications & experience mentioned in the application form. The new exam date will be announced shortly by the Board. Candidates can check the detailed exam pattern and syllabus for the Bihar Amin exam 2020 in this post.
Bihar Amin Selection Process 2020
The selection process for Bihar Amin Recruitment 2020 consists of 3 stages as given below:
Shortlisting of candidates for CBT
Computer Based Test
Interview
Bihar Amin Exam Pattern 2020 For Computer Based Test
The Bihar Amin written exam consists of a computer-based test with multiple-choice questions. The subject-wise distribution of the questions with marks is given in the table below. Candidates will be required to attempt the exam in a duration of 2 hours 15 minutes.
Part
Subjects
Questions
Marks
Duration
Part 1
General Studies
Current Affairs
General Science
General Hindi
50 Questions
50 marks
2 hours
15 minutes.
Part 2
General Mathematics
25 Questions
25 marks
Total
75 Questions
75 Marks
The questions will be based on intermediate and each question will carry 1 mark.
The questions will be bilingual.
The total questions asked will be 75 ques.
The total duration will be 2 hours 15 minutes.
Bihar Amin Syllabus 2020
The Bihar Amin syllabus for General Studies, Current Affairs, General Science, General Hindi, and General Mathematics has been provided below. Go through the syllabus of the Bihar Amin 2020 exam in detail and start preparing for the CBT.
Bihar Amin General Knowledge Syllabus 2020
The General knowledge syllabus for the Bihar Amin exam 2020 comprises of History, culture, Geography, Economics of India and Bihar. Check out the topic wise syllabus of General Knowledge as given below:
Indian Republic
Indian Constitution
and Political system
of India
Main features of History/ Culture/ Geography/ Economics Scenario/ Agriculture and Natural resources of India and Bihar

Indian History
Indian Culture
Freedom Movement of India
Indian Geography & Natural Resources
Indian Agriculture & Economy
History of Bihar
Culture of Bihar
Bihar's contribution in Freedom Movement of
India
Bihar related Geography and Natural
Resources
Bihar related Agriculture and Economy
India's Natural Resources

Constitution & Political system of India
Origin and Development of India's
Constitution and Political System.
Panchayati Raj
Community Development
Bihar Amin Current Affairs Syllabus 2020
The current affairs & contemporary topics of Bihar, India and international events will be asked in the Bihar Amin 2020 exam. Check out the syllabus as given in the official notification:
International and National Events
National and International Awards
Sports And Sports Personality
Scientific development
Other topics related to current affairs
Bihar Amin General Science Syllabus 2020
The General Science in Bihar Amin will have questions from Physics, Chemistry and Biology. Candidates can check the topics to be asked from these sections:
Physics
Chemistry
Biology

Light: Application of Reflection,
Refraction, Uses of Convex and
Concave lens/mirrors
Electricity: Resistance series,
Voltmeter,  Ammeter, Transformer, Rectifier, AC and DC current.
Force & Motion: Types of Force, and Application of newton law of motion
Work, Energy, Power: Types of energy, conversion of energy
Sound: Sound and its properties

Acids, bases, and salts
Carbon and its compound
Atoms & Molecules
Structure of the Atom

Control and coordination
Fundamental Units of Life (Cell)
Disease and its causes

Bihar Amin General Hindi Syllabus 2020
The General Hindi for Bihar Amin comprises mainly of Hindi Grammar and consists of topics as provided below:
ShabdPad, Kriyabhed
Mishr & Sanyukt Vakya
Vakyon ka Rupantaran
Alankar
Samas
Swarsandhi
Muhavare & Lokokityan
Ashud Vakya Shodhan
Bihar Amin General Mathematics Syllabus 2020
The Mathematics section in Bihar Amin written exam will comprise of 25 questions and must be prepared thoroughly. Candidates must go through the table given below for topic wise syllabus of Bihar Amin General Mathematics:
Topics
Sub-Topics
Number System
Basics of Number System
Simplification
HCF/LCM
Time & Work
Basic question of time and work
Pipes and Cisterns (Easy ones)
Mensuration
Perimeter
Areas
Volumes
Ratio and Proportion
Ratio
Proportion
Geometry
Circles
Triangles
Quadrangles
Average
Basic questions of averages
Profit and Loss, Discount
Relation of SP and CP
Relation SP and MP
Discount
Percentage
Basics of percentages
Percentage Change
Time and Distance
Average Speed
Relative Speed
Boats, Trains & Platforms
Simple and Compound
Interest
Simple Interest
Compound Interest

Bihar Amin Preparation Strategy: Study Plan of 90 Days | Click here