Prime Minister Narendra Modi in his address to the nation on Tuesday (12th May) announced The Rs 20 lakh crore Atmanirbhar Bharat Abhiyan relief Package. Finance Minister Nirmala Sitharaman recently addressed the Press and provided the detailed breakdown down of relief package.
Today (Saturday) is the 4th day of series of press briefings addressed by the Finance Minister. Today's announcements will focus on structural reforms. Yesterday's relief packages are mainly focused on agriculture and allied activities. The Rs 20 lakh crore sum is equal to 10% of India's GDP.
Important Points from The Press Conference: Day 4
Following are the 8 Sectors That Will Undergo Structural Reforms
Coal
Minerals
Defence production
Airspace managements, airports
MRO
Power distribution companies in UTs
Space
Atomic energy
Govt. to bring in Policy Reforms to fast-track Investment; Project Development Cell in each Ministry to prepare investible projects, coordinate with investors and Central/ State Governments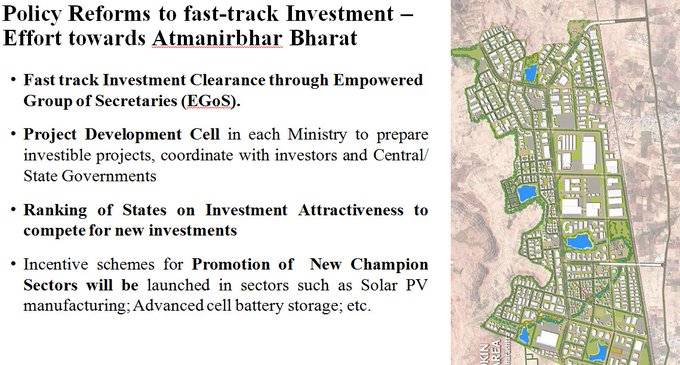 Atmanirbhar Bharat Abhiyan: Breakdown of Relief Package (Day 4)
Govt monopoly in coal mining being removed. This will be done based on a revenue-sharing mechanism instead of regime of fixed rupee per tonne.
Any party can bid for a coal block and sell in the open market.
Rs 50,000 crore alloted for creating evacuation infrastructure for coal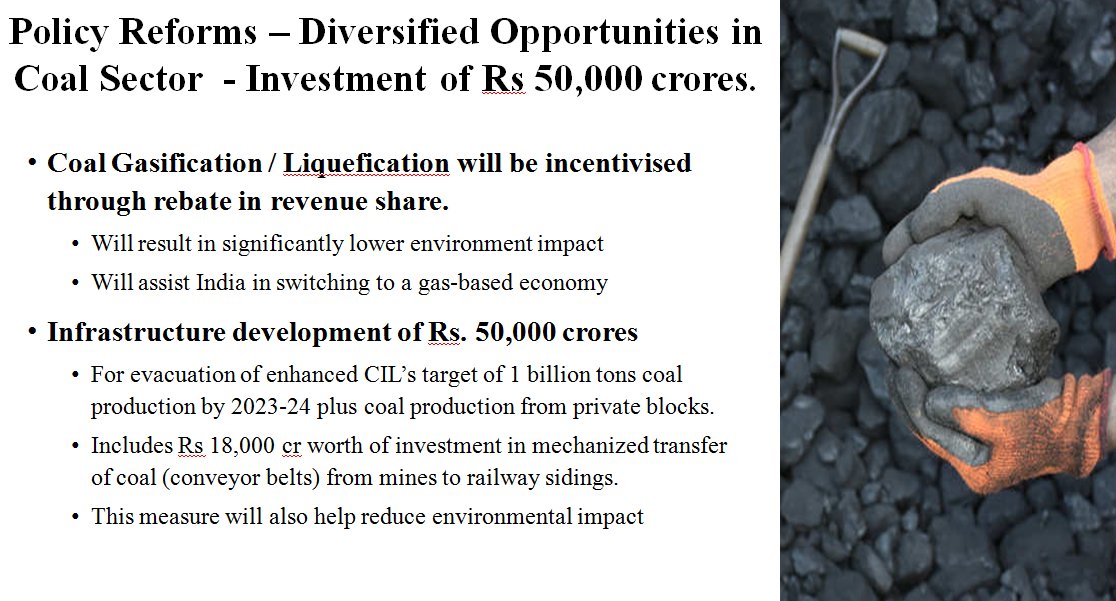 The scheme will be implemented in States through Challenge mode for Industrial Cluster Upgradation of common infrastructure facilities and connectivity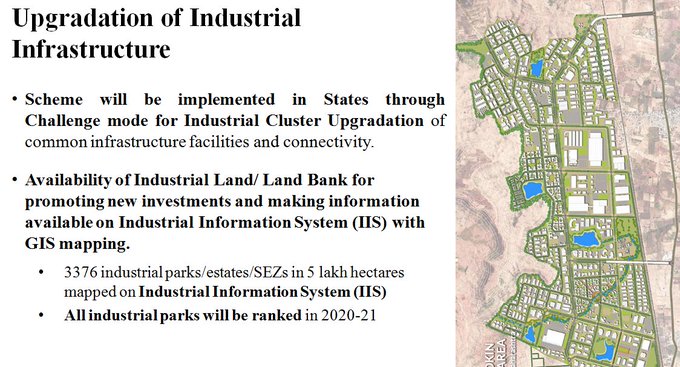 The sectoral reform that govt. want to bring in here to give boost to the sector is to now have a seamless composite exploration-cum-mining-cum-production regime. 500 mining blocks will be offered through an open and transparent auction process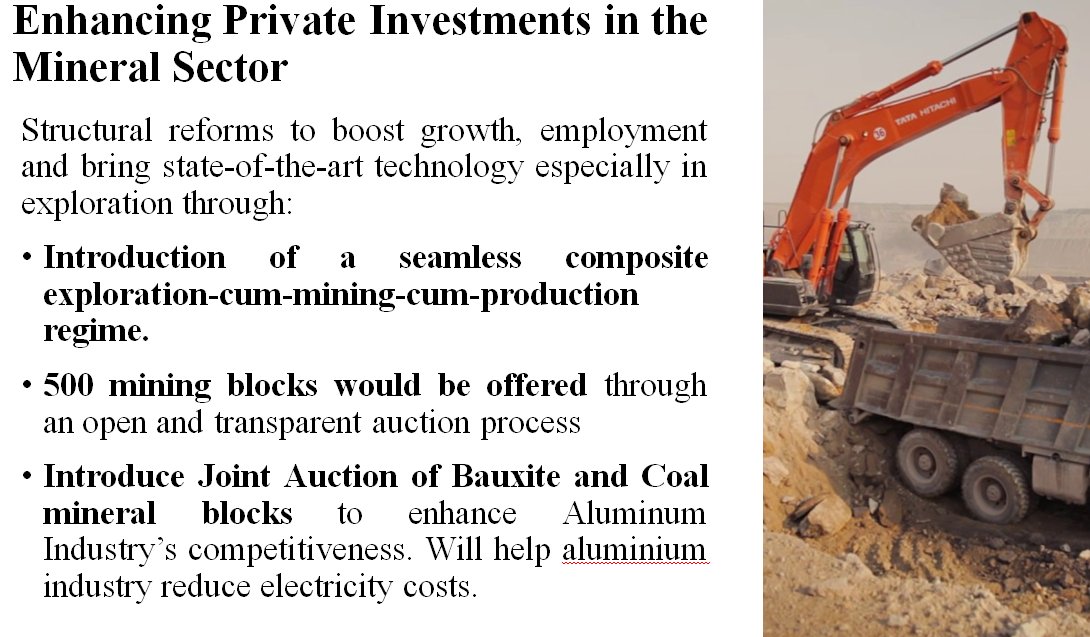 Govt. will introduce joint auction of bauxite and coal mineral blocks to enhance aluminium industry's competitiveness. Remove distinction between captive and non-captive mines to allow transfer of mining leases and sale of surplus unused minerals, leading to better efficiency in mining and production,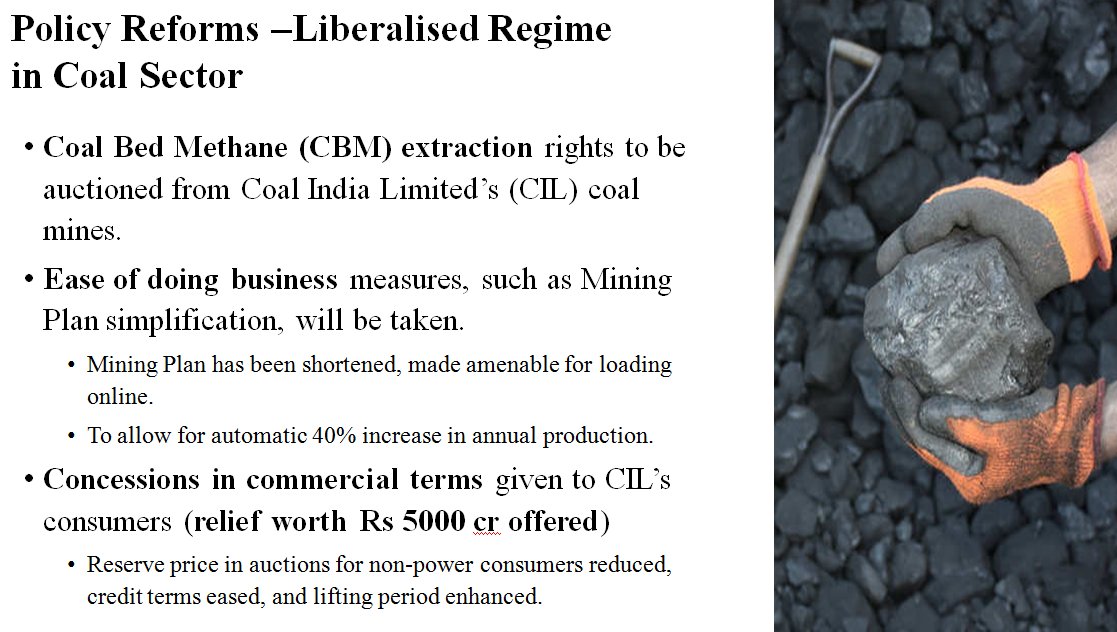 Govt will focus on enhancing Self-reliance in Defence Production
Will notify a list of weapons/platforms for ban on import with year wise timeline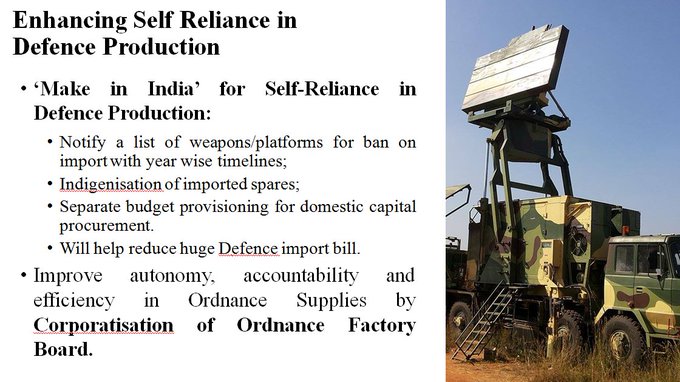 FDI limit has been raised from 49 per cent to 74 per cent.
This will help in reducing the huge defence import bill.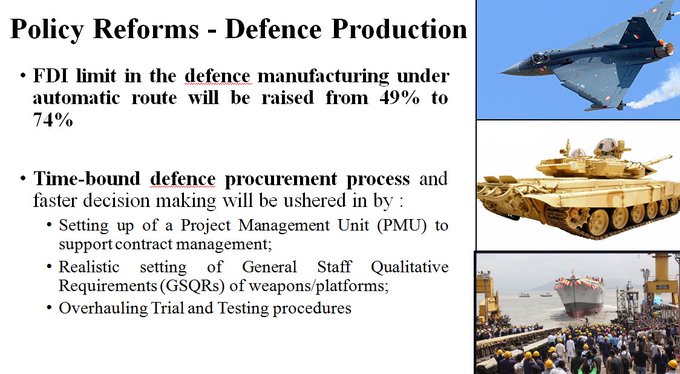 Efficient Airspace Management for Civil Aviation: Restrictions on utilisation of the Indian Air Space will be eased so that civilian flying becomes more efficient
AAI has awarded 3 airports out of 6 for operation and maintenance on PPP basis
Efficient airspace management for civil aviation. As of today, only 60 per cent of the Indian airspace is freely available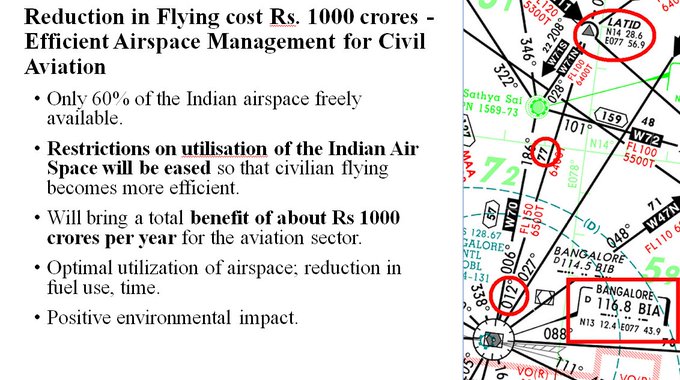 India has the capacity, manpower and skills, it can be a hub for many flights heading to South-East Asia and westwards.
Tax regime for MRO ecosystem has been rationalised
Convergence between defence sector and the civil MROs will be established to create economies of scale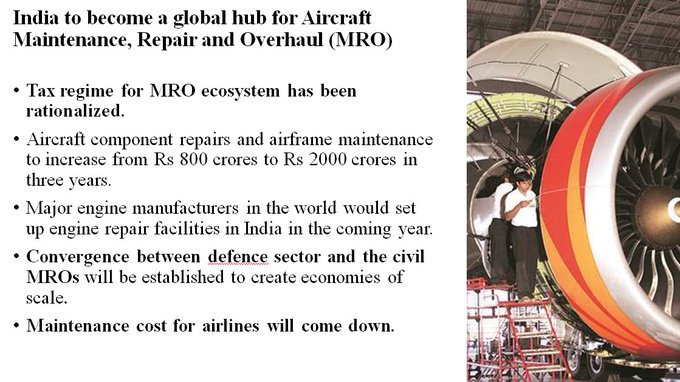 More World-class

Airports

through

PPP

: Another 6 airports will be put out for the third round of bidding.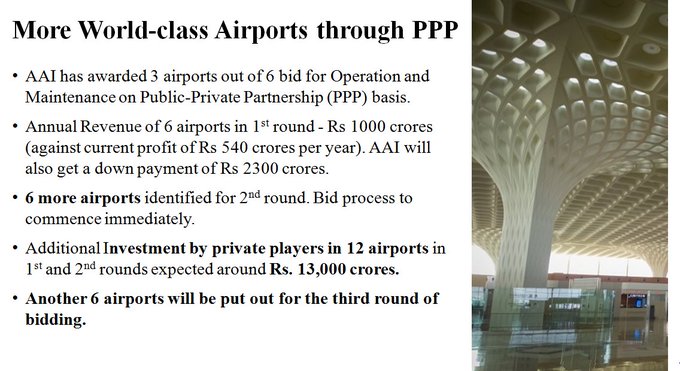 Power distribution companies in Union Territories will be privatised.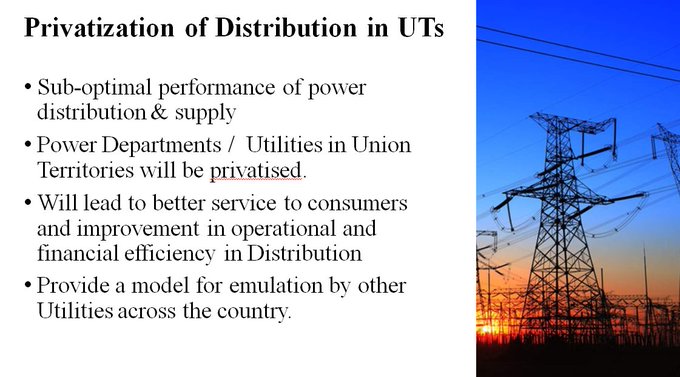 Consumer rights, promotion of industries and sustainability of sector will be the major salient points of the new tariff policy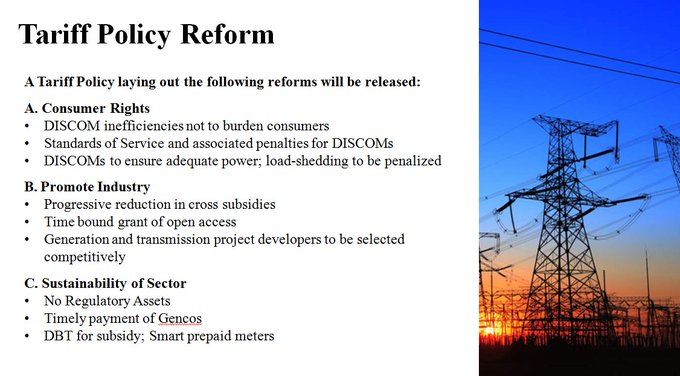 Boosting private sector investment in Social Infrastructure through revamped Viability Gap Funding Scheme with a Total outlay of Rs 8100 crores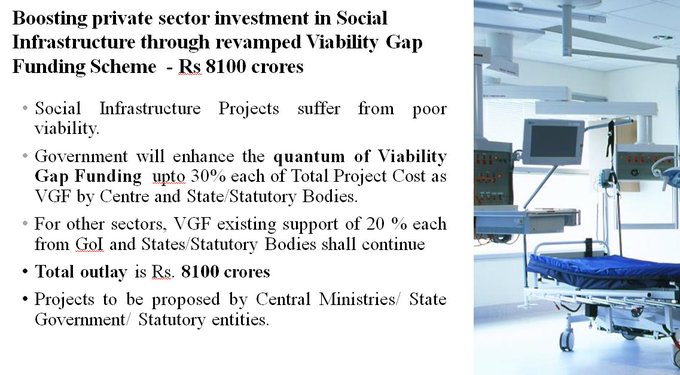 Boosting private participation in Space activities: Govt. to provide predictable policy and regulatory environment to private players.
Liberal geo-spacial data policy for providing remote-sensing data to tech entrepreneurs.
Will provide a predictable policy and regulatory environment to private players.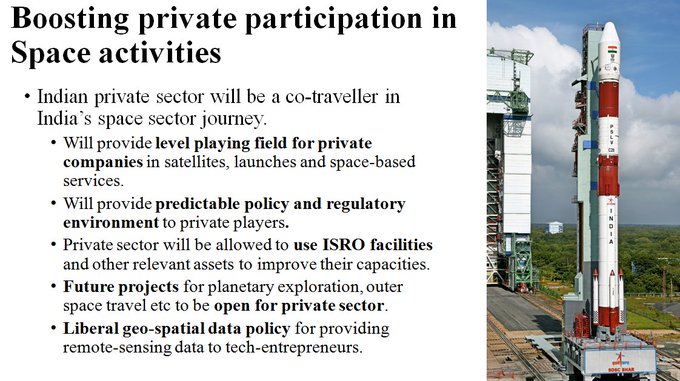 Important Points from The Press Conference: Day 3
Finance Ministry will be announcing 11 measures today, of which 8 relates to strengthening capacity and infrastructure. The government will allocate money and we can quickly ramp up on these. The rest 3 will pertain to government and administrative reforms
Atmanirbhar Bharat Abhiyan: Breakdown of Relief Package (Day 3)
In a move to strengthen infrastructure in agriculture, financing facility of Rs. 1 lakh crore will be provided for funding Agriculture Infrastructure Projects at farm-gate & aggregation points.
The money will be also used for cold chains and post-harvest infrastructure.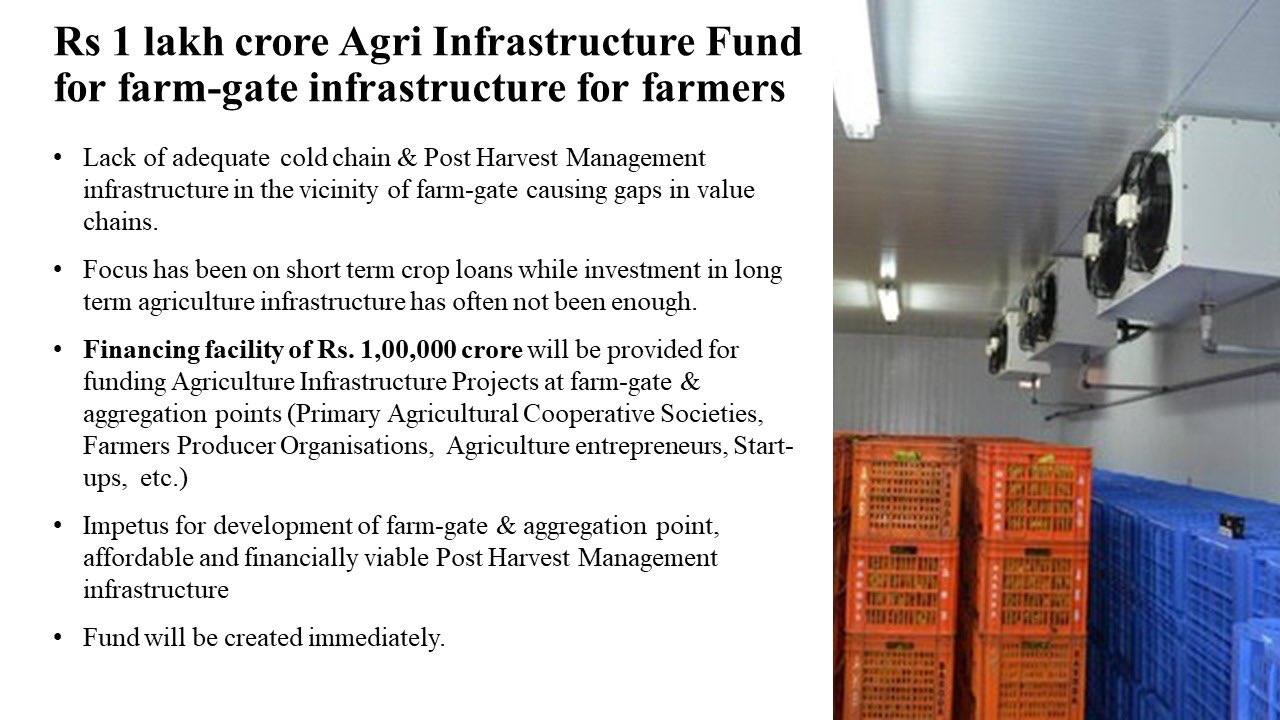 New scheme has been launched for interest subvention @ 2% per annum to dairy cooperatives for 2020-21 aimed at unlocking Rs 5000 crores additional liquidity, benefitting 2 crore farmers: Union Minister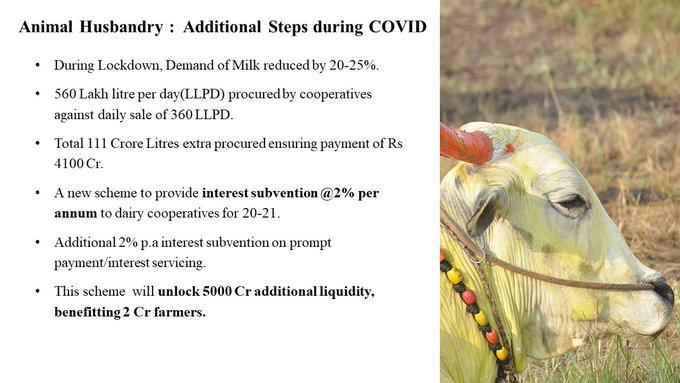 To help the Fisheries sector, operations of Marine Capture Fisheries and Aquaculture has been relaxed to cover Inland Fisheries.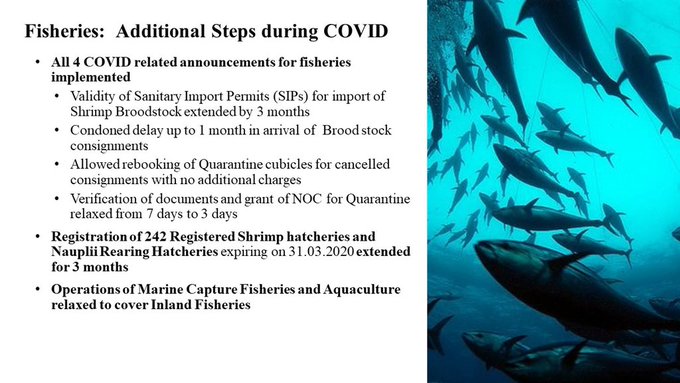 Aiming to implement PM's vision of 'Vocal for Local with Global outreach', a scheme will be launched to help 2 lakh Micro Food Enterprises; Improved health and safety standards, integration with retail markets and improved incomes to be key focus areas.
This will also help in reaching untapped export markets in view of improved health consciousness.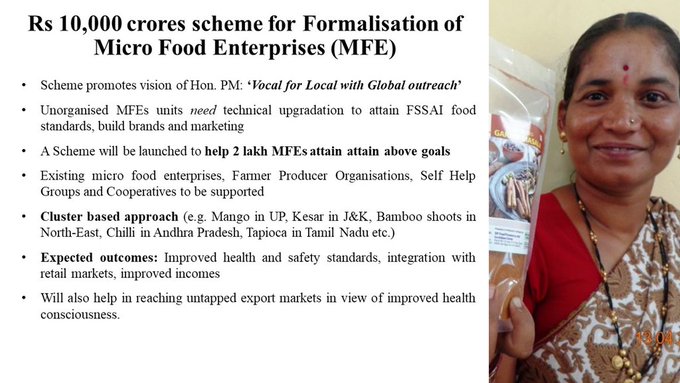 Government to launch Pradhan Mantri Matsya Sampada Yojana for integrated, sustainable, inclusive development of marine and inland fisheries to plug critical gaps in the fisheries value chain; move will provide employment to over 55 lakh persons & double exports to Rs 1 lakh crore
This will lead to additional fish production of 70 lakh tonnes over 5 years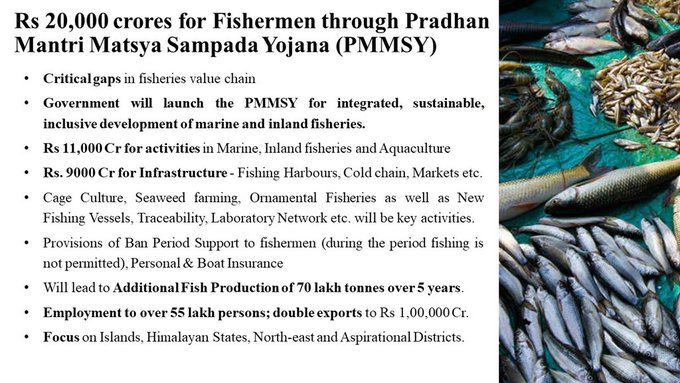 National Animal Disease Control Programme has been launched with total outlay of Rs. 13,343 crores for 100% vaccination of cattle, buffalo, sheep, goat and pig population in India.
Till date, 1.5 crore cows and buffaloes tagged and vaccinated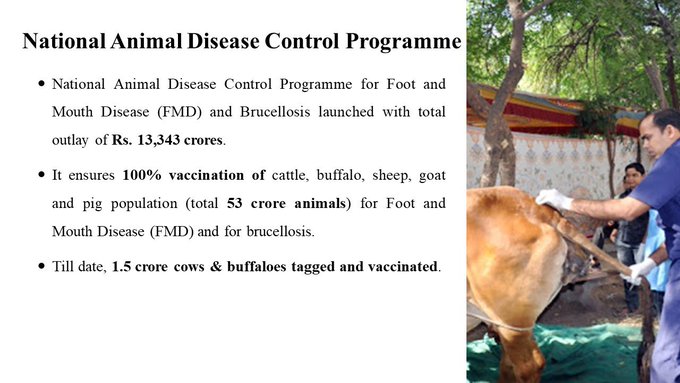 Government announces an Animal Husbandry Infrastructure Development Fund worth Rs. 15,000 crore to support private investment in Dairy Processing, value addition and cattle feed infrastructure
Many areas in country with high milk production have great potential for private investment in dairy.
Aim to support private investment in dairy processing, value addition and cattle feed infrastructure.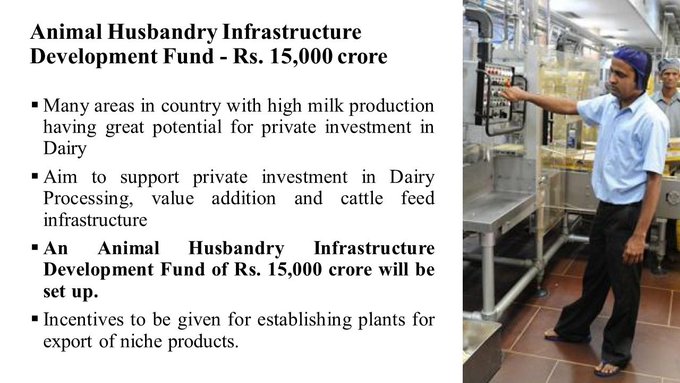 To promote Herbal Cultivation in India Government commits Rs 4000 crore; move aims to cover 10 lakh hectare under herbal cultivation in 2 years; corridor of medicinal plants to come up across banks of Ganga
It is expected to lead to Rs 5,000 crore income generation for farmers
NMPB will bring 800 hectare area by developing a corridor of medicinal plants along the banks of Ganga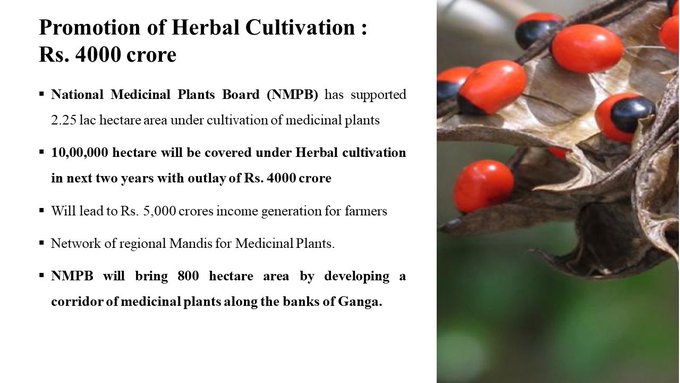 Government to implement a scheme for infrastructure development related to Beekeeping; aims to increase income for 2 lakh beekeepers with special thrust on capacity building of women
Govt will implement a scheme for Infrastructure development related to integrated beekeeping development centres, collection, marketing and storage centres
Implementation of standards and developing traceability system
These measures will lead to increase in income of 2 lakh beekeepers.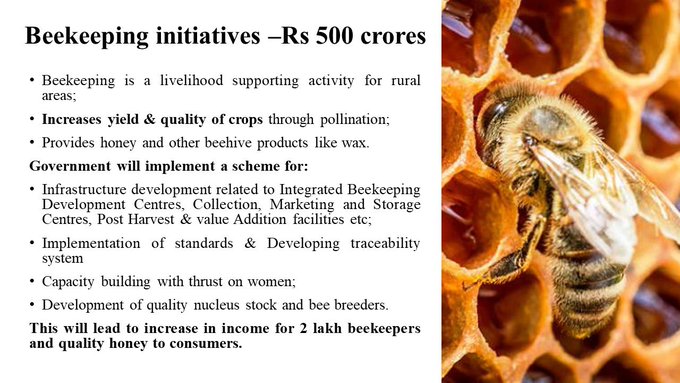 In a major announcement, Government extends Operation Greens from Tomatoes, Onion and Potatoes (TOP) to ALL fruits and vegetables
50 per cent subsidy on transportation from surplus to deficient markets
A pilot for 6 months will be expanded and extended.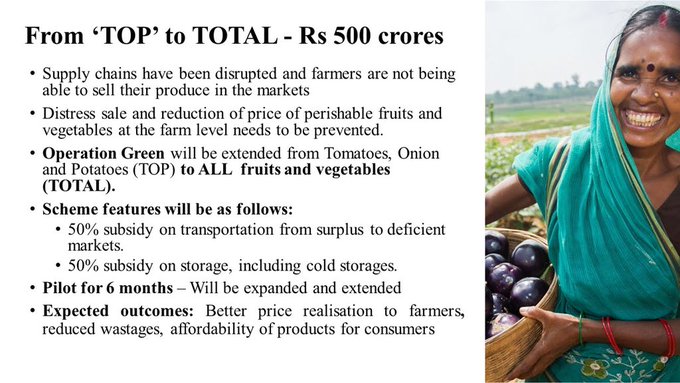 The government will amend the Essential Commodities Act to enable better price realisation for farmers; Agriculture foodstuffs including cereals, edible oils, oilseeds, pulses, onions and potato will be deregulated.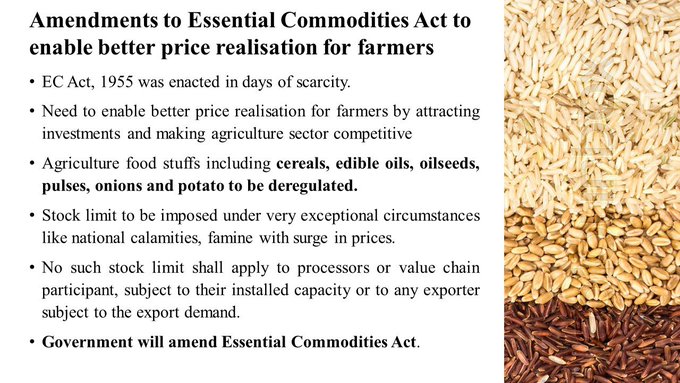 Government to bring in law to implement agriculture marketing reforms to provide marketing choices to farmers; law will provide adequate choices to farmer to sell produce at an attractive price.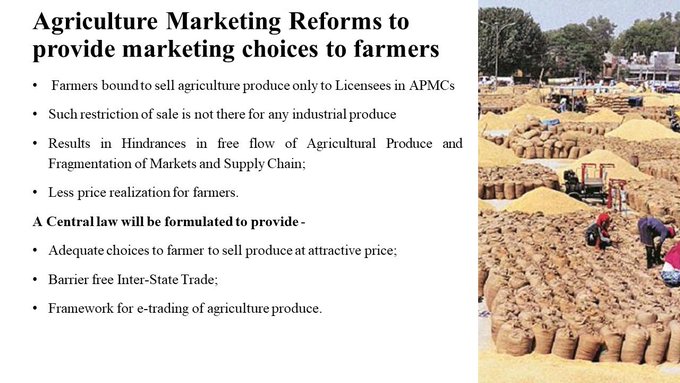 To provide assurance to farmer on Agriculture Produce Price and Quality, facilitative legal framework will be created to enable farmers for engaging with processors, aggregators, large retailers, exporters etc. in fair and transparent manner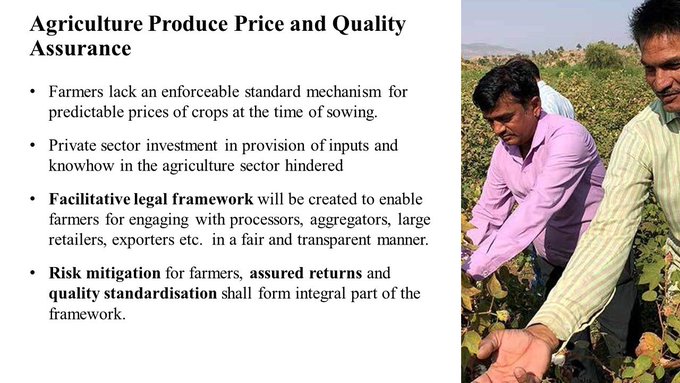 Important Points from The Press Conference: Day 2
9 Steps were announced Today (14th May)
3 will be announced for migrant workers
1 for Shishu loan within mudra
1 for street vendors
1 for housing
1 for employment generations largely for tribals
2 for small farmers
Atmanirbhar Bharat Abhiyan: Breakdown of Relief Package (Day 2)
Direct Support to

Farmers

& Rural Economy provided post-COVID19

 as part of

Aatma Nirbhar Bharat Package

25 lakh New kisan Credit cards sanctioned with a loan limit of Rs 25,000 crore.
MNERGA support to migrant workers who have returned home
14.62 crore person-days of work generated till May 1
Actual expenditure till date is around Rs 10,000 crore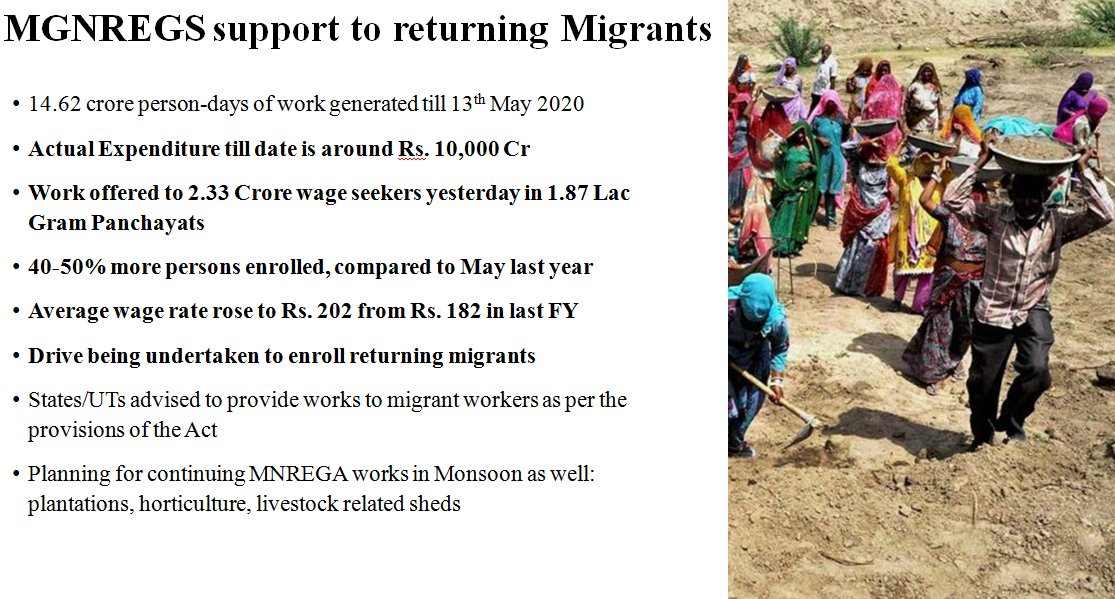 Govt permitted State Governments to utilise SDRF for setting up shelter for migrants

Central Government released Rs 11002 crore of its contribution in advance to all States on 3rd April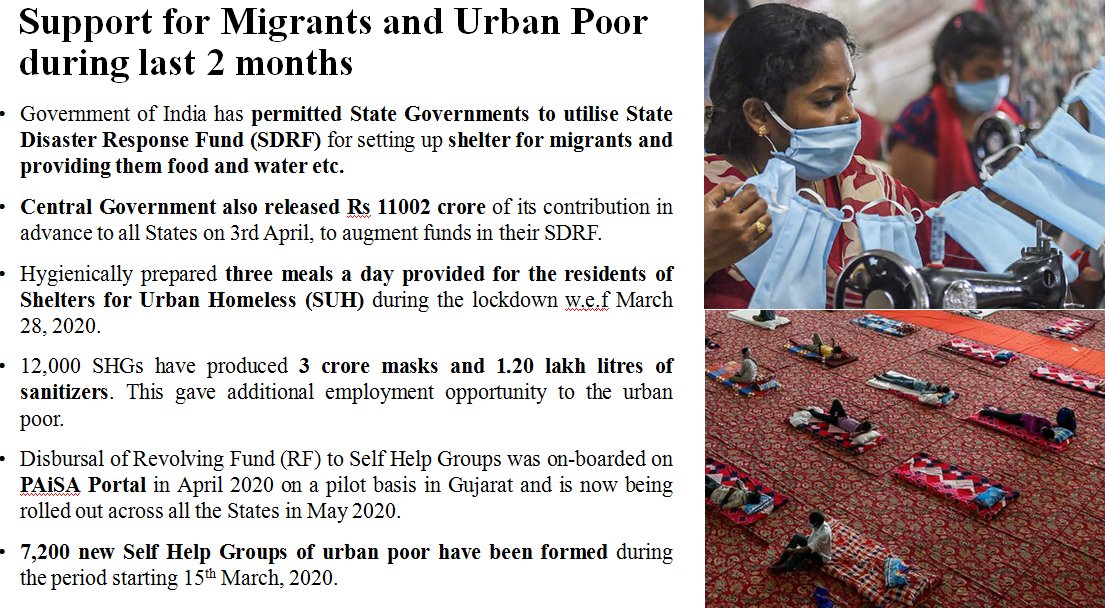 Free Food grain supply to

Migrants

for 2 months.

About 8 crores migrants to benefit from this.
The government will give 5 kgs/person of wheat or rice and 1 kg/family of channa for non-PDS card holders for 2 months.
Rs. 3500  Crore will be spent on this intervention for 2 months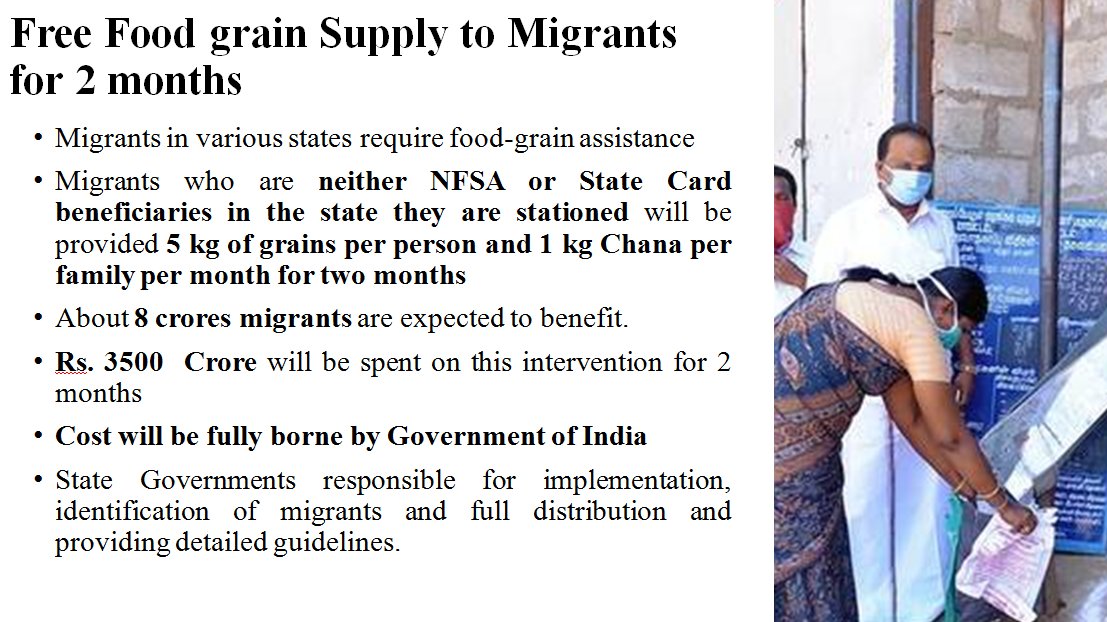 In order to benefit migrants, the govt is coming up with the National Portability Cards (One Nation One Ration Card) that can be used in any ration shop in any part of the country as migrants move from state to state.
This will be implemented by August for 67 crore beneficiary (83% of the entire PDS population).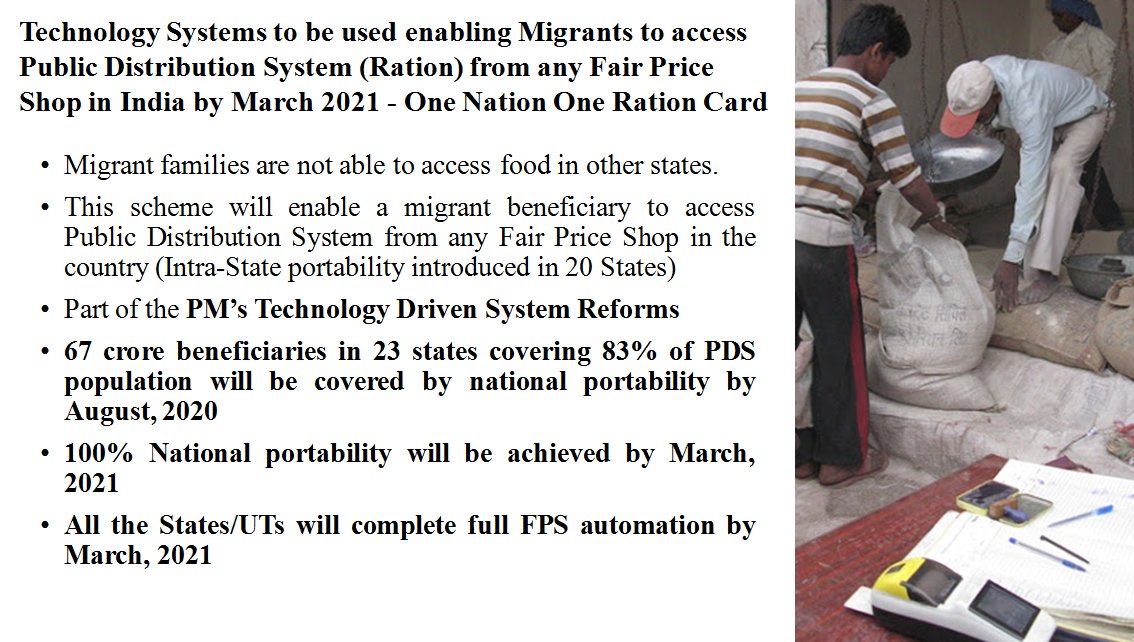 For migrants and the urban poor, the government has announced affordable rental accommodation under PMAY
Under this scheme Converting govt funded housing in cities into Affordable Rental Housing Complexes under PPP mode through concesionaire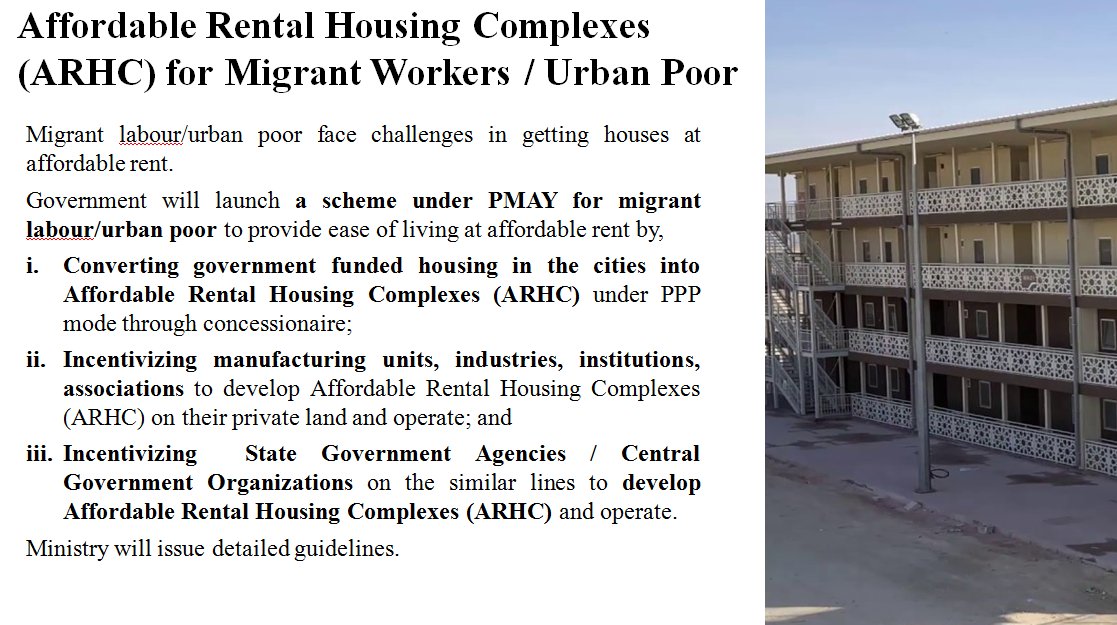 The government announced a relief of Rs 1500 cr small businesses under the MUDRA scheme.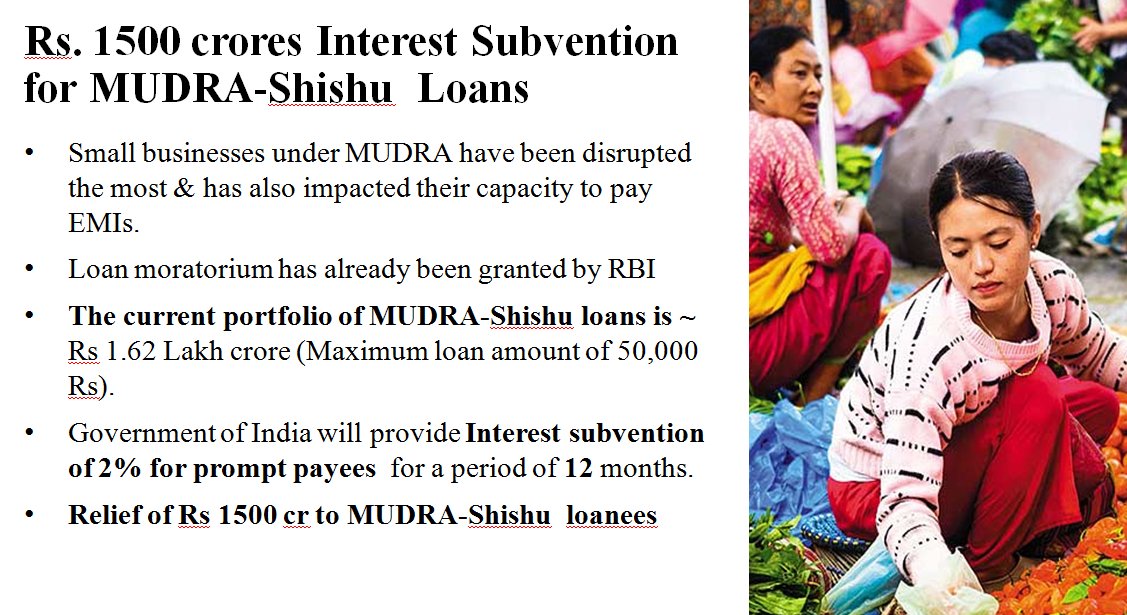 Rs 5,000 Crore Special Credit Facility for Street vendors
Govt to launch special scheme within a month to facilitate easy access to credit to street vendor
Digital payments will be incentivised through monetary rewards and enhanced working capital credit would be made available for good repayment behaviour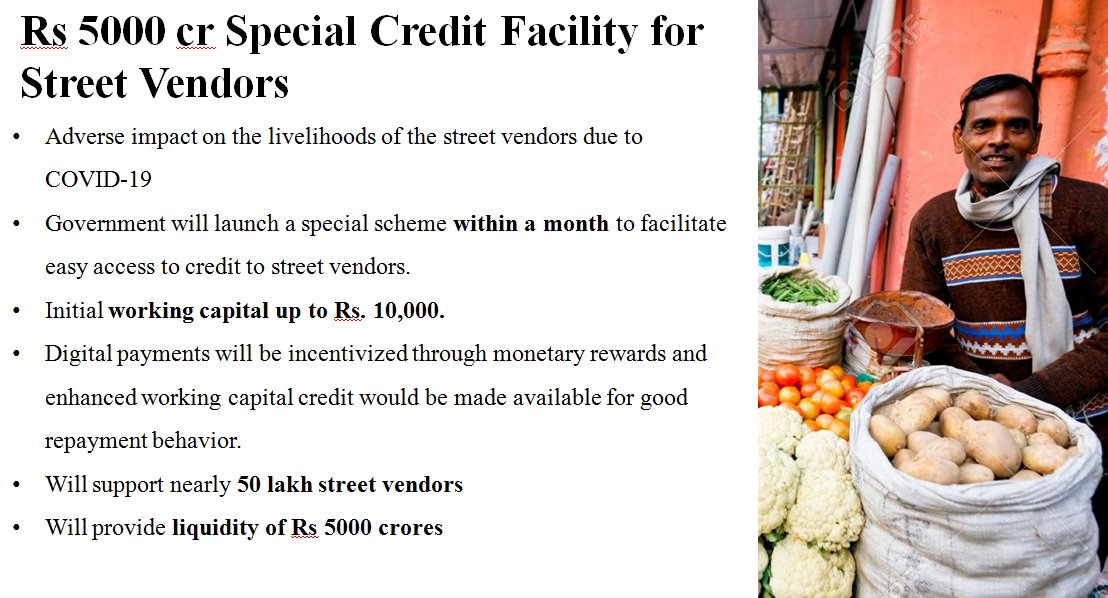 Rs 6,000 Crore Employment Push Using CAMPA Funds
Considering the monsoon is approaching, these projects will kick off soon.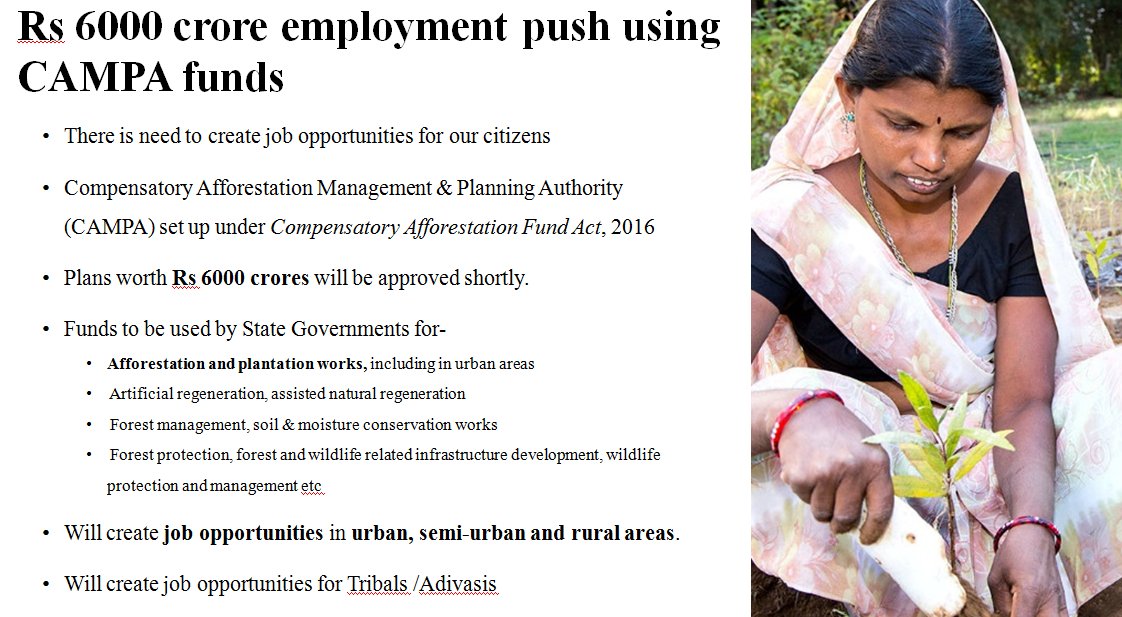 To benefit around 3 crore farmers, mostly small and marginal

farmers

, Govt announces Rs 30,000 crores Additional Emergency Working Capital Funding through

NABARD

This is over and above Rs 90,000 crore to be approved by NABARD through normal finance methods.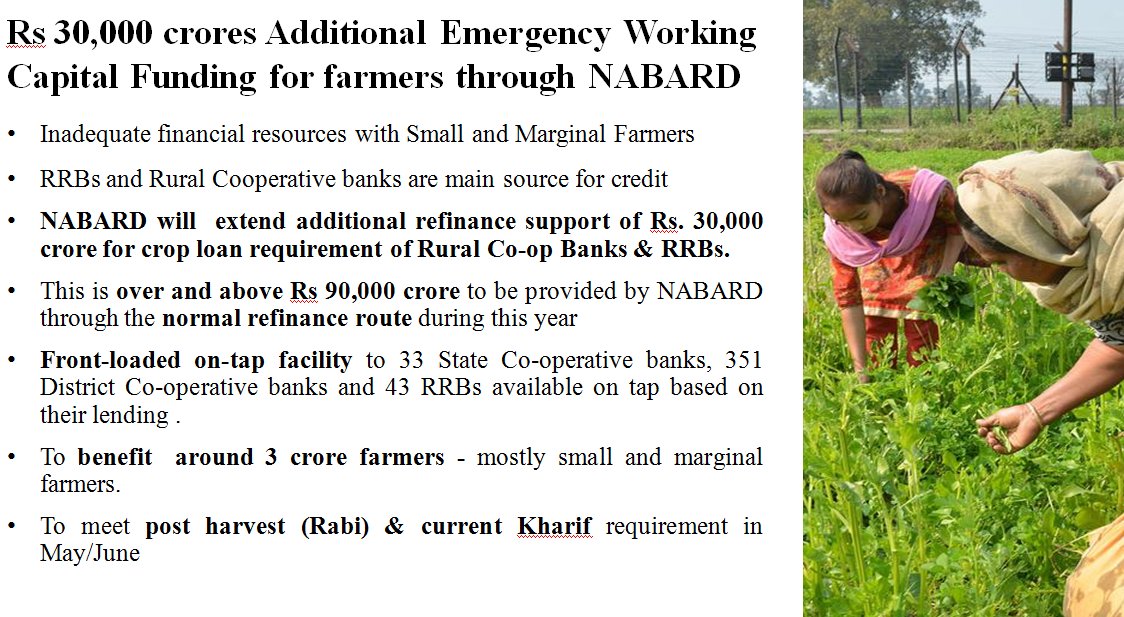 Rs 2 lakh crore Concessional credit boost to 2.5 crore farmers through

Kisan Credit Cards

Fishermen and Animal Husbandry farmers will also be included in this drive.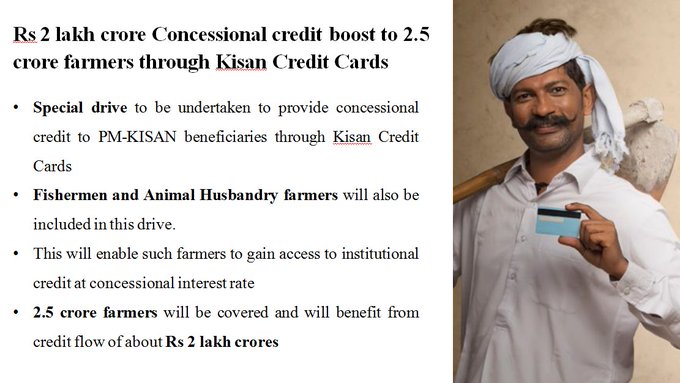 Important Points from The Press Conference: Day 1
Finance Minister stated that Aatmanirbhar Bharat Abhiyan will spur growth and build a self reliant India.
Ease of doing business and compliance, global value chain integration are the mainstay of Atmanirbhar vision.
FM stated that Atmanirbhar Bharat does not mean India will be an isolationist country.
Sitharaman stated that Food security, cash transfers part of package the relief package.
Today's tranche has 14 different measures. Six of these are for MSMEs, two are for EPF, two for NBFCs and MFIs, one to discoms, one to contractors, one real estate, three tax measures," stated FM.
Lockdown 4.0: PM Modi Announces 20 Lakh Crore Economic Package
Atmanirbhar Bharat Abhiyan: Breakdown of Relief Package (Day 1)
Finance Ministry announced a 3 Lakh Crore collateral-free automatic loan for MSMEs.
The loan is for those firms with Rs 25 crore outstanding loans or whose annual turnover is under Rs 100 crores
This loan is for 4-year tenure and will last till October 21, 2020.
Sitharaman announced Rs 20,000 crore loan for stressed MSMEs
Govt will provide Rs 4,000 crore to CGTMSE for this.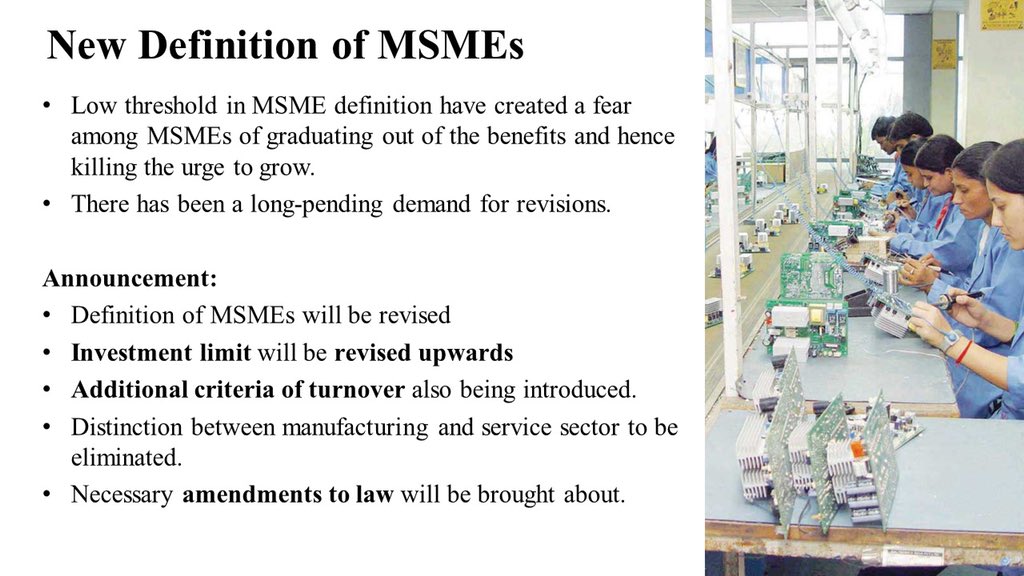 Govt will infuse Rs 50,000 crore equity into MSMEs for those who are viable and eligible.
Corpus of Rs 10,000 crore through mother-fund and daughter-fund framework to help MSMEs expand capacity and eventually get listed.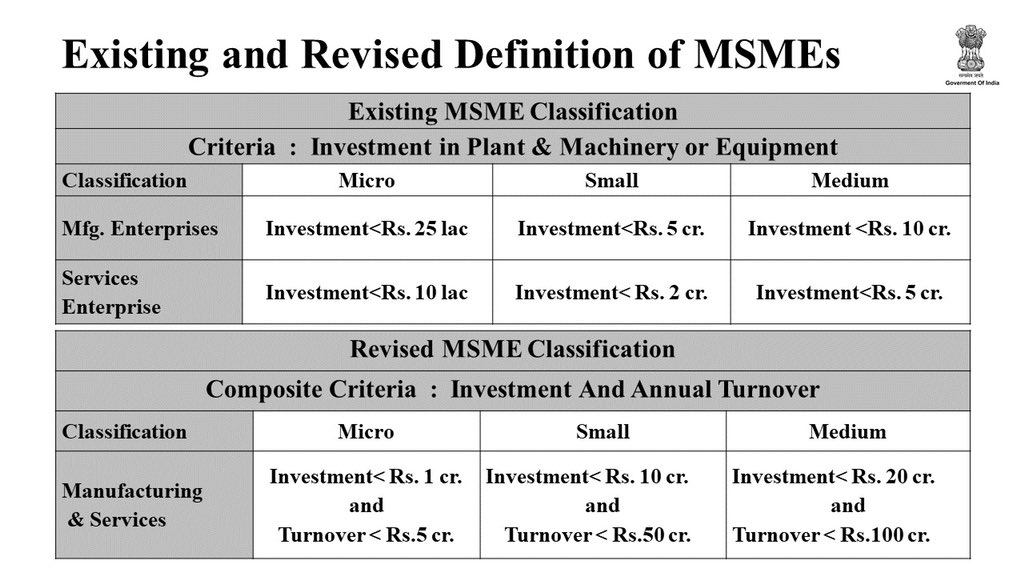 The government will take up PF for firms with 100 staff, earning less than Rs 15,000.
EPF Contribution reduced for businesses & workers for 3 months.
Under PMGKP payment of 12% of employer and 12 of employee contribution was made into EPF accounts of eligible establishments.
Global tenders will be disallowed in Govt procurement tenders upto Rs 200 crore.
Govt. to provide relief of Rs 2,500 crores to be provided to benefit 70.22 lakh employees.
E-market linkages will be provided across the board to help make up for lack of trade fairs.
FinanceMinistry announced Rs 45,000 crore liquidity infusion through a Partial Credit Guarantee Scheme 2.0 for NBFCs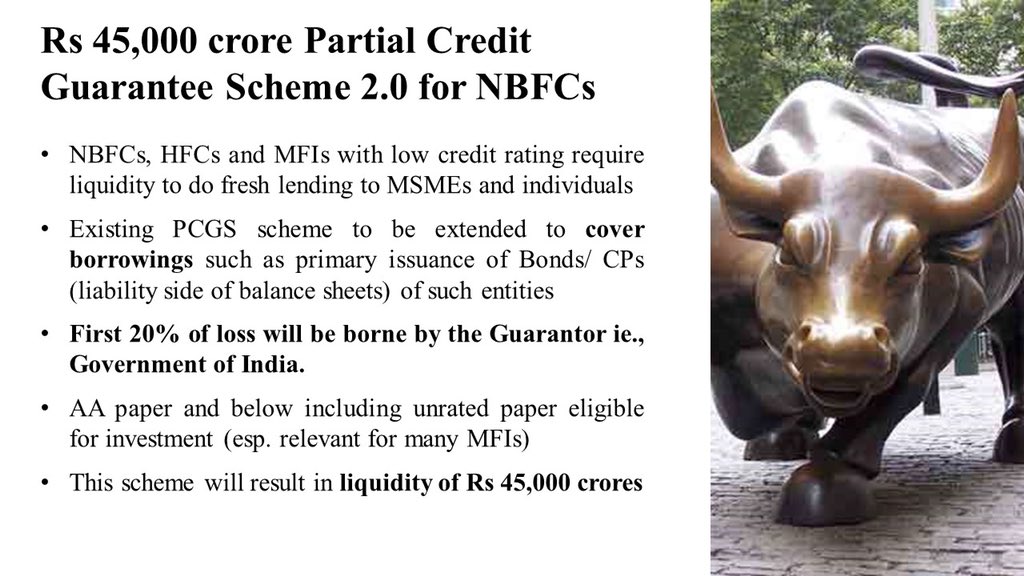 Investment of Rs 30,000 crore special liquidity scheme will be made in primary & secondary investments.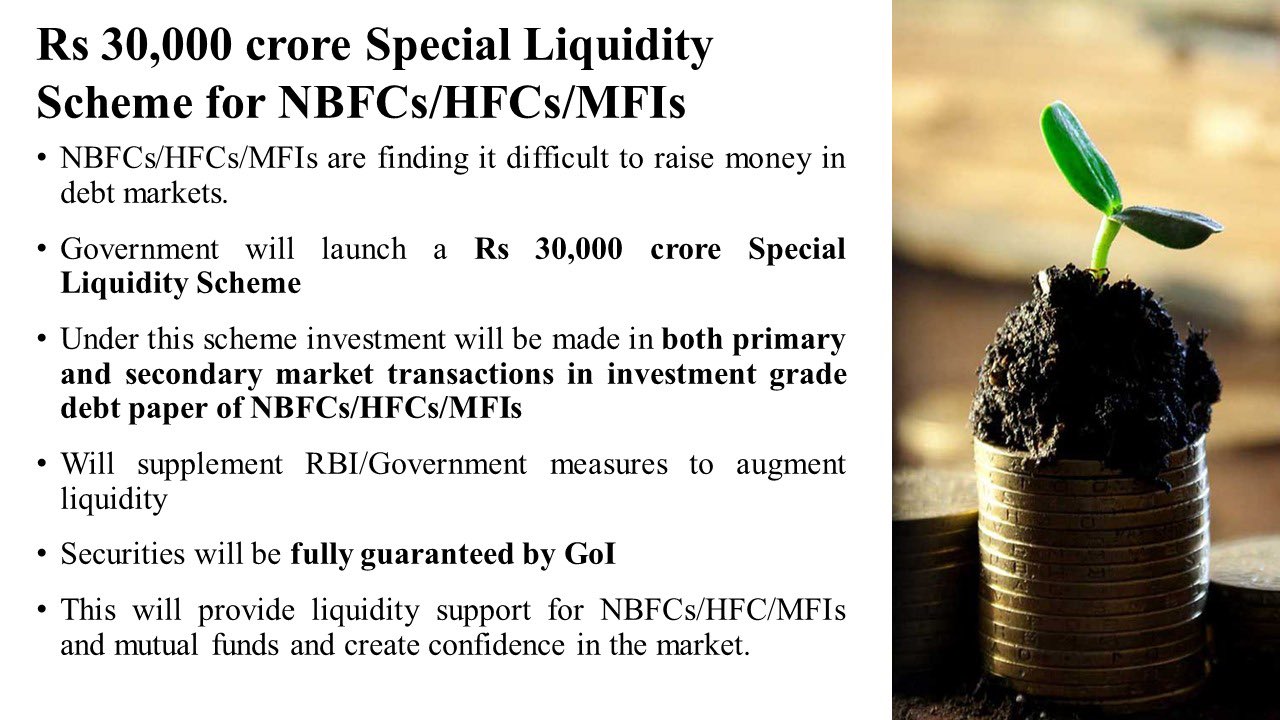 Rs 90 thousand Crore Liquidity to be injected for Power Distribution Companies (DISCOMs)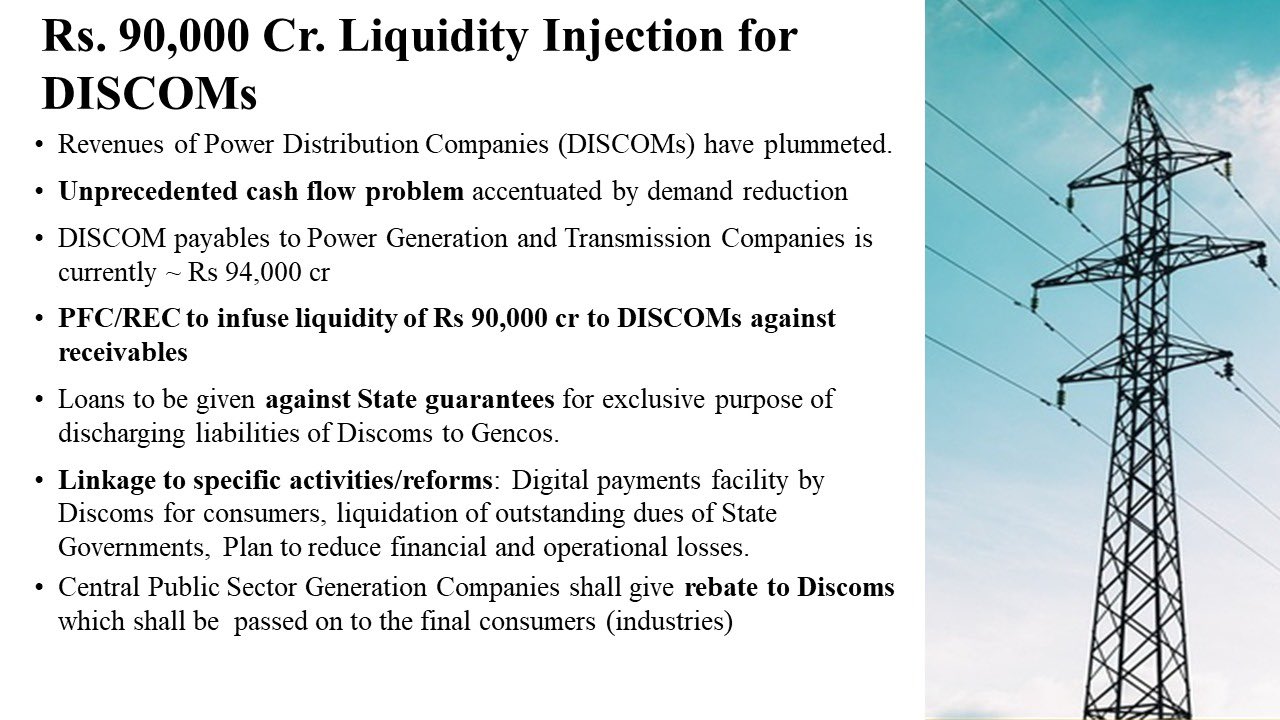 All Central agencies to provide an extension of up to 6 months, without cost to contractor, to obligations like completion of work covering construction and goods and services contracts.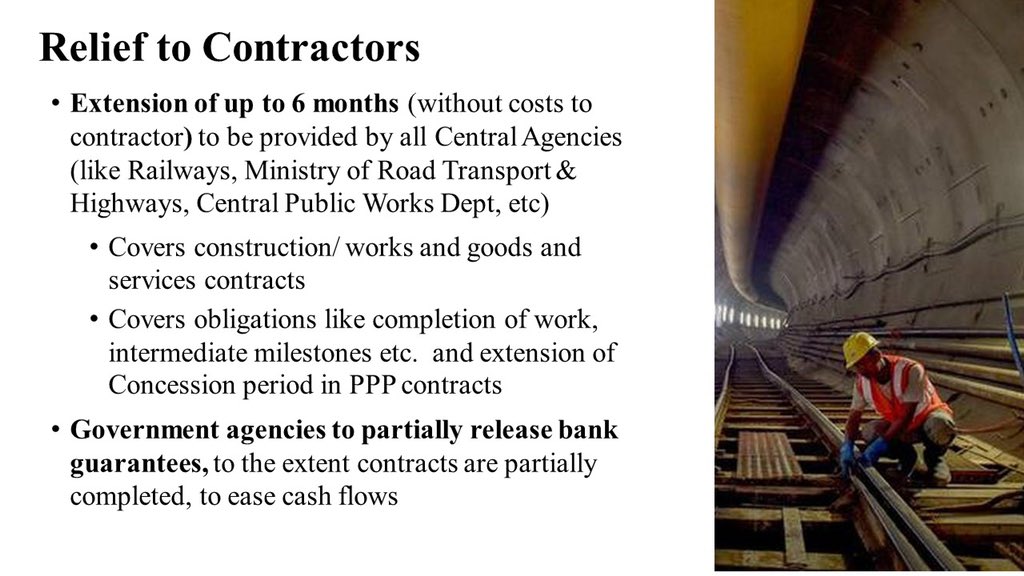 Government will be infusing Rs 50,000 crores liquidity by reducing rates of TDS, for non-salaried specified payments made to residents. Rates of Tax Collection at Source for specified receipts, by 25% of the existing rates.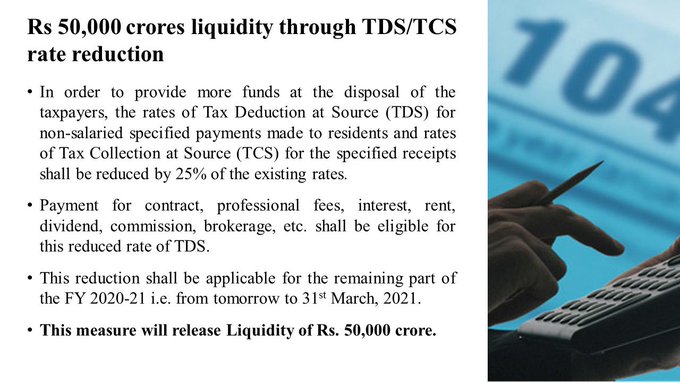 Ministry of Housing and Urban Affairs will advise States/UTs and their Regulatory Authorities to extend the registration and completion date suo-moto by 6 months for all registered projects expiring on or after 25th March.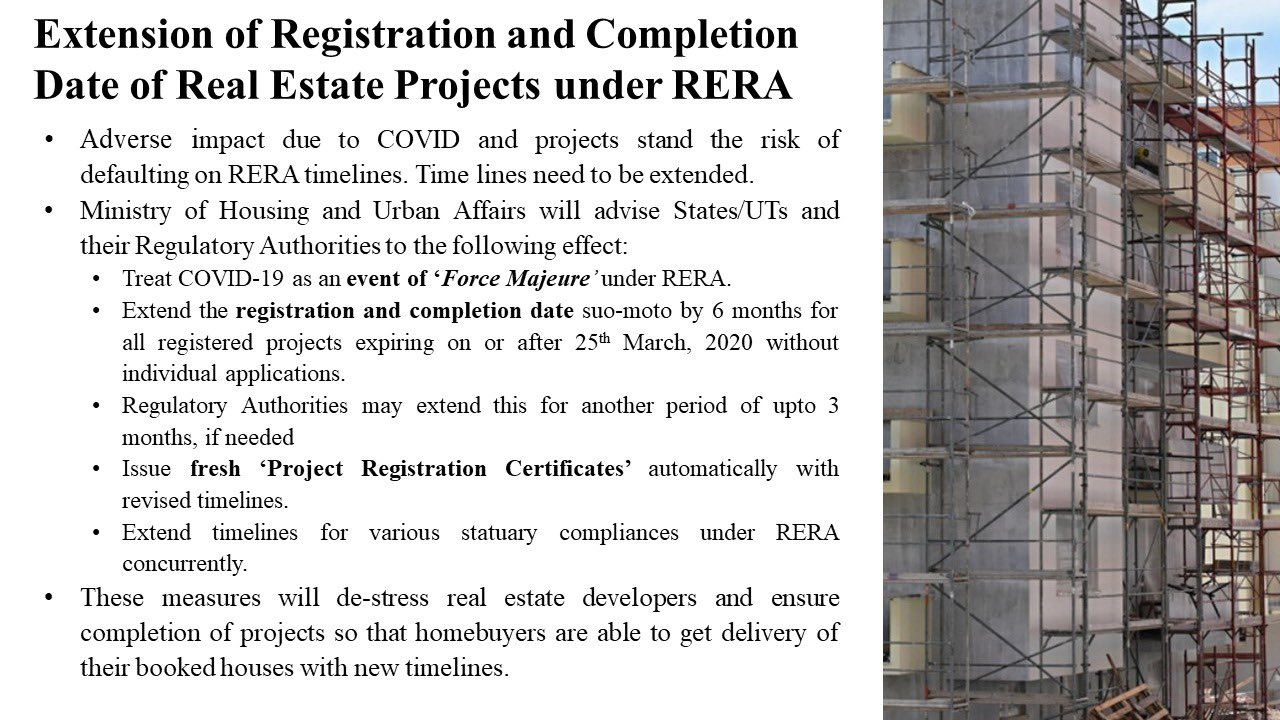 Among other measures, Due date of all income-tax return for FY 2019-20 will be extended 30th November, 2020 and Tax audit 31st October,2020.