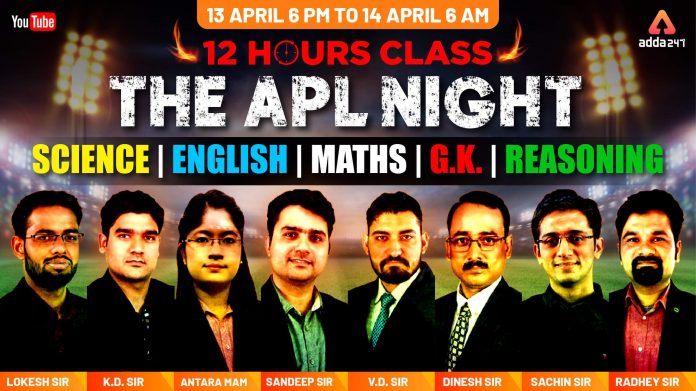 Dear Aspirants,
SSC CGL and SSC CHSL are on its way with less than 2 months left for the SSC CGL exam and 3 months left for the SSC CHSL exam. It is a now or never situation for many aspirants considering the lengthy recruitment process of SSC. Hence, you need to be the best while aiming for the best. 
In order to ace any government job exam, one needs to work hard and prepare under the guidance of the "Gurus" who can help with the preparation. Every candidate preparing for competitive exams aspires for an environment without any disturbances and with silence all around so that he/she can concentrate on studying. In order to be on the top of the list, you should get an hold on the basics and need to study each of the subjects daily.
With the aim for a sure shot selection and leaving no stone unturned in the preparation, Adda247 is presenting "The APL Night" on 13th April 2019. We will provide you Live Night classes for a continuous stretch of 12 hours from 6 PM to 6 AM. Our best faculty will take the live classes for different subjects with 1 hour 30 minutes class by each teacher. Below is the schedule for the 12 hours live night class:
THE APL NIGHT Schedule
| Time Slot | Faculty | Topics |
| --- | --- | --- |
| 6.00 pm – 7.30 pm | V. D. Sir | Adjective + Vocabulary bullets |
| 7.30 pm – 9.00 pm | Radhey Sir | Counting of figures |
| 9.00 pm – 10.30 pm | Dinesh Sir | Heart |
| 10.30 pm – 12.00 am | Sandeep Sir | Number System |
| 12.00 am – 1.30 am | Sachin Sir | Calendar |
| 1.30 am – 3.00 am | Kamaldeep Sir | Dice |
| 3.00 am – 4.30 am | Antara Mam | Teaser Miscellaneous |
| 4.30 am – 6.00 am | Lokesh Sir | Sound |
WHEN: 13 April 2019
WHERE: Adda247: SSC & Railways Youtube Channel 
TIMINGS: 13 April 6 PM to 14 April 6 AM
This Live night class comes as a great opportunity for aspirants who don't have access to any coaching centers and want to prepare for the exams. With the best faculty and covering all the important subjects, get ready for the biggest event of any educational platform: THE APL NIGHT. 
Important Links: 
Check Latest Updates Of SSC CGL 2018-19
RRB NTPC Previous Year Exam Analysis
Is It Possible To Crack SSC CGL Exam In Less Than 2 Months!